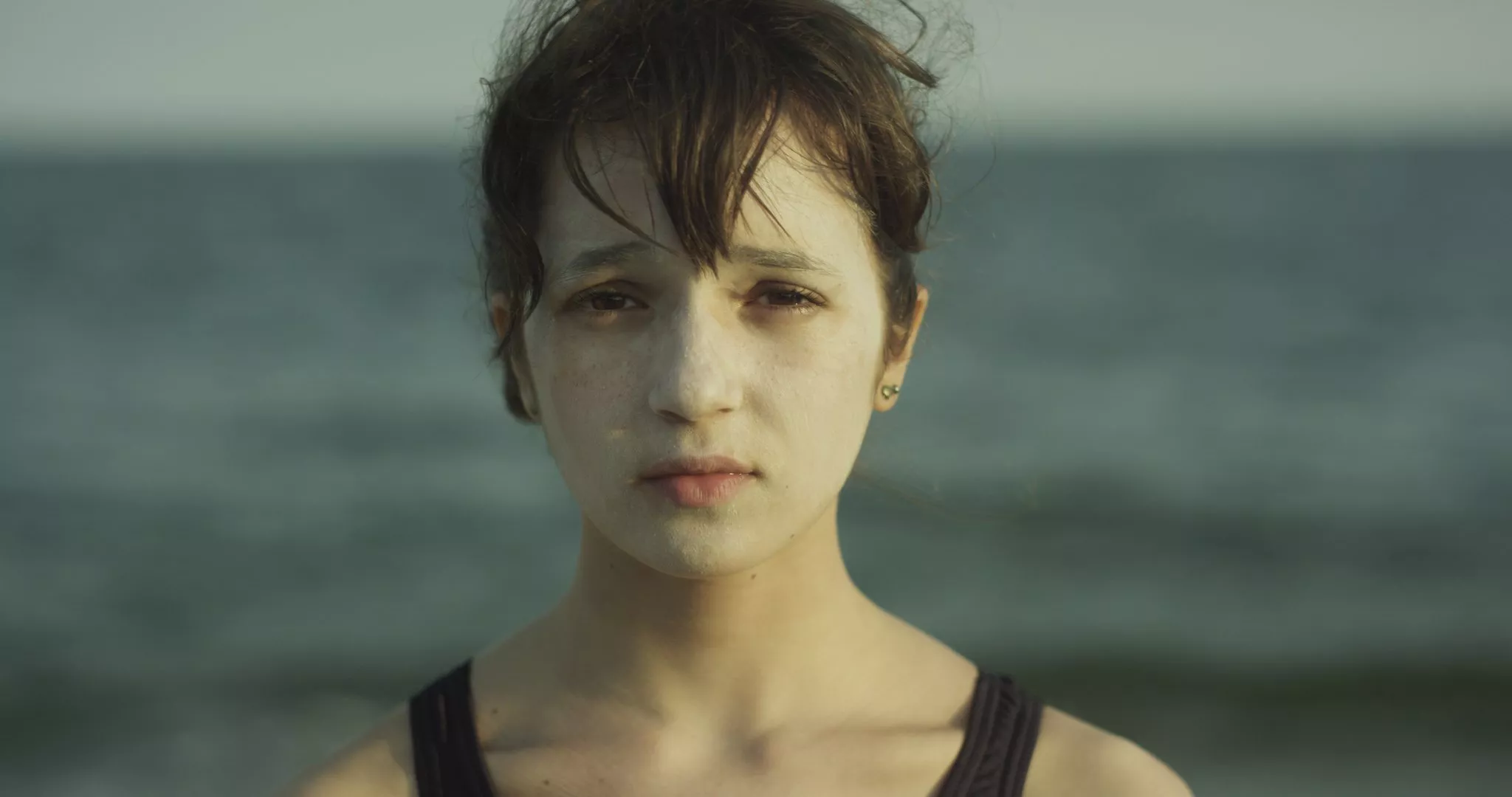 There's an unfortunate irony to writer-director Eliza Hittman's first feature. An unsentimental and non-judgmental coming-of-age drama, It Felt Like Love depicts the awkward, sometimes harrowing journey adolescent girls embark on when seeking to define their sexual identity. Her shot-in-Brooklyn indie is a moody, lyrically filmed portrait of a lonely 14-year-old girl who struggles to define herself in a society that inappropriately sexualizes female adolescence. It also boasts obvious homages to François Truffaut's The 400 Blows and Catherine Breillat's Fat Girl. But less like Truffaut's masterwork and more like Breillat's divisive provocation, It Felt Like Love seems less interested in its protagonist as a person and more interested in her as a symbol.
We first see Lila (Gina Piersanti) on Rockaway Beach, her face masked white with sunblock, trailing her older best friend, Chiara (Giovanna Salimeni), and the girl's boyfriend, Patrick (Jesse Cordasco). Whatever secret sexual world the young couple has discovered, Lila longs to join it. So much so that she boasts of physical encounters she's never had to a young neighbor (Case Prime), revealing to us how little she actually knows of sex. But that doesn't stop her from "accidentally" bumping into tatted-up Sammy (Ronen Rubinstein) every chance she gets. Though he regards her as a pesky kid, Sammy also clearly enjoys the attention. And after getting drunk one night, he's shocked to hear her claim that the two slept together. This escalates things for Lila in ways she never anticipated.
Hittman does a good job of connecting the relentless sexual objectification of young women in rap, Internet porn, and music videos to Lila's worldview, juxtaposing them against the empty, anonymous wasteland of teen hangouts. Her camera hovers uncomfortably close to her non-professional actors (all convincing), giving her film a fly-on-the-wall perspective. Lila's uncertainty and alienation, in particular, is poignantly captured with obscured shots and voyeuristic angles.
Unfortunately, for all its poetic visuals and harsh truths, It Felt Like Love reduces Lila to a one-dimensional character with no ideas, friends, or interests beyond the tragic topic at hand. Every facet of her character is in service of her misguided and single-minded sexual mission — and Hittman's worthy yet pessimistic agenda — that she never comes into focus as a living, breathing human being. Her friend Chiara and the wolf pack of teenage boys that surround her fare even worse.
Ultimately, Lila isn't much more than a cinematic conceit, and the mask of sunblock that first introduces her to us foreshadows a story that strips away her individuality almost as completely as the social forces that Hittman seeks to confront and criticize.
It Felt Like Love opens at Cinema Detroit on Friday, May 16. It is rated R and has a run time of 82 minutes.