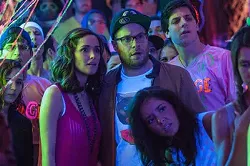 Neighbors | Grade C+
Like a bloated, gregarious stoner Tuck Everlasting, Seth Rogen remains deeply committed to never having to grow up. Here, playing a slovenly young suburban father locked in a pointless prank war with the frat-house party monsters next door, Rogen continues to toke bongs and crack jokes about dongs, all in an increasingly desperate attempt to extend immaturity into infinity. Maybe it's just me, but having initially been a fan, I've grown weary of Rogen's pot-fueled antics, especially as he's going to greater lengths to keep the party rolling as he ages. Why grow up up now? It seems clear that we're just going to get a Seth Rogen movie for each phase of life: soccer dad, midlife crisis, AARP troublemaker, all with the same eighth-grade comedic sensibility firmly in place.
In this go-round, Rogen, playing yet another variant on his schlubby-chic persona, is Mac, a regular guy with a new baby girl and a far-too-hot-for-him wife, Kelly (played by a scene-stealing Rose Byrne). These young parents haven't quite adapted to their new reality, and long to extend their old carefree lifestyle. Eager to seem "cool," the couple initially tries to embrace the raucous, hedonistic fraternity that moves in next door. Mac and Kelly want to prove they can "hang" and start sparking up, gobbling shrooms, and playing beer pong with the Delta Psis, led by best bros Teddy (Zac Efron) and Pete (Dave Franco, brother of Rogen's pal James).
The truce is only temporary; a noise complaint to the cops proves fruitless, and the frat guys start staging epic ragers night after night in an effort to get into the partying record books or something, and the worried, sleep-deprived parents begin to fight back with increasingly juvenile tactics.
Efron, who might be best described as a "sex idiot," is generally creepy as the absurdly handsome but personally destructive Teddy. He tries his best to be funny, but after many attempts to make him a real movie star I'm beginning to think his male-model blank stares are not for effect. Rogen is who he is, and your opinion of his skills won't be changed by anything here. Although Rogen doesn't get a script credit, his contributions are clear, as in the bit about whether Keaton or Bale was the best Batman.
The movie's best asset is the lovely Aussie actress Byrne, who hysterically goes all in, totally unafraid of embarrassment, whether she's doing keg stands, swinging dildos around, or coping with a messy breast-feeding disaster.
Neighbors has a good cast and decent comedy chops behind the camera (Nicholas Stoller of Forgetting Sarah Marshall and The Five-Year Engagement) but its simple premise, padded by abundant weed and dick jokes, gets tired in a hurry. This film gets stuck uncomfortably between the man-child raunchiness of Todd Phillips' Old School and the maudlin sensitivity of Judd Apatow's This Is 40, and never finds a good way to turn down the volume just a smidge, while letting the good times roll.
Neighbors is rated R, runs 96 minutes, and is in theaters now.