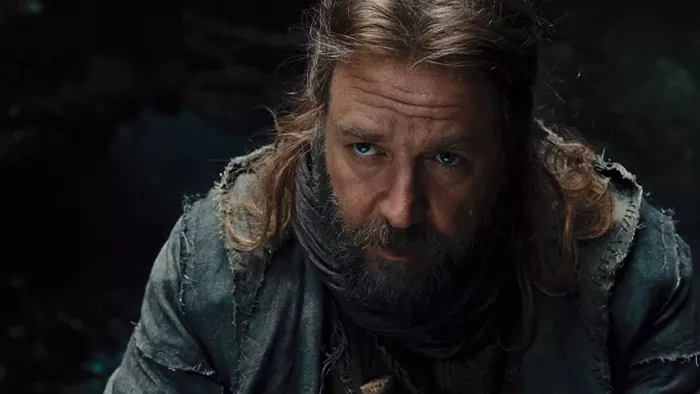 Noah | B
The Lord — and major movie studios — both work in mysterious ways. How else can we explain why quixotic art-house visionary Darren Aronofsky (Black Swan, The Wrestler) was endowed with the power of an estimated $125 million budget and granted the freedom to make an idiosyncratic Biblical epic that retains all the trappings of a summer blockbuster? What results from this clash of art and commerce is neither fish nor fowl, a bizarre, captivating film that is at once intimate and operatic, with a grandiose sense of purpose but also a feel for tense personal drama.
Noah is not your father's Bible picture, or pretty much anybody's image of what a religious adaptation should look like, but this oddness gives the movie its curious strength. Instead of billowing robes, everyone is decked out in grungy, industrial-looking leather gear, assembled from what appears to be the scraps and tatters of a post-apocalyptic inferno. The miserable masses of lawless deviants who have drawn God's ire resemble extras from Waterworld. The gravely unforgiving landscapes melting into incredibly lush and stark mountain vistas may have been shot in Iceland, but they recall Middle Earth, as do the climactic battle sequences filled with rushing barbarian hordes and shambling, destructive rock giants. Yes, I said rock giants. In this case, the "Nephilim" are fallen angels who eventually become Noah's helpers and defenders as he labors to build his massive ark. The creation of this massive, all-species- harboring lifeboat is inspired by a series of vivid dreams, and never through direct communication, as in Bill Cosby's famous "What's a cubit?" routine. Noah knows that the purifying rains will come, and that he must prepare for disaster, but what the new world should be is unknowable.
More direct instructions from above would have been helpful, as the Creator's wishes are left open to interpretation, vagaries that lead our "hero" into shockingly dark territory. His dedication is total, and his belief in the worthiness of the cause pushes him to the brink of madness.
Russell Crowe, turning in one of his periodic brilliant performances, plays the title character, a descendant of the noble line of Seth, as a man upon whom the fate of the world literally rests. Crowe conveys all the pain of shouldering this impossible burden. He is the last righteous man in a world of savage brutality, but he is capable of great violence himself, against not just his enemies, but also those closest to his heart. Jennifer Connelly, as his wife, Naameh, nicely fleshes out a role that could have easily been nothing but weeping and worrying. Pale and frail Emma Watson might seem an odd choice for Noah's tormented, barren then miraculously blessed daughter-in-law, but she easily involves us in the girl's plight. Anthony Hopkins leaves no scenery un-chewed as grandfather Methuselah, who comes off a bit like a daffy old wizard, but in the context of the insanity around him, make sense. Also welcome is the menacing Tubal-cain, cruel leader of the cursed outsiders who are desperate to get on that ark.
In order to pump up the scant Genesis flood narrative, Aronofsky and co-writer Ari Handel have incorporated extra scriptural material, incurring the predictable outrage of fundamentalists.
The fretting is needless; Aronofsky's grand, crazy vision is filled with more awe and reverence than a traditional snoozefest like Son of God, and, in its fun, flawed and chaotic way, Noah is a popcorn flick about the endless wonders of the universe and of the human soul.
Noah is rated PG-13, runs 138 minutes, and is in theaters now.