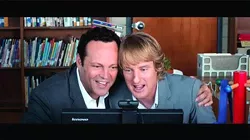 Vaughn and Wilson bamboozle their way through a Skype interview with Google execs in The Internship.
The Internship | C
There is a significant distinction between product placement and product deification, a line effectively smudged by this predictable but effervescent buddy comedy about a pair of 40-something digital economy causalities, who attempt to reinvent themselves as Google interns.
Having lost their gigs as watch salesmen because, well, people now just check the time on their cell phones, smooth operators Nick (Owen Wilson) and Billy (Vince Vaughn) decide to catch up with the late '90s wave of the future and head to Silicon Valley. These are the kind of goofballs who think RAM chips are a side ordered with Buffalo wings; despite knowing next to nothing about IT, they bluff and charm their way through a Skype interview
Once inside the candy-colored walls of the tech giant's vast, utopian compound, the boys are blown away by the "Googliness" of the place, with it's bounty of free soft drinks, "nap pods," bicycle shares and Volkswagens that seem to drive themselves.
Ever hustling, Billy can't believe that everything in the commissary is free and lines his pockets with gratis baked goods. Cheerful Nick, meanwhile, stares at the bustling lobby with the wide-eyed look of Tom Hanks in Big, just before stomping on that giant keyboard.
Distracted by the perks and laid back atmosphere, it takes a moment to figure out the company is really run by a swarm of joyless, career-driven robots — the most persnickety of them being the intern program director, played rigidly by Daily Show contributor Aasif Mandvi.
There's also a gorgeous, highly driven supervisor played by the lovely Rose Byrne, a buttoned up beauty that Nick immediately sets about hitting on. They have an easy chemistry, and their date — where Wilson playfully acts out all the jerks she's missed out on dating while being married to her job — is a hoot, but the movie can barely be bothered with developing this subplot.
Instead, it's quickly back to the Gen X vs. Millennial showdown, with the perpetually jabbering Vaughn trying to shake up the crew of hyper-focused, nerdy walking stereotypes that he and Wilson have been teamed up with. It's a 21st century spin on the "slobs vs. the snobs" format of so many '80s laughers. But, while it's still good for a giggle or two, Vaughn and Wilson's fast talking con game never rests until they wear down everyone with a constant stream of nonsense and pop culture references, including Flashdance and Stalag 17, which sail over the kids' heads.
Vaughn, who co-wrote the script, and director Shawn Levy, maker of family-friendly products like Night at the Museum, seem determined to make an inoffensive, upbeat crowd pleaser, light on surprises and they mostly succeed at it. Just be advised that while it's passable entertainment, this is far from a killer app. mt
The Internship is in theaters now and is rated PG-13 with a running time of 119 minutes.