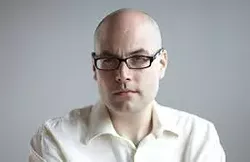 Nathan Rabin gets paid to watch bad movies — well, to be exact, notorious movies that flopped at the box office. He can't believe he gets to do it for a living. And if you're, say, between the ages of 18 and 24, you might know his byline from the clever, funny and profane column My Year of Flops on the website AVclub.com, a spiritual offshoot of The Onion.
Those columns are now a book, My Year of Flops, billed on the cover as "one man's journey deep into the heart of cinematic failure." That quixotic quest has darker origins than you might imagine; Rabin says movies were an escape from a broken childhood. That you get laughs from his deconstruction of Waterworld is a bonus; for him it's a form of ongoing therapy.
Rabin will be in Detroit as a guest of Leopold's Books on Halloween afternoon. His goal — details still being finalized — is to host a multimedia event during which he'll introduce clips of his Failures, Fiascos and Secret Successes, and then discuss why those films ended up in My Year of Flops. If you plan to attend, wearing costumes inspired by said movies is optional.

Metro Times: You say writing about infamous box office bombs is a "sacred calling." How so?
Nathan Rabin: I feel like people have destinies; some people are meant for greatness, some people are meant to lead, some people are meant to teach. I have this sort of strange feeling that this is my existential calling. When I started writing about these films for The AV Club it just sort of felt right, and I felt like this is who I am and this is what I do: defend films that have been maligned and mocked and are kind of orphans.
Rabin took his rating system from the Cameron Crowe film Elizabethtown, in which a character says "any fool can accomplish failure, but a fee-ass-coe ... is a disaster of mythic proportions." Elizabethtown also gave birth to a character archetype Rabin calls the Manic Pixie Dream Girl, who exists in movies solely to rescue the sensitive-troubled-artistic protagonist from himself (think Natalie Portman in Garden State).
MT: What does your girlfriend think of the Manic Pixie Dream Girl? Is she threatened such a creature might come into your life and steal you away?
Rabin: When we met I think there was an element of Manic Pixie Dream Girl in play there. I was this brooding ... [laughs] ... overly serious, quasi-intellectual who was just in this perpetual funk. And she was this wild, beautiful, life-affirming free spirit—
MT: She was your—
Rabin: Yeah, she kind of said that I expected her to be my Manic Pixie Dream Girl. And that's illusory because it's fantasy not reality. But [the courtship] was romantic, and every time we saw each other it was like a vacation; we've been living together for three-and-a-half months now. Really, in my case, the reality is better and infinitely more sustainable.
MT: Elizabethtown strikes me as a terrible name for a movie. Do some films flop because of their titles?
Rabin: Did Ishtar become a huge flop because Ishtar is such an un-commercial name for a movie, or does Ishtar just seem like an incredibly un-commercial name for a movie because Ishtar was such a giant flop?
MT: [laughs]
Rabin: Titanic. If that had turned out to be the bomb everyone thought it was going to be, you'd be like, well, yeah — you named it after one of the biggest disasters in history — you angered the gods! And at the same time a lot of movies with a really distinct name they'll change at the last minute, from some bizarre name that really sticks in your head to something comically bland. My favorite example of that is the ensemble comedy Dancing About Architecture, starring Sean Connery and Jon Stewart, which they released in the theaters as Playing by Heart ...
Rabin pauses for effect like a Catskills comedian, I say nothing, and the resulting awkward silence (followed by mutual laughter) is about equal to what the film did at the box office.
Rabin: Playing by Heart is just as terrible a name as Dancing About Architecture but nobody remembers it. So if they renamed Elizabethtown, I don't know ... Living and Learning [here Rabin cracks himself up about how "squishy" his made-up title is], I think people would've seen through that as well.
At 34, Rabin is nothing if not an open book; he's very self-aware but also self-effacing about that awareness. A scarred child of divorce (his father's second marriage; Rabin didn't meet his birth mother until he was 24) who was sent to a mental hospital at 14 and then to foster care (where he got kicked out), he tells me he wanted to shut out the world and escape into a cocoon of movies and TV. His wicked sense of humor developed as a "survival mechanism" against bullying and as a way to get attention as the class clown.
MT: In the book you seem to identify with Jim Carrey's troubled character in The Cable Guy ...
Rabin: I wasn't that bad. With that character there is no "there" there; he has no sense of self. But [as a kid] I could control the TV shows that I watched — literally, with the remote control. I could control movies — this was a realm where I felt safe. I felt like it wasn't dangerous or scary. So I disengaged from the world and compulsively watched television. And I would go see any movie that came out. It seemed like I was just numbing the pain. And I couldn't have imagined at the time that what I was doing was serving a semi-productive purpose that would lead to the career I have now.
In 2007, Rabin wrote a published memoir about his difficulties early in life. Though critically acclaimed, it didn't exactly set the publishing world on fire. When I ask him whether he's working on the Great American Novel, he laments that his memoir didn't do better, then just as quickly informs me that his next book is about bands with devoted followings, such as Phish and — wait for it — Insane Clown Posse.
MT: You know that if it's said here that you're in Detroit to promote your book and to research ICP, Juggalos and Juggalettes will appear at the My Year of Flops event. ...
Rabin: Cool! I hope they do. I have immersed myself in trying to understand why these fervent subcultures form around certain bands. I've already started writing the book.
One thing apparent during our talk is that Rabin has toned down what he calls the "empty snark" of his online columns to make the Flops book more accessible to a wider audience (he has, and it is). It goes a long way toward explaining why he didn't include Case File #53, Doctor Detroit, in which he hilariously describes Dan Aykroyd's superbad pimp character as being so white he's translucent. For Rabin, the book is more about "evangelizing" for movies that deserve further consideration, but it's still damn funny.
Rabin: The fact of the matter is, not every film in my book is a Secret Success; only like a quarter are Secret Successes. But I would like to think I was able to articulate what's good about even the Fiascos, even the films that were fascinating disasters that flew too close to the sun. When I write online the older a movie gets the less the [AV Club's college-age] audience is interested in it. People have a very natural tendency to be like, "I'm only going to read about the movies I've seen to see whether the author agrees with me or doesn't agree with me." So it was very liberating to be able to write about films like Skidoo, The Conqueror, and The Great Moment. I think that's what I wanted this book to be about — that there's this whole world out there that's fascinating because it is so singular and has such personality and says so much about the last century.
One of the more fascinating entries in Rabin's archive is The Apple, which sounds like what would happen if Ed Wood dropped acid then directed the Village People-Bruce Jenner-Steve Guttenberg musical Can't Stop The Music.
MT: Does The Apple have a modern equivalent?
Rabin: The Room. Also, Troll 2, which I just saw and it blew my mind. Repo! The Musical is another one.
MT: What have you learned from writing your column and now this book?
Rabin: What makes somebody a writer ... is writing. I've spent 11 years getting better as a writer, cutting out the self-indulgence, being more open. I like to write up to readers, not talk down to them. And the older I get the more I say "yes" to life.
Rabin appears at the Burton Theatre, 3420 Cass Ave., Detroit; 313-473-9238 at 2 p.m. on Sunday, Oct. 31.
Jason Carr is an anchor/reporter for FOX 2 News. Disclosure: Nathan Rabin will be Jason's guest on FOX 2 Morning at 9 a.m. on Monday, Nov. 1, the day after Rabin's Halloween event at the Burton. Jason highly recommends the book version of My Year of Flops, having read it in one sitting.