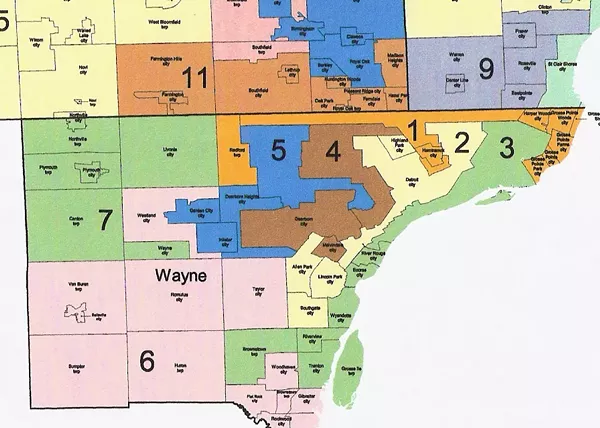 Map of the Michigan House's gerrymandered districts in Southeastern Michigan
Former Republican U.S. Rep. Joe Schwarz joined the board of Voters Not Politicians, a nonprofit, non-partisan group that's
working to end gerrymandering in Michigan
.
Schwarz represented Michigan in the U.S. House of Representatives from 2005 to 2007, and finished second in the Republican gubernatorial primary in 2002. He currently identifies as an independent.
In a press release, Voters Not Politicians noted that Democratic or Republican politicians and lobbyists draw legislative and Congressional boundaries to benefit their interests. It's proposing an amendment to the Michigan Constitution that would bar politicians, lobbyists, and their families from being involved in redistricting.
Instead a bi-partisan group of residents would be in charge of the process. Residents could vote on the proposal in the November election.
Political parties tend to draw the maps in a way that protects their candidates and gives them a strong advantage.
In the 2014 and 2016 elections
, Michigan Democrats in state house races received nearly the same or more total votes than Republicans, yet Republicans hold a 63-47 majority. A similar situation played out in the Congressional districts, where Republicans control 9 of 14 seats.
Because of that situation, many Republicans are hesitant to get behind the cause. But that could change if Democrats take control of the state in November, as many are predicting.
"Pundits and pollsters are predicting Democrats may have a wave this year, and put themselves in position to control redistricting under our current process," Schwarz says in a statement. "That would likely create a similarly undemocratic outcome. I tell many of my Republican friends they should embrace the chance for a fair map that represents the voters of the state, and a real battle of ideas to determine our state's future."
He adds that the Voters Not Politicians proposal would strip power from politicians and give it back to residents.
"The process Voters Not Politicians has laid out will require bipartisan cooperation in creating Michigan's congressional and state legislative district lines," Schwarz says. "And the discussion will be held in public, instead of behind closed doors. This would be an important step in restoring the faith of Michigan people in our democratic institutions."
Voters Not Politicians
delivered on Dec. 18
440,000 signatures to the Board of State Canvassers. That surpasses the amount needed to get the proposal on the November ballot.