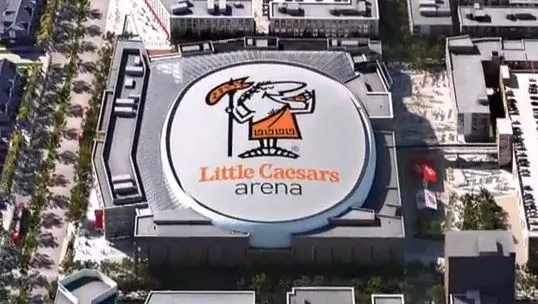 There's
a piece in the Detroit Free Press today about Little Caesars Arena
that's so upbeat it could have been written by Olympia Development's public relations department. It's all reported out, featuring interviews with everybody from a member of city council down to a social service group head down to a party store owner. Almost everybody in the piece unites in a chorus of rejoicing over the arena, the development district up Grand River Avenue, and how it will replace an area that had fallen into decay.
This is really nothing new.
As noted in a piece in the Columbia Journalism Review three years ago
, "local news organizations tend to cheer on the announcement of new sports stadiums, before they begin to ask tough questions."
But it's worth pointing out a few small facts that this encomium doesn't include.
... Little Caesars Arena ... is expected to breathe life into a part of Detroit that has long been considered a dead zone.
Well, of course the area was blighted. The Ilitches spent 15 years
quietly buying up properties
in the area. What interest did they have in developing any of them when (a) they knew they intended to flatten them for a new arena and (b) any investment in them would only cause land values to rise?
Chris Ilitch said as much
to
The Detroit News
.
In other words, Olympia is the main cause of the area's deterioration. You don't need to be an expert on Detroit development to know that. Even the uninitiated could pick up on the unintended irony when
Chris Ilitch reportedly said
, "It's no coincidence that these areas to the north of I-75 are some of the most blighted areas of our city core."
[District Detroit is] slated to include entertainment and commercial developments, as well as at least six residential developments. ... Work is underway in the district, headed by the Ilitch organization's Olympia Development, though it won't be completed for several years. ... Restaurants, offices and new surface lots and parking structures are expected to open soon.
In a piece about development, it might be important to note that the widely touted "District Detroit" is a supposed to include a lot of things. It mostly exists, however,
in the fevered imagination of Olympia executives
, who got much of the land from the city of Detroit for $1, and are now understandably interested in putting forward the view that great things are just about to happen there. A lot of the "plans" and "expected" developments are hopes and wishes — not finished renderings.
The stadium can be the nucleus for that area, and it's the catalyst for that project to take shape," said Justin Robinson, vice president of business attraction at the Detroit Regional Chamber of Commerce. "But, ultimately, it's going to be the surrounding development that leaves the biggest impact on the city and, frankly, on the state."
No doubt a lot of people believe that. Notably, the article included a quote from a man doubtful that development would spill over. They even had Robinson give voice to such doubts. Which was very nice of them, because it allowed Robinson to offer vague statements that have a preposterous ring to them. "There's no analytics, no data to say where this [development] is headed."
Really? Seems to us that the prestigious
Brookings Institution
has already looked over the research and found that stadiums don't have the spill-over effect that their backers say they do. They write, "[T]here is little evidence that stadiums provide even local economic benefits. Decades of academic studies consistently find no discernible positive relationship between sports facilities and local economic development, income growth, or job creation." Hey, that's the sort of interesting stuff that belongs in a
news
article!
Private investment is primarily building the district, but as much as $74 million in public dollars can come from the Detroit Downtown Development Authority to help the district grow.
Well, not so fast.
If $200 million in development takes place within the next five years
, the Detroit Downtown Development Authority will give $74 million to Olympia, which doesn't have to spend a penny to get it — it only has to "cause" the development to take place. And when you consider that the DDA is counting Little Caesars promised $150-million headquarters building as part of the equation, all but ensuring the organization will reap this reward.
"The ancillary development is going to be very, very important," Benson said. "That's where your residents live. That's where your shop owners are going to be investing in new businesses. That's also where your tax revenue is going to come from."
Shop owners and tax revenues are nice, but one thing Benson isn't mentioning is that ancillary development is where cars will be parked. Namely, a
seven-story parking deck costing $24.4-million
, which also counts toward the Olympia payday from the DDA. Wow! Talk about spill-over development! Nothing says "vibrant urban neighborhood" like a seven-story parking deck.
In the end, the only corrective to this kind of happy talk appears, as you'd expect, in the basement of the article, in the comments section. The best response so far comes from the Terrible Ilitches guy, who writes:
Umm who created that dead zone? Who has been accumulating land, letting it rot, sit empty, and create more blight so they can buy more land for cheap for 30 years? The Ilitches!

Why has the area to the north of the "dead-zone" known as midtown manage to attract new loft developments and bars and restaurants? Why has the area to the south of the "dead-zone" known as downtown manage to see buildings refurbished and attract more and more office workers?

Because the Ilitches don't own land to the south/north of the "dead-zone". The Ilitches are awful. Just awful.