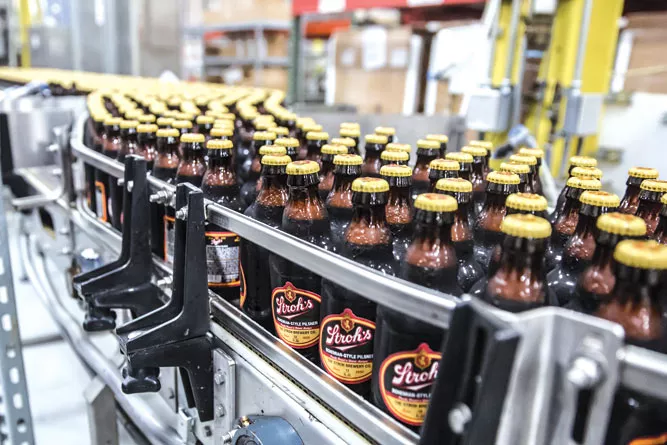 Marc Nader
Stroh's Bohemian-style Pilsner
Read the full list of Best of Detroit 2017 Best Drinks winners here.

A whole professional press is out there to cover the national drinking scene, and a simple web search can explain why, say, Bacardi beat out Captain Morgan this year, why Corona beat out Labatt, or why a blended Jalisco tequila like Maestro Dobel or a gluten-free Texas vodka like Tito's find favor. (Or why Johnnie Walker wins every year.) But what most excites us is our local drinking scene, which wouldn't be half as interesting without the creative local brewers and, lately, distillers who keep surprising us. Of course, some of our most stubborn winners are cut from the same cloth, and just have been at it longer, such as craft pioneers Bell's, small-batch distillery Valentine, and informal home of the Bloody Mary, Vivio's.
Really, five years ago we had only a few microdistilleries. Now we have strong votes for B. Nektar Meadery, farm-to-bottle whiskey from Detroit City Distillery, even bourbon from Motor City Gas and New Holland. (Bourbon can come from Oakland and Ottawa counties? When it's this good, it can!) Even Batch Brewing Company, which we called "under the radar" last year, is now well-known thanks to bus tours and its neighborhood location in Detroit. And all the attention the city is getting even played a role in bringing back Stroh's Bohemian-Style Pilsner, which profits from the glitter factor of having an old brand resurrected. Other standouts included Griffin Claw's Dan Rogers, and Leelanau Wine Cellars, which markets a variety of wines all over the state. Who knows what's next for our state? Will we one day oust even Jack Daniel's and Tanqueray from their top spots?
When it comes to shopping for all of this alcoholic goodness, we have a tale of two traders. First, the stalwart Red Wagon emporium. With two locations, more than a thousand liquors, and even glassware for sale, some things just get better with time. And then comes the relatively new arrival, 8 Degrees Plato. While the Ferndale shop is given over to tastings most Fridays, the drinking goes beyond special occasions at the Detroit location, where 16 taps dispense crafts and imports, and usually a good mix of styles, from sours and IPAs to malty brews. Add a few tables and a bring-your-own food policy, and this joint explodes, as it's within crawling distance of Slows to Go and the Peterboro.
Best Beer Selection in a Store
8 Degrees Plato
611 W. 9 Mile Rd., Ferndale; 248-808-6477
3409 Cass Ave, Detroit; 313-888-9972; 8degreesplato.com
Best Bloody Mary
Vivio's
2460 Market St., Detroit; 313-393-1711; viviosdetroit.net
3601 E. Twelve Mile Rd., Warren; 586-576-0495; vivioswarrenmi.com
Best Bourbon
Motor City Gas
325 E. Fourth St., Royal Oak; 248-599-1427; motorcitygas.com
Best Craft Beer
Bell's Brewery
355 E. Kalamazoo Ave., Kalamazoo; 269-382-2332; bellsbeer.com

Best Meadery
B. Nektar
1511 Jarvis St., Ferndale; 313-744-6323; bnektar.com
Best Michigan Beer
Stroh's Bohemian-Style Pilsner
strohbeer.com
Best Michigan Bourbon
New Holland Beer Barrel Bourbon
66 E. 8th St., Holland; 616-355-6422; newhollandbrew.com
Best Michigan Brewer
Dan Rogers, Griffin Claw
575 S. Eton St., Birmingham; 248-712-4050; griffinclawbrewingcompany.com
Best Michigan Gin
Valentine Liberator Gin
161 Vester Ave., Ferndale; 248-629-9951; valentinedistilling.com
Best Michigan Liquor
Valentine Vodka
161 Vester Ave., Ferndale; 248-629-9951; valentinedistilling.com
Best Michigan Tequila
Cabresto
tequila-cabresto.com
Best Michigan Vodka
Valentine Vodka
161 Vester Ave., Ferndale; 248-629-9951; valentinedistilling.com
Best Michigan Whiskey
Detroit City Distillery
2462 Riopelle St., Detroit; 313-338-3760; detroitcitydistillery.com
Best Michigan Winery
Leelanau Wine Cellars
231-386-5201; leelanaucellars.com
Best Microbrewery or Brewpub
Batch Brewing Company
1400 Porter St., Detroit; 313-338-8008; batchbrewingcompany.com
Best Gin
Tanqueray
tanqueray.com
Best Imported Beer
Corona
corona.com
Best Rum
Bacardi
bacardi.com
Best Scotch
Johnnie Walker
johnniewalker.com
Best Tequila
Maestro Dobel
maestrodobel.com
Best Vodka
Tito's Vodka
titosvodka.com
Best Whiskey
Jack Daniel's
jackdaniels.com

Best Wine Selection in a Store
Red Wagon Wine Shoppe
1613 Livernois Rd., Troy; 248-404-9999; redwagonshoppe.com