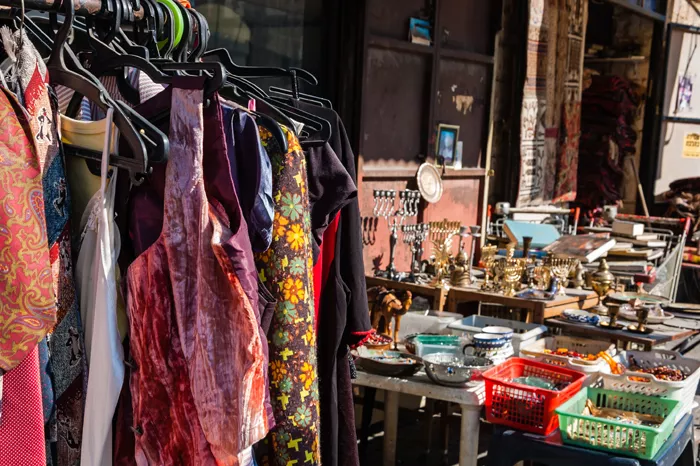 Winter's clutter can be summer's bread and butter during garage sale season, but before you grab the truck and head out to pioneer the scraps of someone else's life, here are a few suggestions to keep you sailing smoothly.
Say no to the children: If you drive by a display that's loud with primary colors, keep driving. This family has kids that have outgrown their immense collection of plastic lawn toys and toddler table sets. Unless you're planning on hauling away a crib and a stroller, this stop isn't worth it.
A house divided: In contrast, you want to find garage sales that are more like estate sales. Whether it's because of death, divorce, bankruptcy, or downsizing, it doesn't make you a vulture to know that there will be more things of value in a sale like this. You're more likely to find bargain-priced furniture, larger appliances and electronics, valuable collections, and better quality clothing.
Early birding: If this is a premeditated excursion, arrive as early as possible. It's a basic rule of all resale and secondhand shopping. The sale opens at 10 a.m., get there sometime within the first hour. It's not as if things are going to go flying off the foldable tables by the minute, but an early start guarantees the best picks.
Keep your eyes open: While browsing the dregs of what's left over because you got there late, be sure to do at least a second pass. It's too easy to go into a sale looking for something so specific that you become blind to everything else that's there. For instance, if you're looking for a bike or a sewing machine, it's still worth it to go around the sale again and let your eyes glaze over the clothes, jewelry, and appliances.
Hold the phone: If you find something that looks like an antique, a quick Google search on your phone could tell you its real value. Don't expect to find a fancy painting worthy of a major Antiques Roadshow win (but if you do, you'll know immediately). This works best with art, china, jewelry, and luxury clothing that's explicitly labeled with brands or designer names.
Feel the fun: Don't take it too seriously. Garage sales are about finding deals, getting cozy with strangers through their trinkets, and coming home with at least one thing you didn't need. Cherish the irresistible vintage Tupperware containers and the typewriter that nobody makes ink ribbons for anymore. Isn't that the fun part anyway?