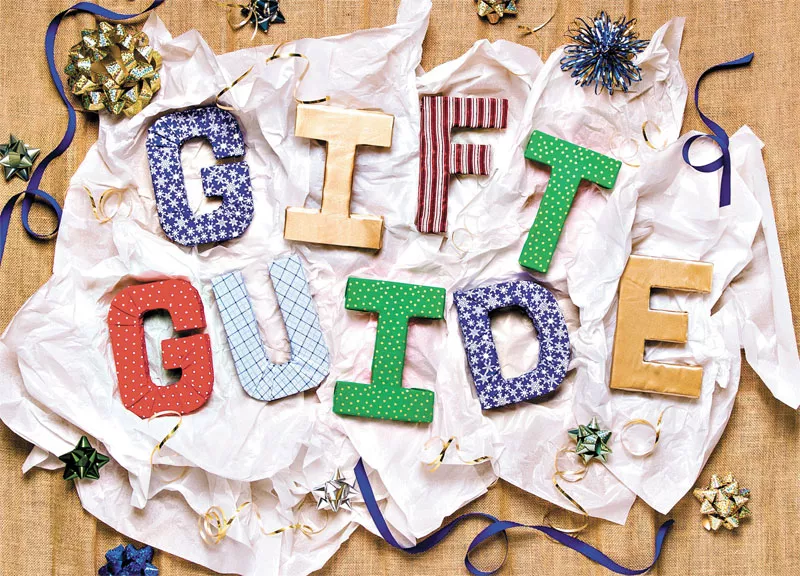 In 2018, shopping is the worst, right? We get it: Why leave the house when you could just thoughtlessly scroll through Amazon's homepage? Or kill two birds with one stone the next time you stroll through the checkout at the grocery store and stock up on generic gift cards for big box stores or Applebee's? Well, our gift to you this season is that we've done the heavy lifting with our gift guide. Literally, pick a letter, go to the store, and that's it. You will have Robin Hooded the holidays by supporting local businesses while taking money from the grubby hands of corporations. Oh, and you will have also made the lovely folks on your list very happy, because isn't that what it's all about?
Courtesy of Armageddon Beachparty
Acid Art
Armageddon Beachparty
What's in a name? Well, a whole lot when it comes to gallery/performance space/shop Armageddon Beachparty. "Ambassadors of psychedelia" Motu and Kozma peddle far-out, LSD-inspired art and one-of-a-kind wearables that will please even the trippiest person on your list. 1517 Putnam St., Detroit; 313-704-4407; armageddonbeachpartydetroit.com • Select art prints start at $20.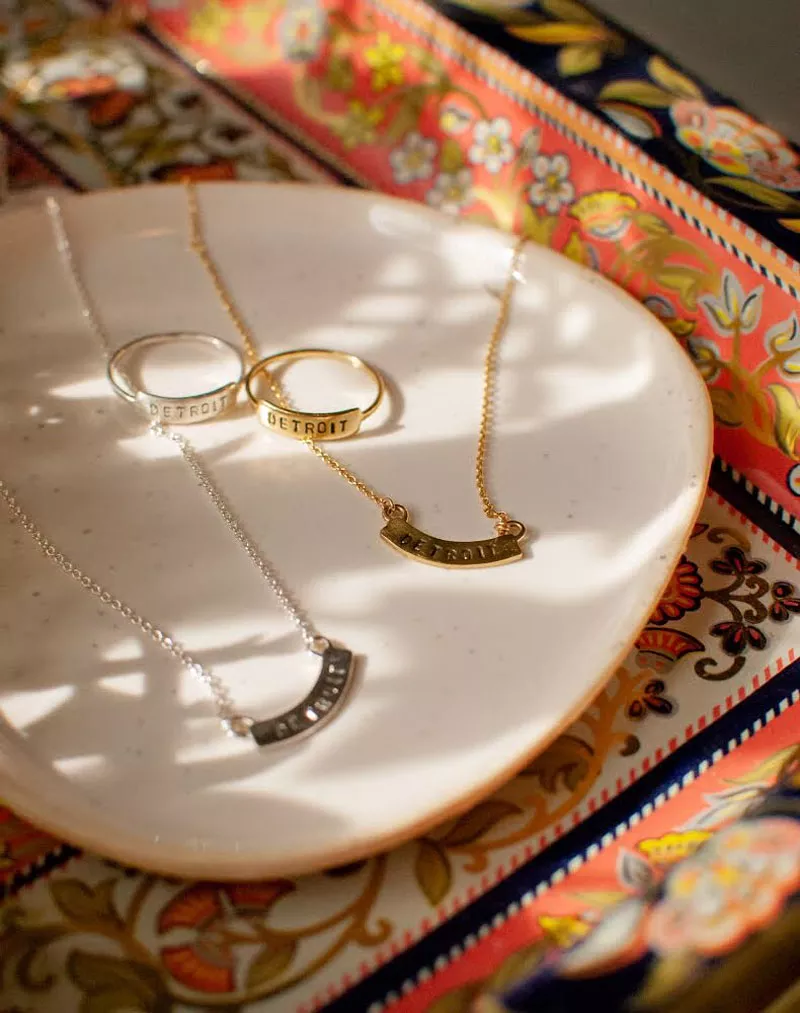 Courtesy of Eldorado General Store
Bohemian Rhapsody
Eldorado General Store
Coachella is coming. OK — not really. But this wanderlust-y, creatively curated vintage shop is the place to shop for that flower crown-wearing, Instagram star on your list. 1700 Michigan Ave., Detroit; 313-784-9220; eldoradogeneralstore.com
Courtesy of Elaine B. Jewelry
Consciously sourced diamonds are a girl's best friend
Elaine B. Jewelry
Nothing says "I love you" quite like responsibly sourced jewelry from the mavens of minimalist designs at Elaine B. Jewelry — whose new showroom is full of enviable accessories, like sleek geometric pendants handmade from recycled silver. Looking to pop the question? They do custom designs, too. 22961 Woodward Ave., Ferndale; 248-565-8758; elainebjewelry.com
Courtesy of Detroit Institute of Arts
Degas, Monet, and Picasso — oh my!
Detroit Institute of Arts gift shop
Like many of the museum's displayed works, there's more than meets the eye when it comes to the DIA's gift shop. We daresay it is possible to lay waste to your entire gift list by paying a visit, as they offer everything from art prints, books, jewelry, housewares, outerwear, and a kids corner flush with educational and art-themed toys and activities — with price points to please every budget. 5200 Woodward Ave., Detroit; 313-833-7900; diashop.org
Courtesy of Alley and Eye
Eye spy really great eyewear
Alley and Eye
Give the gift of sight — or at least really stylish frames for your loved one's precious peepers. Alley and Eye offer a slew of frames for every face, because you don't need to have astigmatism to rock glasses. Prescription eyeglasses and sunglasses are available through special order and will be made available online next year. 314 E. Baltimore, Detroit (inside the Baltimore Gallery); alleyandeye.com • Frames start at $25, prescription by special order.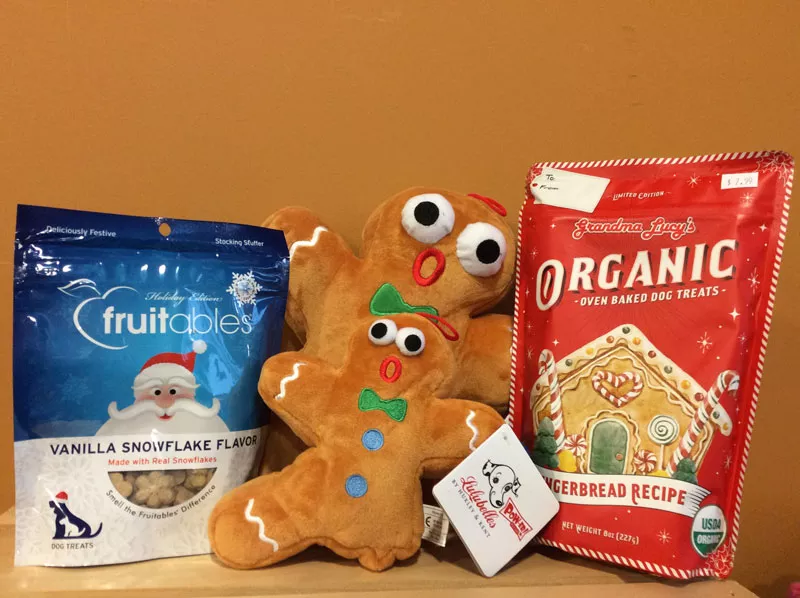 Courtesy of Cass Corridog
Furever friends
Cass Corridog
Do not sit, stay, or roll over on the array of nutrition, care, and play products for the naughty and nice doggos and kits in your life, as offered by Cass Corridog. 4240 Cass Ave., Detroit; 313-887-9684; facebook.com/casscorridog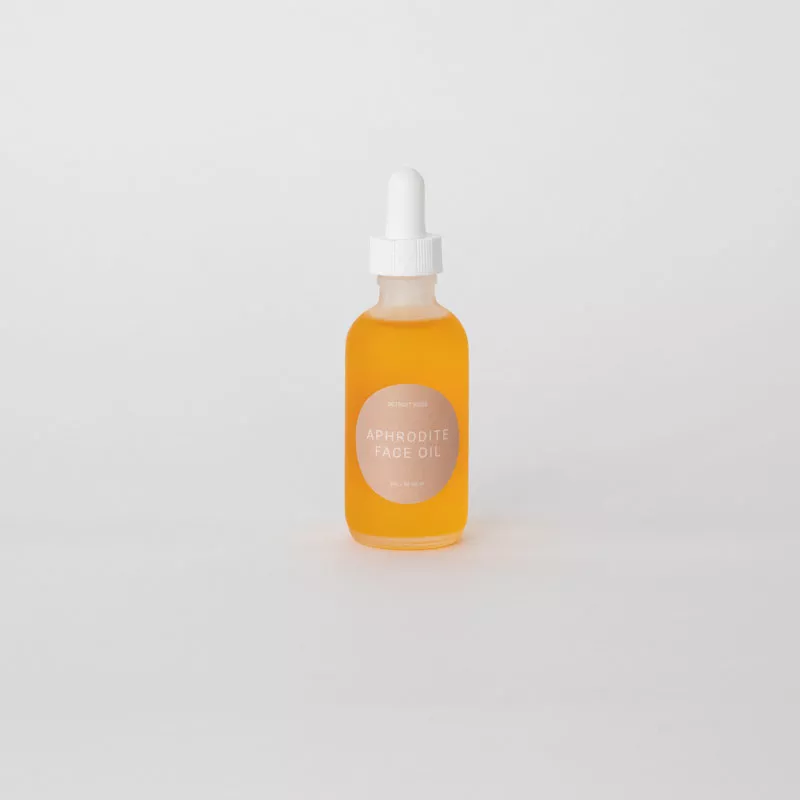 Glow up (literally)
Detroit Rose
Treat yo'self. Or rather, treat someone else with luxurious skin care — and candles — from Detroit Rose. The all-organic line of minimalist skin care is free of preservatives, parabens, and other nasty stuff that has no right being involved with your self-care routine. Bestsellers include Aphrodite Face Oil, Moon Mist, and Coco Pomelo Skin Polish. As for votives? Try Milk + Honey, Cinnamon Chai, or Campfire. Detroitrose.com • Skin care starts at $30, candles are $32.
How Bazaar
The Himalayan Bazaar
Ann Arbor's fair trade shop promises good karma. A perfect stop for the incense-loving, culturally and ecologically responsible mountain climber on your list. 218 S. Main St., Ann Arbor; 734-997-7229; thehimalayanbazaar.com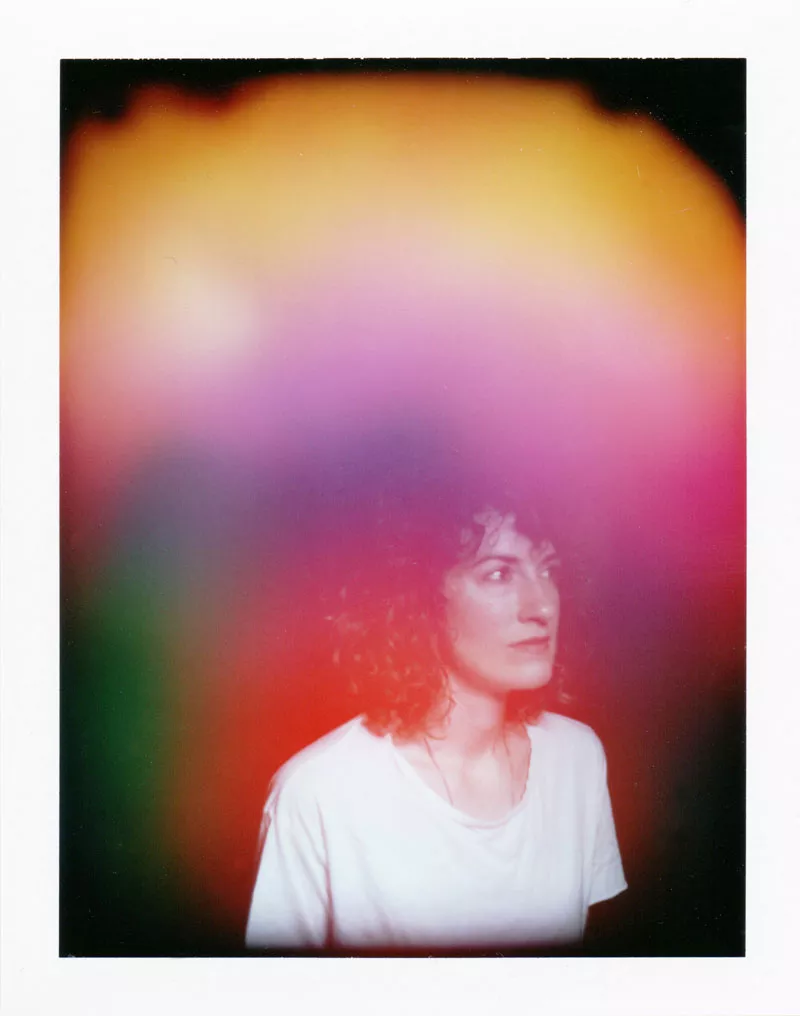 Inside out
Aura Aura | Grey Area
Did you know that everyone has an aura? Well, according to Eileen Lee and her specialty aura camera, they do. Lee's camera captures the electromagnetic field that surrounds us in colorful photographs — and then interprets what the colors mean, like a millennial mood ring. More importantly, the photos look really freakin' cool. Oh, and you can browse vintage wares while you wait for your photo. 4200 W. Vernor Hwy., Detroit; auraaura.co • $45 per portrait session, appointment only, gift cards available.
Courtesy of Third Man Records
Jack Sabbath
Third Man Records
Leave it to Detroit's prodigal son of rock 'n' roll, Jack White, to save the vinyl industry. No, really. Third Man Records offers limited release records, reissues, music gear, books from TMR Publishing, and, of course, merch from White's numerous bands the White Stripes, the Raconteurs, the Dead Weather, as well as from his solo career. If you're feeling creative, you can even record a straight-to-vinyl song in TMR's on-site recording booth. 441 W. Canfield St., Detroit; 313-209-5205; thirdmanrecords.com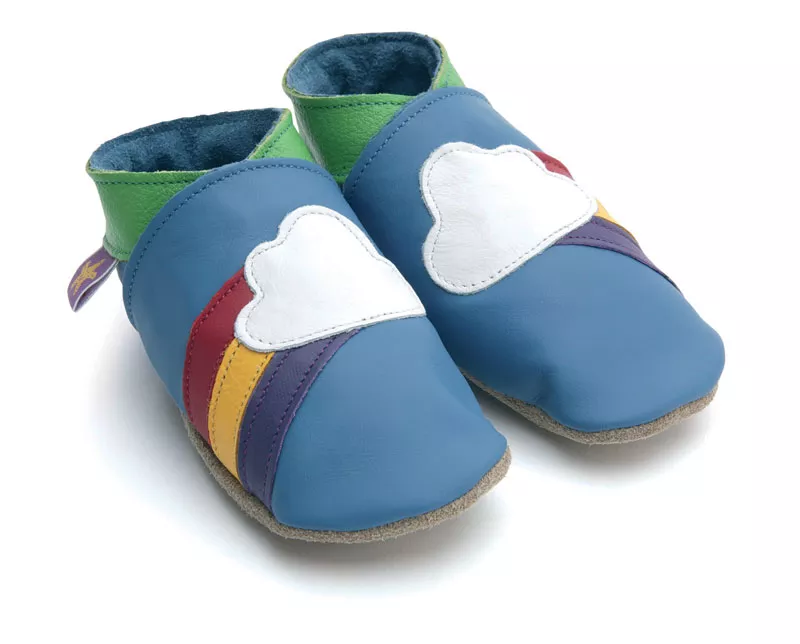 Courtesy of Little High Flyers
Kids are alright
Little High Flyers|
What would gift-shopping be without the painstaking search for the perfect prize for the tot, toddler, or baby on your list? Midtown's Little High Flyers makes it easy with their thoughtful selection of organic and gender-neutral offerings. 4240 Cass Ave., Detroit; 313-818-3748; littlehighflyers.com
Leather Daddy
Noir Leather
Metro Detroit's premiere purveyor of pain and pleasure, Noir Leather, is a BDSM paradise: floggers, ball gags, corsets, heels, and of course, a whole lot of leather: shiny, shiny shiny boots of leather. Shop here for your naughty list. 124 W. Fourth St., Royal Oak; 248-541-3979; noirleather.com
Courtesy of Third Wave Music
Music Menagerie
Third Wave Music
Third Wave owner Jen David has music in her blood. She's super passionate and it reads the minute you walk into her neighborhood music shop. Third Wave boasts an ever-changing selection of new, used, and vintage instruments, gear, and accessories. The shop also offers consignment, repairs, and various musical lessons. 4625 Second Ave., Unit C2, Detroit; 313-312-0995; thirdwavedetroit.com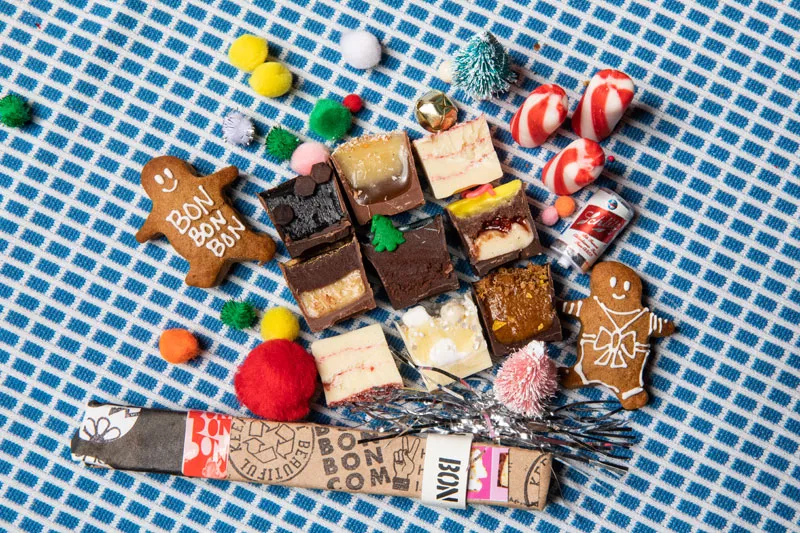 Not your average box of chocolates
Bon Bon Bon
It's a treat so sweet they named it thrice. This women-owned chocolate factory churns out bite-sized works of art. The charming packaging (seriously, you'll feel bad even opening the box) is just as special as the bizarre or familiar-tasting treat tucked inside. Among the flavors are Strawberry and Balsamic, Mac-N-Cheese, Lemon Bar None, and Killer Cereal. 719 Griswold St., Unit 100, Detroit; 313-316-1430; bonbonbon.com • $3 per bon bon, $30 per 10 piece box, $45 per 15 piece box.
Courtesy of Rust Belt Market
Odd world
Rust Belt Market
More than 50 independent vendors share one roof at Ferndale's Rust Belt Market, where you can stock up on handcrafted toiletries, edible creations, and all the things needed to festoon walls, yards, and bodies — as well as records, paper crafters, vintage clothing, occult collections, and metro Detroit pride gear. In other words, when it comes to finding that perfect gift Rust Belt will get the dang job done. 22801 Woodward Ave., Ferndale; 248-441-0956; rustbeltmarket.com
Pick your provolone
Mongers' Provisions
The best things come in threes. For Mongers' Provisions, it's all about the cheese, chocolate, and charcuterie — sweet, swiss, and savory. From the finest cheese, all cut-to-order, and personalized provision boards and "cheese-cakes" (not what you think), this is a must-shop for the loud and proud non-vegan on your list. 4240 Cass Ave., Detroit; 313-651-7119 • 1030 Woodward Hghts., Ferndale; 248-468-4487; mongersprovisions.com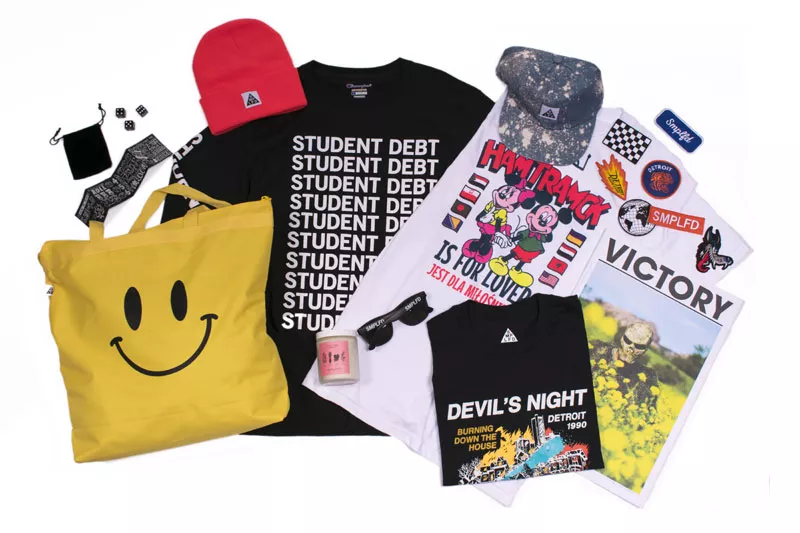 Quicken bones
SMPLFD
From sports to student debt jokes and J Dilla, graphic designers and screen printers SMPLFD have got #AestheticGoals down to a tee. You can cop a "Fuckin' Lions" shirt for the hopeless hometeam fan on your list, or a mock Supreme brand-style Supremes shirt for your resident Motown lover (and hypebeast). SMPLFD's sardonic twist on Motor City culture is a must for both the native or transplant in your life. 1480 Gratiot Ave., Detroit; 313-285-9564; buy.smplfd.com • Select T-shirts start at $29.99, hooded sweatshirts start at $59.99.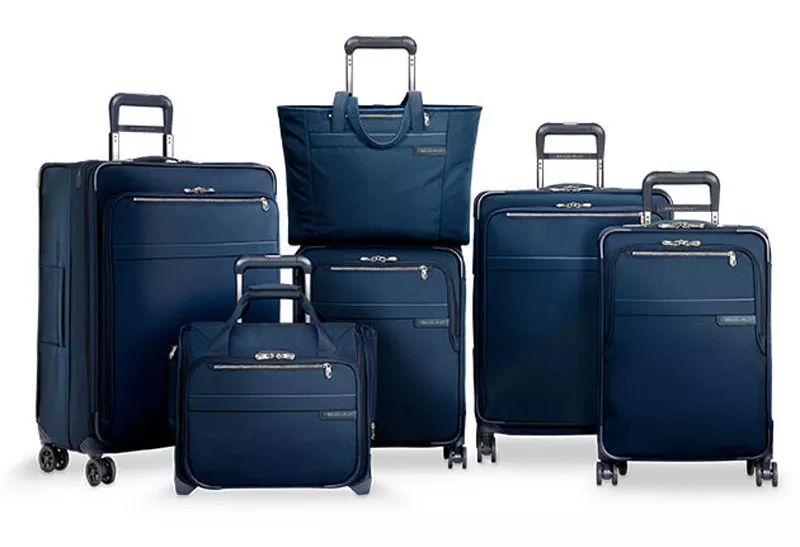 Courtesy of London Luggage Shop
Roam around the world
London Luggage Shop
For the jet-setting world traveler on your list, look no further than Detroit mainstay with the largest luggage inventory in the U.S. — London Luggage Shop. For more than 70 years, London Luggage has been the go-to place for luxury suitcases, briefcases, and handbags. 5955 Woodward Ave., Detroit; 313-831-7200; londonluggage.com
Slice of Heaven
Sister Pie
On the seventh day, god created Sister Pie. Well, technically, baker Lisa Ludwinski did, but still — we are not worthy. These pies are not only insanely delicious but they're sustainable, too. From the consciously sourced ingredients to the ethical labor, Sister Pie is a specialty bakery with heart. Flavors do change seasonally, but the instant classic Salted Maple is a staple sure to appease many a sweet tooth. 8066 Kercheval St., Detroit; 313-447-5550; sisterpie.com • Pies range from $28-$32.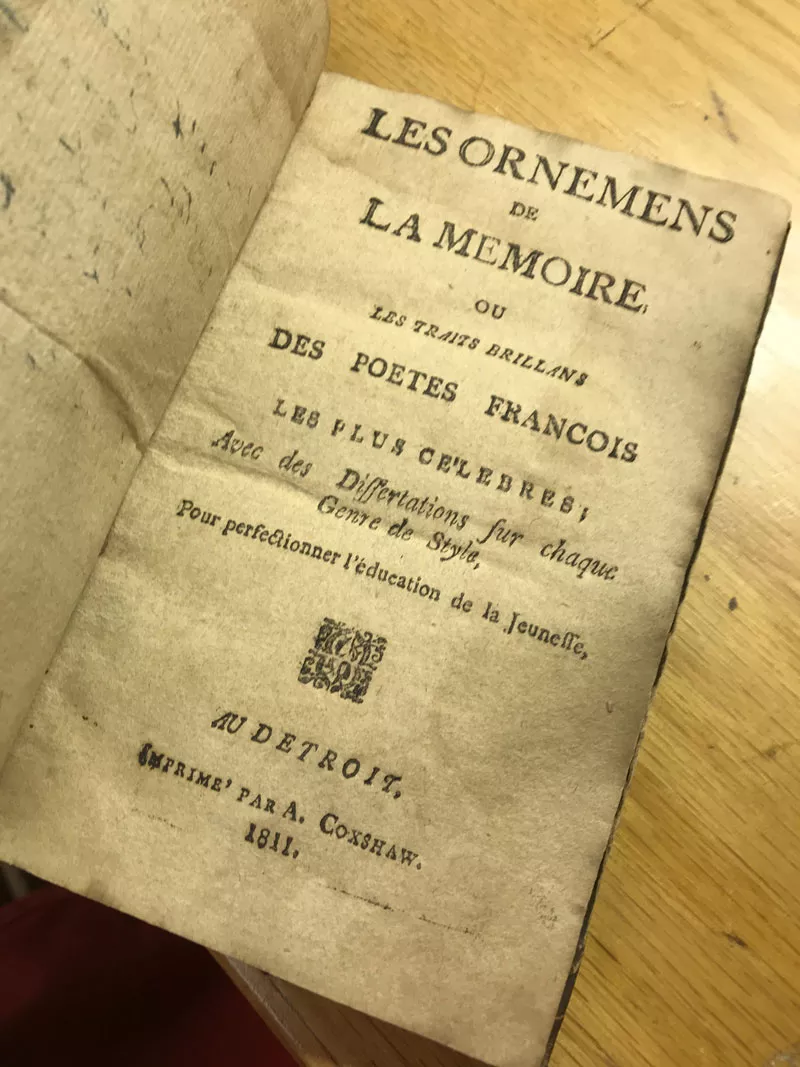 Courtesy of John K. King Used & Rare Books
Treasure hunt
John K. King Used & Rare Books
The gift that keeps on giving: a trip to John K. King Books, a labyrinthian treasure trove that houses a collection of 1 million books in more than 900 subjects. Upon entry, visitors are greeted with a map detailing the contents of each of the four stories. While you may go in with a list of must-find titles, the more seasoned bookworms will tell you that titles will find you. info@mongersprovisions.com 901 W. Lafayette Blvd., Detroit; 313-961-0622; johnkingbooksdetroit.com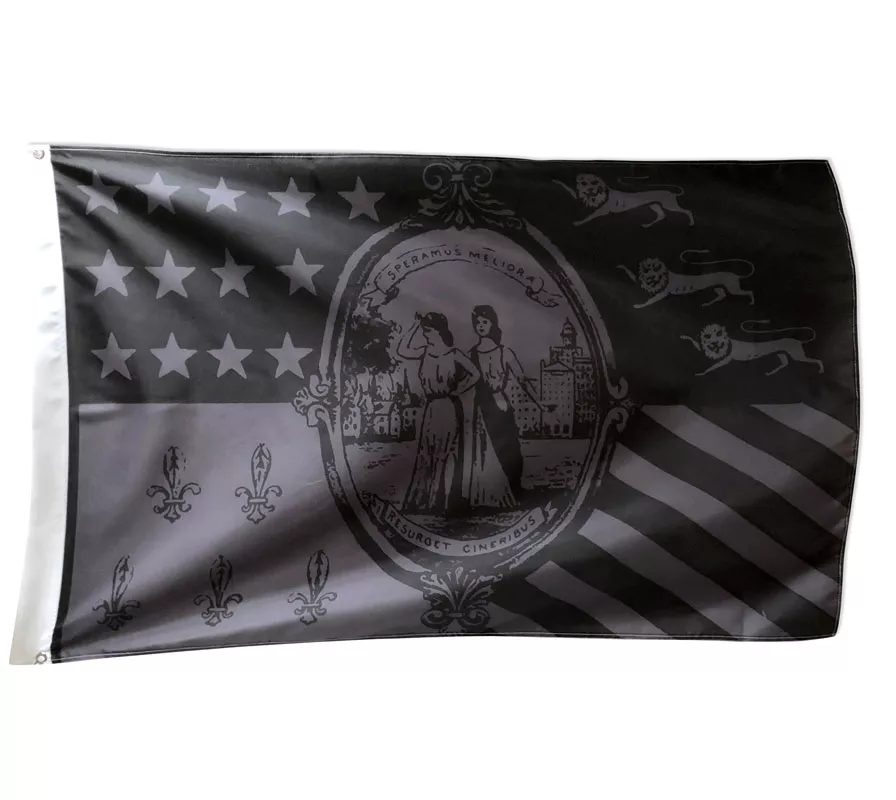 Courtesy of Well Done Goods
United we flag
Well Done Goods | Cyberoptix
Proud to be from Detroit? So are we. That's why Well Done Goods is the perfect place for anyone looking to flaunt Motor City pride in style, from their newly launched Detroit Manhole-style tees to their historical blueprint designs of buildings and maps to snarky Dan Gilbert merch. 1440 Gratiot Ave., Detroit; 313-404-2053; welldonegoods.com • Flags are $19, hand-printed manhole t-shirts are $32.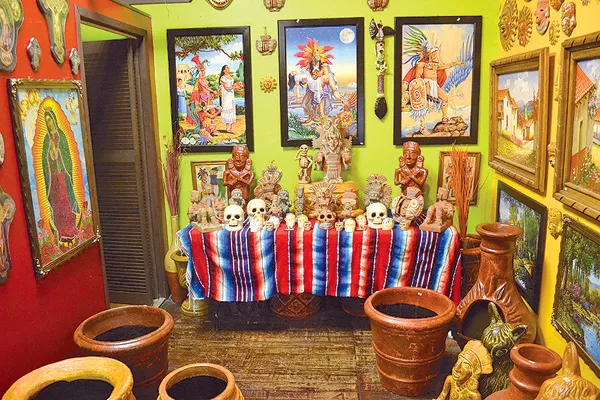 Courtesy of Xochi's Gift Shop
Viva México
Xochi's Gift Shop
For 30 years, Xochi's Gift Shop has been at the heart of Detroit's Mexicantown. The family-owned shop specializes in hand-picked Mexican imports, including folk art, decor, jewelry, pottery, and Dia de los Muertos goods. Side note: The extensive collection of Frida Kahlo-themed art will dazzle the Frida-phile on your list. 3437 Bagley St., Detroit; 313-841-6410; xochis.net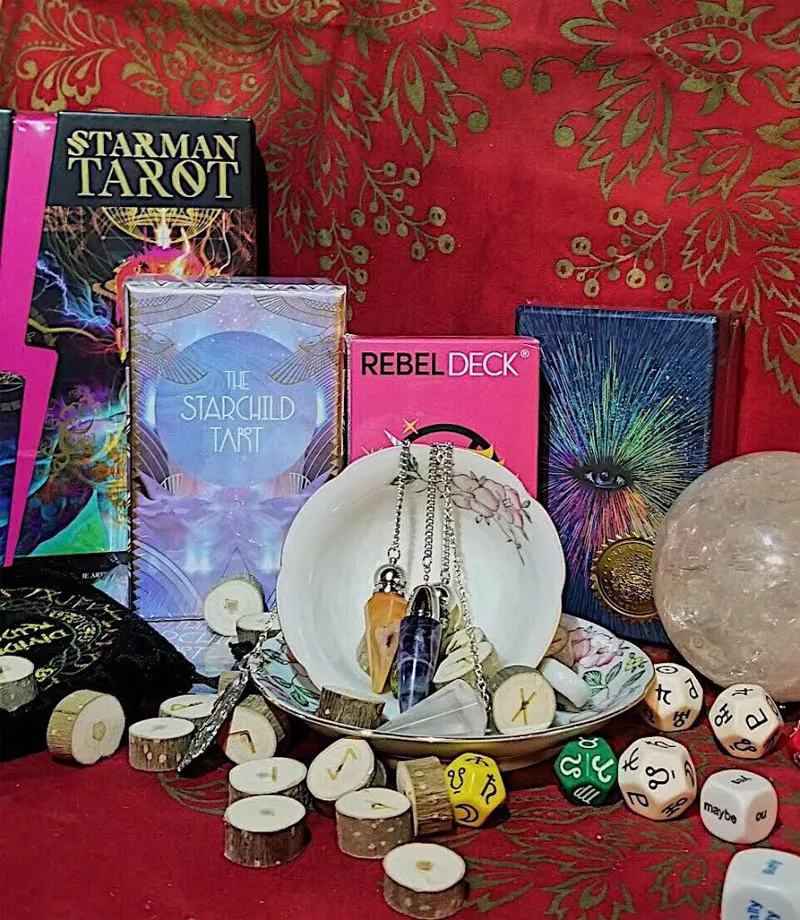 Courtesy of Boston Tea Room
Witchy wares
Boston Tea Room
Gwyneth Paltrow's GOOP has got nothing on the mystic magic of Ferndale's Boston Tea Room. Offering a wide variety of stones, crystals, reading material about stones and crystals, tarot readings, jewelry, and everything under the sun to cleanse your spirit and align all those dang chakras are available. 224 W. Nine Mile Rd., Ferndale; 248-548-1415; bostontearoom.com
Courtesy of Spectrum Boutique
XXX
Spectrum Boutique
Ready to take gift-giving to the next level? Enter Spectrum Boutique — your Detroit-based sex-positive online boutique. From plugs, harnesses, wands, vibes, and rings, as well as educational materials, lubricants, and BDSM goodies, dil-do yourself (and your partner of choice) a favor with a discreet online shopping experience. spectrumboutique.com
Yes, you know someone who smokes weed
Bongz & Thongz
Every stoner deserves peace of mind, and with that comes a piece of glass from which to smoke from. Know someone who would love to smoke out of a dragon-shaped bong this season? What about a Puffco Peak rig for the dab-connoisseur? And for the valiant vaper? They've got the juice. 119 E. Liberty St., Ann Arbor; 734-585-5613.
Courtesy of Meta Physica Wellness
Z is for zen
Meta Physica Wellness
We guarantee you've got someone on your list that needs to chill out. Meta Physica Wellness is here to rub and steam the pain, pressure, and drama out of your life. Give the gift of peace with a gift certificate for one of the many specialty massages, infrared sauna sessions, or acupuncture treatments. 1701 Trumbull St., Unit 3, Detroit; 313-303-7611; metaphysicamassage.com • Massages start at $70/60 minutes, sauna sessions start at $20.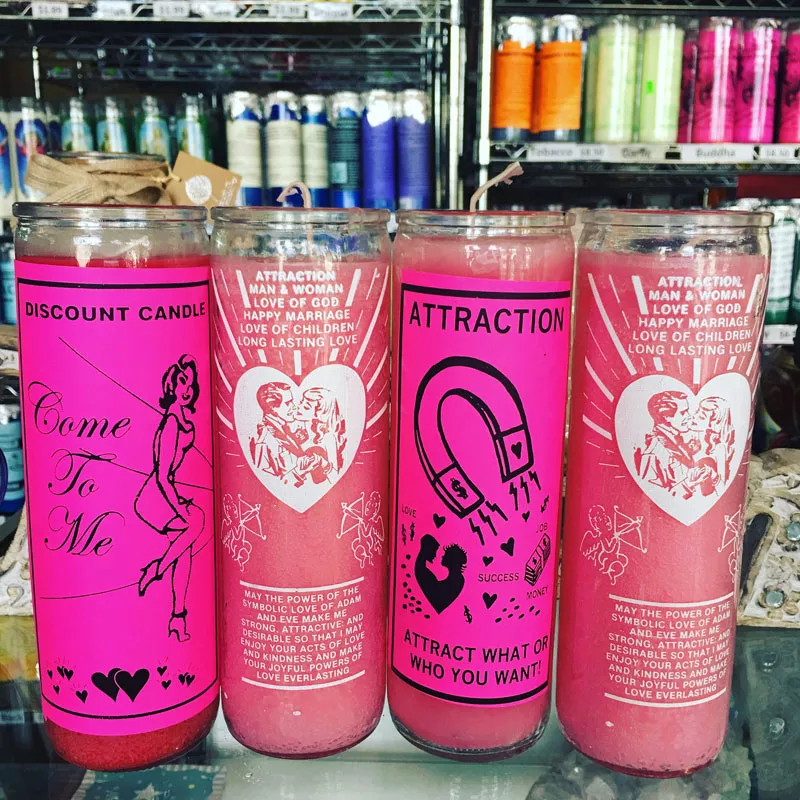 Courtesy of Discount Candles
#Blessed
Discount Candles
For more than 25 years, this family-operated candle shop is in the business of blessing. If you've got a problem, ailment, or desire, Discount Candles has a solution. Traditionally referred to as prayer candles, Discount Candles' offerings are a bit more specific. Popular candles include "Law Stay Away," "Bitch Be Gone," and "Fast Luck." 1400 Gratiot Ave., Detroit; 313-566-0092 • Candles range from $2.99-$6.99 for packaged incense and $4.99-7.99 for seven-day candles.
Stay on top of Detroit news and views. Sign up for our weekly issue newsletter delivered each Wednesday.