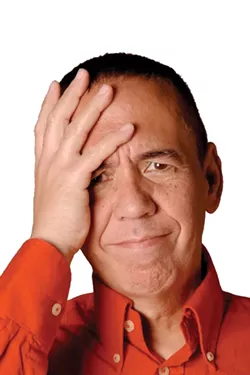 Controversial, grating, obnoxious, offensive — comedian Gilbert Gottfried has been accused of being all of those things, and justifiably so. It's all an act, though. Maybe we shouldn't have been surprised that he was soft-spoken (relatively anyway) and charming in conversation, but he was. Humble too. But don't expect any of that nice stuff during his appearance Friday at the Magic Bag.
— Brett Callwood

Metro Times: It seems like you were just here. What have you been up to since you last came to Detroit?

Gilbert Gottfried: I lose track of when I'm in each city. Once the weather starts turning colder, I always seem to be in either Canada or the Midwest. It's another accomplishment that I haven't been discovered and kicked out of shows.
MT: Are you a fan of Detroit?

Gottfried: I've not been there a bunch of times before. It's so funny — when I travel, which I do a lot, a lot of the time is spent in my hotel room, at a radio station or a local morning TV show, and then off to the club. I always feel like there are cities that I swore I'd never been to, and then I get to the club and I see I've signed their wall. Sometimes I feel like I'm a character in those movies where the lead character has amnesia and his memory comes back in bits and pieces. It's very peculiar. Sometimes I'll see certain landmarks — I'll go to Seattle and see that tower, and think, "This means either I've been here before or I've seen it on TV."
MT: You're doing two shows in one night — how do you keep it fresh?
Gottfried: Oh, wow. It depends on the night. Sometimes it'll feel OK, sometimes it's a grind. The worst was places I've worked a bunch of times where there were three shows a night. By the third show, you have no idea what bit you just did. You could repeat the same joke 50 times and not know it. I'm always amazed anyone comes to my shows. I don't know that there's a reason to come to two of my shows unless you're a glutton for punishment. I'm always amazed at shows, even if it's someone who saw me like a few months ago and I've come back. I always stare at them like, "You want to see me more than once?" I don't really do anything in particular to prepare. After a while, you've been doing it for so long. I kinda feel like somebody could wake me up at 3 a.m. and put me on stage, and I'd be able to do the show.
MT: Do people expect you to behave like your on-stage persona when offstage?

Gottfried: Oh, yeah. I've heard stories that have to do with me that were so obviously embellished with weird things that I've done. It's natural. I've never met, say, Julia Roberts, but I kinda feel like if I met her and she just said, "Hello, nice meeting you," I'd think, "Well, wait a second — why isn't she kicking her head back and laughing like a hyena, showing all her teeth like she does in the movies." I'd be disappointed.
MT: I'll just make up a bunch of 9/11 and tsunami jokes and say that you said them …

Gottfried: Sure. Come up with bad taste jokes on any topic and write my name in … as long as they're funny. mt
Gilbert Gottfried performs at 7 p.m. and 10 p.m. on Friday, Dec. 6 at the Magic Bag, 22920 Woodward Ave., Ferndale; 248-544-3030.