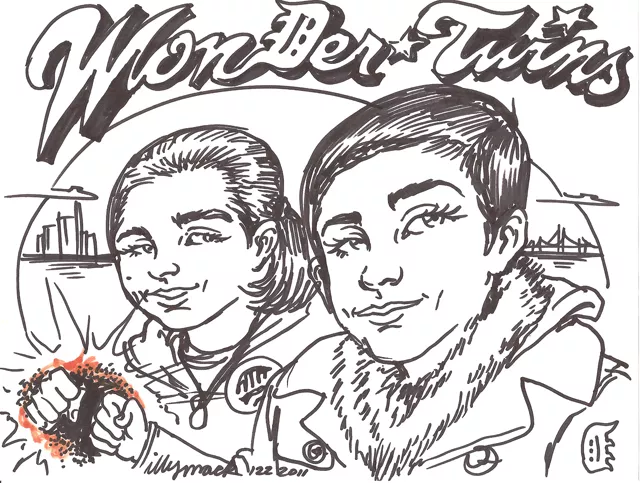 This past Saturday night, the Wonder Twins set off for a free night of Detroit rock with House Phone, the Hounds Below and Illy Mack in the new Magic Stick Lounge. In addition to great music, the twins also met the real Illy Mack, who plucked their souls from their bodies and embedded them into a sheet of paper using nothing but a Sharpie marker and that Illy Mack magic.
Laura: This was my first show in the new Magic Stick Lounge. I liked it a lot. I never got used to the Majestic Cafe as a venue. I always felt like a weirdo standing around waiting for the dinner crowd to finish eating so the show could start.
D'Anne: You probably would have felt less like a weirdo if you hadn't spent that time asking patrons, "Are you going to eat that?" and then helping yourself to their plates.
Laura: I just can't stand to see good food wasted.
D'Anne: Right. Anyway, it was my first show in the lounge as well — also my first time seeing any of these bands.
Laura: And the first time we have had our portrait done during a show.
D'Anne: By the one and only Illy Mack — not the band, but the guy the band named themselves after.
Laura: Right! Such a weird but cool story.
D'Anne: Illy Mack's Jennifer David told us that while working at a soup kitchen, she saw the name "Illy Mack" on the sign in sheet and liked it.
Laura: Right. Then after adopting that as her band name, the real Illy Mack came into a bar where they were playing, told them they were the shit and introduced himself. Minds were blown all around.
D'Anne: It's a real Detroit love story.
Laura: The best part about getting our picture made was that Illy Mack kept saying, "I'm drawing the motherfucking Wonder Twins!"
D'Anne: Who knew he read our column?
Laura: So apparently we have two loyal readers. Illy Mack and our father.
D'Anne: He even said that he has a friend, E-Rock, who he considers his Wonder Twin. They do the Wonder Twins fist bump and E-Rock then tells him to go downtown and draw everybody.
Laura: Well, he can cross us off his list.
D'Anne: I doubt we were on his list.
Laura: Whatever. He was totally excited about drawing us. He even said, "I should've drawn both of you with cleavage hanging out!"
D'Anne: I'm glad he didn't. Like, very glad.
Laura: Illy Mack, the band, was really fun. Jen David is a riot on stage. I love the whole "drumstick taped to the end of my guitar so I can play cymbals" thing.
D'Anne: Both she and Steve Kendzorski are multi-instrumentalists. Simultaneous multi-instrumentalists.
Laura: That's true — she plays keyboards, cymbals, saxophone and guitar, and he plays a snare and bass drum with his feet while he plays bass. It's like four people in two.
D'Anne: Jennifer reminded me a lot of Gilda Radner. I kept expecting her to bust into "Let's Talk Dirty to the Animals" at any moment.
Laura: Now that's a song they should cover! Illy Mack: Consider this an official Wonder Twins request.
D'Anne: Did one of Illy Mack's songs have the lyric, "My eyes glaze over like donuts?" Because that made me crave some Dutch Girl.
Laura: Any Dutch girl in particular? And doesn't your wife read this column?
D'Anne: Dutch Girl Donuts, Laura. And yes, she does read this column, which means our readership has now tripled.
D'Anne: I loved that they did a cover of "Saint John" by Cold War Kids. I forgot how much I love that song.
Laura: That song made me think of death row meals. Whenever I eat something really amazing, I mentally add it to my death row last-meal list. Though I'm of course hoping to never need this list.
D'Anne: You are so weird.
Laura: This was a pretty sweet lineup for a free show.
D'Anne: The first band of the night was Land Line.
Laura: No. They were called House Phone. I can understand your confusion seeing as you're the only person left on earth with a land line phone.
D'Anne: That's not true. Demographically land lines are still very popular with the elderly.
Laura: I rest my case. The dude from House Phone had a killer voice. I would totally let him do the message on my home answering machine.
D'Anne: I'm still holding out for Carl Kasell.
Laura: Cool NPR reference, nerd.
D'Anne: Shut up.
Laura: Anyway, I was excited to see the Hounds Below again. I'd seen part of their set at Fucking Awesome Fest back in August and thought they were awesome. Plus Ben Collins from Lightning Love is in the band. And I'm kind of obsessed with Lightning Love.
D'Anne: Yes. You're lucky they don't take out some kind of restraining order against you.
Laura: The Hounds Below describe their sound as Arcade Fire meets Roy Orbison. This is pretty accurate.
D'Anne: I agree, though I'm basing that off the songs I listened to via the Hounds Below Bandcamp page. They played a lot of those songs, but the sound was kind of muddy and I think a lot of the nuances were lost at the show.
Laura: A few sound kinks to be worked out in the Lounge, for sure. I still thought they were awesome.
D'Anne: Jason Stollsteimer does a pretty good Roy Orbison channeling. And the band was dressed all in black, which helped.
Laura: They're in the studio right now recording some new stuff. At one point Jason said that the songs they were playing were two years old and next time they'd have new songs to play.
D'Anne: They did a cover: "Where Is My Mind" by the Pixies.
Laura: Well my mind is now on glazed donuts. Which seems like the perfect food to eat while listening to Illy Mack.
D'Anne: Also probably a good addition to any worthwhile death row meal.
Laura: You only live once!