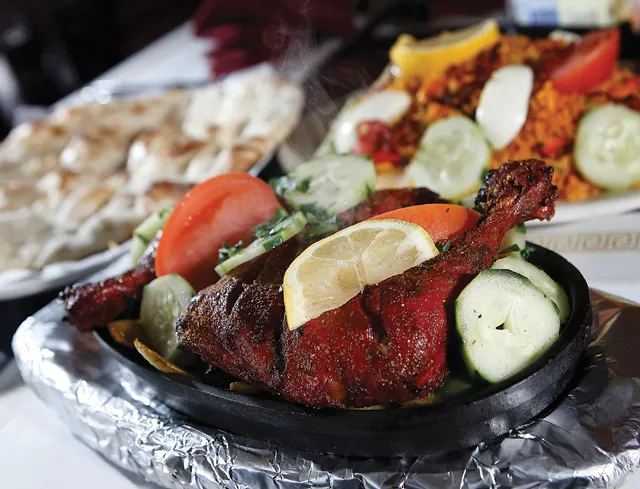 MT photo: Rob Widdis
Tandoori chicken from Hamtramck's ZamZam.
ZamZam
11917 Conant, Hamtramck
313-893-9902
Strolling into ZamZam on a weeknight, our party for dinner felt right at home. That is to say, it wasn't unlike a typical night eating in since we were the only people there. That's more than a bit puzzling, because ZamZam offers an awful lot of flavor for an awfully good price.
Situated north of Caniff on Conant in a building previously occupied by another Indian restaurant, ZamZam offers a full menu of Bangladeshi, Pakistani and Indian cuisine from lunch through the late evening.
There's a minimalist quality to the renovated space: The café is small, and the main dining room is plain, the only real ornamental touches being small tiles set into the stone floor. But the experience here isn't about art on the walls; it's about good food at a reasonable cost.
Value is a term that gets tossed about often, but ZamZam could easily find itself pictured next to the word in an illustrated dictionary. There isn't an item on the menu more than $10, the portion sizes are significant, and the food is enjoyable. Our three-person party has been able to leave on more than one occasion with bags full of leftovers and bellies bursting with joyfully obtained discomfort for less than $40.
Beginning with an appetizer (or two) is an easy choice given that the change found between two sofa cushions may well cover the expense.
Arriving with a trio of wildly different sauces and available for meat-lovers and vegetarians alike, the samosas are a must. Fried food fans might also try the pakora: They have a perfect crunch, though they are a bit oily. Recent converts to Indian cuisine looking for something a bit more comfortable might try the tandoori-style chicken wings. A bit crispy on the outside and plenty moist inside, they're like any decent wings — save the familiar deep, brick-red color imparted by their Eastern heritage.
The restaurant also offers several soups, both vegetarian and not, including a pleasantly savory, mildly bitter mulligatawny lentil soup, the most expensive choice at $3.
The bulk of the menu, though, consists of a lengthy list of entrées covering the breadth of the region. Interestingly, ZamZam serves halal food, but they also serve a much higher percentage of meat dishes than do most area Indian restaurants. Herbivorous folks shouldn't be too disappointed though: The vegetable entrées are as delicious and inexpensive as everything else. For $6, one may sample common favorites like mutter paneer, fried peas with homemade cheese cubes, and saag paneer, which substitutes spinach for peas, each with pleasant spicing and firm cheese that hasn't succumbed to a tendency to fall apart. For a dollar more, consider the bhindi masala, a spicy okra-based dish. Or for a head-scratching $5, try the heaping portion of aloo gobi, the Indian-Pakistani cauliflower and potato dish featuring heavy seasoning with turmeric and other spices. ZamZam may also use tomato, as the sauce is a deep, rich reddish-brown.
Meat lovers have a dizzying number of choices. Especially worth trying is the lamb karahi for $8. Cooked to tender perfection, the lamb will fall apart as eaten. And if ordered without any additional heat, the rich and flavorful sauce with onion, tomatoes and peppers is just the right balance of sweetness and curry-driven spiciness.
To illustrate the full scope of the menu, it's worth noting that there are about a dozen chicken dishes alone. Among them is chicken jalfrezi, which has a potent, sweet ginger flavor that comes through even their spiciest preparation.
One of the other chicken entrées highlights part of the unique charm at ZamZam: The typo-laden, slightly inconsistent carryout menu. Listed on the dinner menu as chicken kashmir and on the carryout menu as chicken korma, the boneless meat dish for $7.50 features large slices of caramelized banana drowning in the sweet, nutty curry sauce. No one in our dinner party that evening can claim expertise over the dish's pedigree, but it passes the ultimate test — a trio of diners picking at the plate long after their stomachs have been proclaimed full.
Each meal comes with either rice or naan, though given the low cost and large portions, it's easy enough to enjoy both in a sitting, especially if those at the table share.
Spice levels are always subjective, but know that "hot" at ZamZam is probably hotter than your corner Thai joint. Tread lightly if a sweaty brow and burning tongue are undesirable. Or better, for $1.50, order a side of cooling raita, a blend of yogurt, cucumber and carrot that tames spicier dishes.
Desserts are $2 apiece, and among them are a few Indian classics: rice pudding with raisins and almonds, cheese dumplings with pistachios, and gulab jamun, the bready, donut-style balls of dough soaked in sweet syrup.
ZamZam serves no alcohol, but they offer plenty of beverages, including teas, soft drinks and both sweet yogurt and mango lassis. And while lunch goers may order off the menu, there's a buffet for less than $7 that runs from 11:30 a.m. to 3 p.m. on weekdays.
Metro Detroit offers bountiful diversity in terms of its ethnic cuisine, and Hamtramck may be the best illustration of that in the area. But inexpensive Indian food — especially close to the city — is a rare treat. ZamZam fills that niche perfectly.
ZamZam is open 11:30 a.m.-11 p.m. daily.