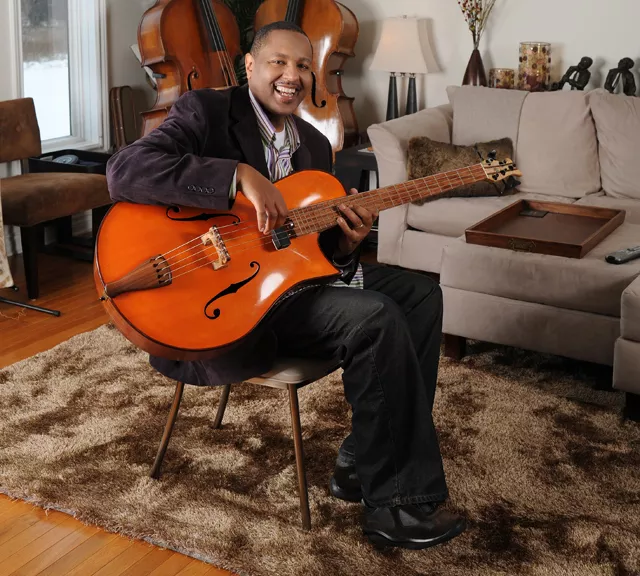 Photo: Mary Bortmas
Hurst at home in Plymouth.
A few weeks ago at a Charles H. Wright Museum show, drummer Jeff "Tain" Watts took a couple minutes to introduce his comrades on stage, all of them stars. He had the pianist Geri Allen, trumpeter Nicholas Payton, saxophonist Wessell Anderson and bassist Robert Hurst III. Hurst is one of the top bass men at work today, Watts told the crowd, a cat following in the tradition of Detroit bass greats like Paul Chambers and Doug Watkins.
To piggyback on Watts' comments, Hurst is also a fine composer and bandleader. Check out his two new discs UnRehurst Volume 2 and Bob Ya Head (both on his own Bebob label). Volume 2 is, like its predecessor a few years back, the sort of straight-on acoustic outing you'd expect from Hurst. Although he takes some memorable solos, the project seems designed as a showcase for his sidemen, pianist Robert Glasper and drummer Chris Dave.
Bob Ya Head, however, is his most experimental disc yet. Hurst is a mainstream modernist by nature. But this time around, he's made a jazz album with an Afro-pop and world music bent on several tunes; he recalls the music of John and Alice Coltrane on another.
Initially, the bassist planned an album of duets with Darryl "Munyungo" Jackson, who seems to have played every percussion instrument out there, with everyone from Miles to Kenny Loggins. But as Hurst got deeper into composing for the project, it took on a new life. Throughout the disc he lets his inner swinger roam freely, including when he improvises over sections of speeches from Malcolm X, George W. Bush and Barack Obama. To ensure a solid jazz base, Hurst enlisted Detroiters Marcus Belgrave and Vincent Bowens on trumpet and sax, respectively, and the former Detroiter Karriem Riggins on drums.
"The best music that I have made in my solo career, I had Detroit musicians involved," Hurst says, relaxing in the family room of his home in Plymouth. Jill, the bassist's wife and business manager, is having the interview videotaped to show between sets at the upcoming release concert for the discs.
Jill and Jillian, the Hursts' 13-year-old daughter, sit in during the interview seemingly in awe as though it is the first time they have heard Hurst open up about his background, career and aspirations.
Hurst is a tall and handsome dude; his hair is graying some at 47, and he has a middle-aged man's tummy fighting his belt. He talks with a very slight stammer, and he's genuinely humble about his many accomplishments.

Hurst is a native Detroiter. His dad, Robert Hurst II, was a telecommunications executive and a music lover who exposed his son to everything from jazz to P-funk, and gave him a guitar for Christmas at age 7, since young Robert idolized Tito Jackson of the Jackson 5.
As a teen, he switched to the upright bass, partly because of Belgrave, the local jazz legend whose other mentorship projects include Geri Allen, Kenny Garrett and Regina Carter.
"He made me commit to the bass, and to playing jazz. Marcus said you can work with me playing the upright or you can play the electric bass and stay at home," Hurst recalls.
Belgrave says via telephone from California that he doesn't recall an ultimatum, but during their first meeting, the young Hurst impressed him big time:
"He was a super kid. I was invited to Rochester High School to put on a workshop and play with the school's big band. Bob's teacher had already boasted about him. Before the show, Robert asked me if he could play a tune with me. I told him to pick a tune. He picked Charlie Parker's 'Confirmation.' I asked him to name the key and tempo, and he told me to choose it. I thought he was trying to put me on the spot. I played it at the regular tempo. We got a standing ovation," Belgrave recalls.
"Honestly, after that night, I didn't want to play with any other bass player but Bob. I asked his father if Bob had working papers. I hired him to do some gigs with me around Detroit after that. Still to this day, he's No. 1 in my book. He's so in demand I don't call him for gigs anymore. I can't afford to pay him anyway."
After graduating, Hurst went off to Indiana University, and shortly after that turned down an offer to quit school and tour England with Wynton Marsalis for fear of upsetting his folks.
"I was scared too. I didn't know if I was ready to move to New York. It was really overwhelming, and being at a Big Ten school was overwhelming as well," Hurst says.
But in his junior year he joined Out of the Blue, a "young lions" band assembled by Blue Note Records, which included Kenny Garrett, Michael Philip Mossman and Harry Pickens. The group's schedule allowed Hurst to play and stay in school.
He finally joined Wynton in 1985, splitting two years later to play with Terence Blanchard and Donald Harrison. He was an established brand when he finally moved to New York in 1990. He and Jill purchased a home in New Jersey, and planned to start a family, but saxophonist Branford Marsalis offered him a spot in the L.A.-based Tonight Show band he was starting for new host Jay Leno.
Despite his hesitation about leaving a good niche in New York, he says, the move was a great one: "It was a chance for me to see the other side of the music business. There's this heavy business side, and the industry side of doing things, like writing music for film and television. It made me the person that I am today. It prepared me for a lot of other things I would encounter later in my career."
Hurst left The Tonight Show band after eight years in 2000. He secured work immediately, working with tenor saxophonist Pharoah Sanders and Charles Lloyd. The bassist did a bunch of studio work and performed on scores for Oceans 11, 12 and 13. And he added the title of college professor to his résumé. For three years, he traveled from California to the University of Michigan.
In 2008, he moved his family back to Michigan so he could teach full time. It's a natural progression, Hurst stresses. Although he's now dedicated to teaching, he's hardly storing his bass away. He has upcoming tours with trumpeter Nicholas Payton and vocalist Diana Krall, and he's putting together his first permanent band, which will include two of his students, saxophonist Marcus Miller and pianist Ian Finklestein.
Musically, the tunes Hurst performed on Bob Ya Head are the kind of music he's digging right now and wants to continue with. Yet, despite the bassist's aspirations and track record as a solo artist, he still considers himself a sideman at heart.
"Now my thing is reeling in what I want to do with my solo career. I will always be a sideman. I can't imagine not doing that. It's been one of the joys of my life."
The Robert Hurst Group is presented by the Jazz Network Foundation, Serengeti Galleries and the Arts League of Michigan at 8 and 10:30 p.m. on Friday, March 11, at the Virgil Carr Center, 311 E. Grand River Ave., Detroit; $20 at Ticketmaster and at the door; 313-965-8430. Hurst is part of a weekend of music at the Carr Center, which continues with Straight Ahead on Saturday and the Catalyst Quartet (Sphinx competition laureates and alums) on Sunday.