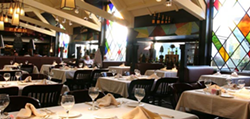 Photo courtesy of Weber Inn website.
Marking 100 — Congratulations to Herman Weber. This week, the founder of Weber's Restaurant and Boutique Hotel, turns 100 years old! Weber opened the eatery in 1937, serving hamburgers and beer, eventually evolving into the white tablecloth establishment and lodging facility it is today. Our best to Herman, who created an Ann Arbor classic, at 3050 Jackson Rd., Ann Arbor; 734-769-2500; webersinn.com.
Know of any upcoming food events? Let us know! Send an email to eat@metrotimes.com.