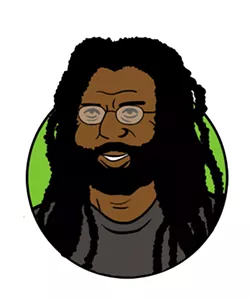 After my column about how people use marijuana to treat pain, I was contacted by Jim Higens, who says he lives in the Dallas area. Higens is 55 and retired after an ALS diagnosis.
Amyotrophic lateral sclerosis, ALS, is a progressive neurodegenerative disease that affects nerve cells in the brain and spinal cord. The progression of the disease involves wasting, weakness, and paralysis of the muscles in the limbs and trunk of the body. ALS patients live an average of three years after diagnosis, although a small percentage of them live more than 20 years after diagnosis.
Higens' health woes started long before ALS. He says he became an alcoholic after starting to drink at age 11 and had "37 years of drinking and drugging before I got sober." Higens worked in the financial world as a real estate appraiser and in lending. He says his last job was with JP Morgan. Alcohol use was big in his world.
"I was that guy buying everyone a drink, keeping the party going so I wouldn't be out of place," he says. "Somebody getting shitfaced, blackout, falling-down drunk was not that unusual. I didn't stand out like a unicorn; I was a sheep in the middle of a flock."
His drugging included an opiate addiction resulting from three back surgeries. The second one was to fix a mistake made in the first one. He was not a big marijuana user, and left it behind when he stopped drinking and joined Alcoholics Anonymous. His sobriety date is April 5, 2011.
After his ALS diagnosis in October 2012, a friend suggested he try marijuana for relief. There is no treatment for ALS. Higens was initially reluctant to try it. Sobriety had been working for him. Getting away from addiction and doing the right thing was pounded into his head. After some research on the plant calmed his fears, he gave it a try.
"It was a big deal to try cannabis," Higens says. "I talked to my close friends in AA and my sponsor. I didn't take it lightly because of my history of addiction … The funny thing is that it helped tremendously. Overall it helps with any anxiety or depression, most of all it helps with nausea, and with all kinds of involuntary muscle twitches and contractions. They can be painful."
Higens says the only pharmaceutical painkiller he now uses is an occasional Aleve. As for how he uses cannabis — he mostly smokes it.
"Vaping is just not as effective to me," he says. "For pain, I just use a water pipe. If I have to go out in public, I'll load up the vape pen."
A few tokes gives him about 1 1/2 hours of relief, although edibles, when he can get them, will last about four or five hours.
"Edibles are the bomb," he says, for their more physical effect.
Higens is from Chicago. He says Texas is a fine, freedom-loving place, unlike what he expected. He has to be cautious because medical marijuana is not legal there, and "There's got to be a crazy Baptist within 100 yards of me at all times."
The prospect of running afoul of the law doesn't bother him too much, though.
"If I get caught, I don't give a shit," he says. "I'm dying."
Teachable moment
This is in response to reader Mark, who responded to my last Higher Ground column. I said in passing that the cannabinoids THC and CBD work better together than on their own. I went on to write that, "Emerging marijuana science is beginning to see an entourage effect of whole marijuana that is more effective than any one part."
Mark took umbrage and wrote: "The 'entourage effect' refers to terpenes, along with pure trichomes, as they relate to patient response. Larry Gabriel, please don't continue to write on a topic that you are so ill-informed about."
Let's take this as a teachable moment. First of all, Mark seems to have read something about marijuana, since he uses the words terpenes and trichomes.
Terpenes are the aromatic oils in plants. The terpenes in marijuana give each strain its distinct smell. Furthermore, terpenes are now believed to combine with the dozens of cannabinoids in marijuana to create the distinctive effects of different strains. I have written about terpenes previously in this column.
Trichomes are that white, furry-looking stuff that grows on the buds and other parts of mature marijuana plants. The cannabinoids and terpenes are both made in the trichomes.
The phrase "entourage effect" was first written about by Dr. Ethan Russo in 2011. Yes, Russo was referring to research on the synergistic effects of trichomes with cannabinoids. However, in practical usage, the synergistic effects of the many cannabinoids in marijuana are often referred to as an entourage effect.
What I wrote is not incorrect. The "whole marijuana" reference includes terpenes, cannabinoids, and anything else in the plant. I did not refer to the entourage effect as only THC and CBD. I wrote "whole marijuana." I didn't get into a deeper discussion because it was a passing reference.
Actually, Mark's point is not clearly made when referring to "terpenes along with pure trichomes." Terpenes and cannabinoids are already part of the trichomes.
But what I really want to emphasize here is the imperious tone of Mark's comment telling me that I am so "ill informed," when he is not particularly well-informed — or at least did not express that information well. As the properties of marijuana are becoming more revealed in a modern scientific sense, we are all on this journey of discovery together. Most folks I talk with have a cooperative sense of sharing information and discovery about marijuana. Coming on with a snarky and imperious attitude doesn't help anybody.
We're No. 11
247wallstreet.com recently published a report on the 12 states smoking the most marijuana. Michigan came in at No. 11, with an estimate that 15.6 percent of Great Lakes state residents older than 12 have used marijuana in the past year, and that there are 1,304,000 users in the state. We slipped in just ahead of No. 12 California with 14.9 percent and a total of 4,633,00 users (more users in total than any other state).
States with legalized recreational use occupied four of the five top spots. Colorado (21.6 percent) came in first, followed by Oregon (19.9 percent), Vermont (19.8 percent — hey Bernie Sanders), Alaska (19.5), and Washington (19.5). Vermont is the state in the group that hasn't legalized recreational use. There were high hopes that the Green Mountain state legislature would legalize this year, but that's off the table for now.
Michigan was the only Midwestern state to clock in on this list, and the only one other than Colorado that isn't located on the East or West Coasts. But I'm not sure how accurate these results are. 247 Wall Street made these estimates based on people who self-reported their use in 2013 and 2014 on surveys by the the Substance Abuse and Mental Health Services Administration, along with other data. So take it with a grain of salt. Still, seeing that all the states were evaluated by the same standard, the place standings could be close to correct.
It's interesting that our 1,304,000 total users came in sixth — easily more than Colorado's 909,000. While the Rocky Mountain state gets most of the focus when national marijuana issues are discussed because it was the first to legalize recreational use, the smoke plume above Michigan is larger.