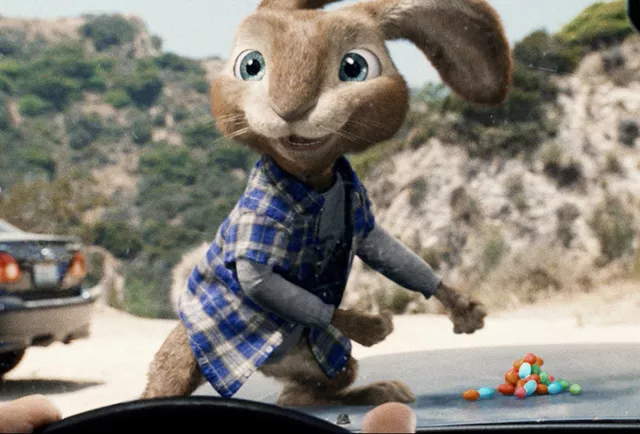 Hop: Russell Brand in a bunny suit.
From a film perspective, Easter has traditionally been kind of a bummer; the exclusive provenance of somber biblical epics, forgettable third-rate Peter Cottontail cartoons, and one Technicolor Judy Garland musical not likely to captivate app'd-up kids these days. So in bounces Hop, a sprightly, amiable attempt to further commercialize a major holiday already overrun with pastel accessories, marshmallow concoctions and tangled up in mountains of green plastic grass.
The theme may be somewhat novel, everything else about Hop is blindingly conventional, sweetened for easy consumption for those cinematic picky eaters who don't want challenges in their animated fare. Indeed, the story is essentially Arthur in miniature — with the same star, Russell Brand, playing an irresponsible son of privilege, though this hero is merely hooked on cocoa butter products, and not their stronger cousins.
Turns out the Easter Bunny is actually a hereditary title passed down through the generations, and E.B. (Brand), the latest crown prince in line for the egg-shaped scepter, wants nothing to do with the gig. This rabbit is happier bashing around on his drum kit and annoying everyone with his permanent sugar buzz. When his stuffy dad (Hugh Laurie) insists it's time to get serious and start hiding eggs, E.B. goes AWOL from Easter Island (wink-wink), and washes up in Los Angeles, like a refuge from a Guns 'N Roses video. He finds a kindred spirit in overgrown slacker Fred (James Marsden of X-Men fame), who's still living at his folks' house despite apparently being in his mid-30s. Will these two carefree dudes find a new purpose in life together? Will the oppressed fluffy yellow chick minority at the candy factory strike back? Will anyone notice that Fred's new buddy is a talking rabbit? Will E.B. land a spot on David Hasselhoff's talent show? (No, really, they shot this when the Hoff wasn't yet run out of Hollywood.)
The latest release from Universal's animation unit (after Despicable Me) confirms Uni as a Pixar also-ran, but still amusing enough to keep parents from trudging up the aisles. Hank Azaria voices the nominal villain, a puffball with a gay Latino accent that may make kids giggle. Most gags are as disposable as last week's colored eggs, but there's likable geniality that keeps Hop tolerable, hinging on your tolerance of Brand's cheeky style. It's hard to get that mad at a guy who poops jelly beans.