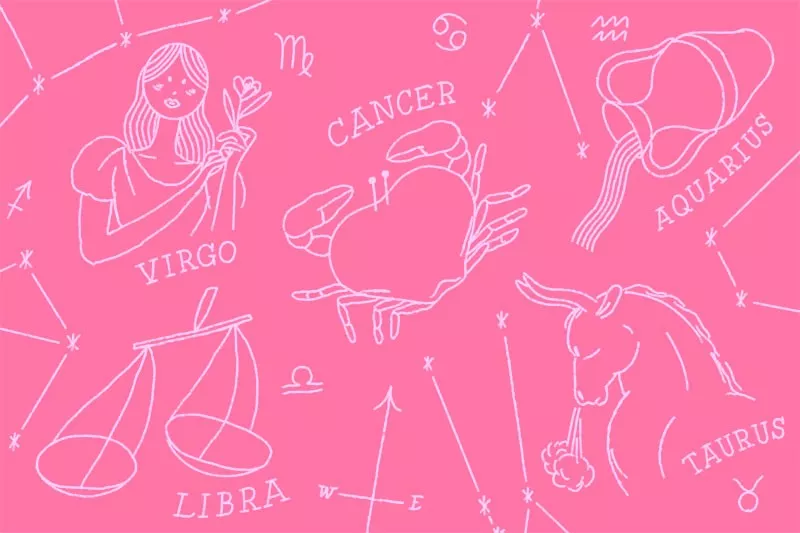 ARIES: March 21 – April 20
Everything is up in the air and ready to pop. If it's driving you crazy, I can see why; high levels of uncertainty, combined with tons of anticipation and too much excitement can be hard for those of you who thrive on needing to remain focused. Underneath all of this, there are levels of newness and change that you need to do your best to remain open to. You may be totally clueless as to where all of this is leading, but please don't tinker with the realm of possibilities by thinking that your pea-brain knows more about how to manage it than the forces that watch over you.
TAURUS: April 21 – May 20
It's enough to know that you're holding steady in the midst of change. How things unfold in the next month or so depends a lot on who you put your faith in. Part of you is willing to give everyone the benefit of the doubt. What needs to be kept in mind is that not everyone comes to life with the same ethics that keep your world afloat. Before you let people in, give them plenty of time to show you what they're made of. With what you've been through so far, the need to heed the lessons of the past will keep you from being let down by those whose intentions are warped.
GEMINI: May 21 – June 20
If you're worried about what the rest of the journey holds, expect the worst and hope for the best. Others are nipping at your heels, doing whatever it takes to test you. The pressure to remain strong in the face of opposition, coupled with side issues that have sapped your confidence, is teaching you a lot about what you're made of. It's time to consider the uses of adversity, realizing that the toughest lessons are where we figure out how to turn straw into gold. Everything is the opposite of what it appears to be. Find the light, and the darkness will fade in the face of it.
CANCER: June 21 – July 20
Take your time when it comes to absorbing some of the stuff that's come down lately. Tons of old memories have been stirred up. Those of you who aren't prone to confronting the inner planes are shakier than those of you who are tuned in to your deeper issues. Either way, the blasts from the past are intense. Be open to all of it. The things that we suppress or cover up with a happy face — or piles of "busy-ness" — wind up biting us on the ass when it's all said and done. All of us are in the same boat, so don't be afraid to talk about these things with others.
LEO: July 21 – August 20
Finding a way to integrate who you are and what you really want into the process of everyday living has gotten complicated. On the one hand, your heart's desire is clear as a bell — on the other hand, your ability to create a situation that allows you to bring it into being eludes you. This is not unique to you. All of us have to work to shed the past and the projections of others before we can access our core essence. In some cases it's a matter of patience and time. For those of you who are right on the cusp of living your dream, its unfoldment is only a heartbeat away.
VIRGO: August 21 – Sept. 20
You've come through a major reality check with flying colors. Still a little shaky from your brush with an experience that totally rearranged your priorities, you see how important it is to stop losing yourself in superficialities. Those close to you may not understand what's going on. Don't expect them to. Everyone's got their own row to hoe. Right now it's your job to keep things simple. Regain a sense of balance so that you can function at a high level of performance without losing your way. Going deeper into yourself will be your saving grace in the weeks to come.
LIBRA: Sept. 21 – Oct. 20
No one needs to tell you that people have a tendency to take advantage of your goodness and generosity. In many cases, those closest to you are the main culprits. It's totally OK to keep on giving, but when it gets to the point where it hurts you to persist, it's best to let the element of discernment kick in. Be mindful of how much you give, but be just as mindful of who's there for you and who isn't. Other aspects of your reality could use a little pick-me-up; you know what they involve. The outer stuff will keep. Don't procrastinate when it comes to your inner work.
SCORPIO: Oct. 21 – Nov. 20
You've got the right idea, but the need to tie things up with a bow keeps you from being able to actualize your dreams, fully and completely. Everything is partly intention, but the rest of it comes down to knowing how to drop the reins and leave the driving to the power of spirit. The other piece has a lot to do with bringing your inner being to the table; the mind alone is incapable of making magic. Haul back a little and look at the extent to which you need to stop doing things by rote. Your current dreams will come true the minute you figure out how to let things be.
SAGITTARIUS: Nov. 21 – Dec. 20
When we pass our hardest tests, it's amazing how the darkness fades and life opens up like a flower. You are living in the afterglow of a revelation that has absolutely blown your mind. Armed with faith and inspiration, anything is possible. Here you sit with countless possibilities at your disposal, wondering if it's true that you can have anything you want. It may be too much to suggest that you've got the world on a string, but the truth is, you do. Where you go from here is up to you. Open the doors of perception and let the latest clue to the new direction shine through.
CAPRICORN: Dec. 21 – Jan. 20
Up until now you could look outside yourself for answers, but not this time. When we get to the place where the sidewalk ends, nothing is written in stone. At this point all of your guidance needs to come from within. This will require you to shut up and listen. It will also require you to trash all of your preconceived notions about "who you think you are," and consider that there are possibilities that exist outside of your big ideas and your best-laid plans. Whether you know it or not, the future is wide open. It's time to transcend your limits and let your heart lead the way.
AQUARIUS: Jan. 21 – Feb. 20
Lots of things are upsetting the applecart, or at least, subject to change. It could be that it's just your emotional state that is fluctuating wildly. The whole concept of "moving" is not out of the question either. Within this maelstrom, it will help to maintain your ability to detach. Elements of surprise will emerge from thin air to offer you bigger and better possibilities. If certain things appear to be falling away, it's because you've outgrown the situation. Don't be afraid to branch out. Nothing is meant to last forever. Even the safest, securest positions are subject to cyclical shifts.
PISCES: Feb. 21 – March 20
When life gets like this, it helps to remember that "it's all good," even when the hard stuff makes it seem like we've been singled out for punishment. The apparent "downhill slide" and the slow decline of situations will continue to test your patience and your faith, and the presence of lowlifes and scumbags will do the same. The Earth is a weird place. The light only begins to shine in our darkest hour. Now that you're in the thick of it, the trick is to remember that you're being guided by forces that will transform all of this in the same way that the lotus blooms out of mud.
Stay on top of Detroit news and views. Sign up for our weekly issue newsletter delivered each Wednesday.