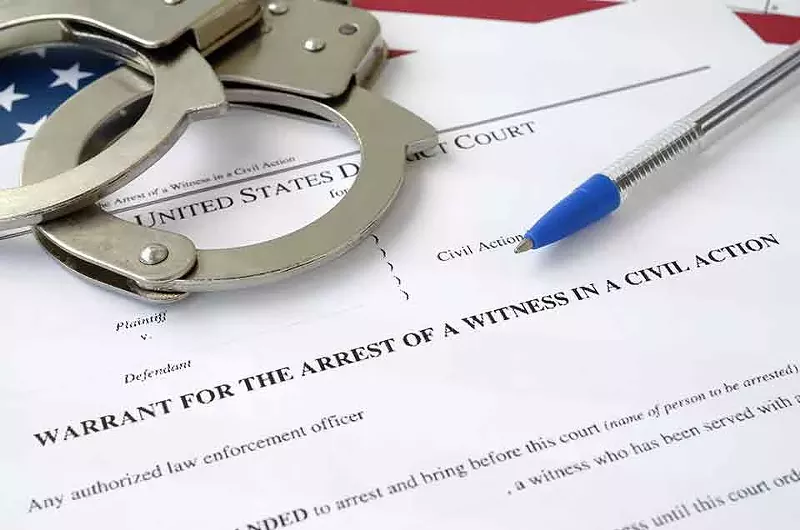 If you're wondering how to find out if you have a warrant for your arrest, there are several tools that can help.
Before we jump into this article, it's important to understand exactly what a warrant is. A judge can issue a warrant which then gives law enforcement the authority to arrest and detain a person. A warrant might also give authorities the right to search and seize your property.
In this article, you will learn about different types of warrants, how to check if there's a warrant for your arrest, and what to do if you have any active warrants.
What are the different types of warrants?
Now, there are different types of warrants that you should be aware of if you're worried about this being a possibility.
In general arrest warrants require probable cause and enable law enforcement to make arrests, but different types of warrants vary from each other.
Take a look at this list to get a better idea of what type of warrants you may be dealing with.
• Arrest Warrants:
An arrest warrant is issued by the judge or magistrate and must show probable cause that a certain crime is committed. A valid arrest warrant must contain the name of the defendant, crime, time and place of issue, name of the court, and signature of the judge. An arrest warrant can be issued if there is evidence presented in court or after a grand court indictment. An arrest warrant allows for a police officer to carry out the arrest and detainment of the suspect listed on the warrant.
• Bench Warrants:
A bench warrant differs from an arrest warrant in that it is not based on a suspected crime. A bench warrant may be issued if a person has a missed court date, fails to pay a fine or ticket, or fails to follow any order given by the court. Just like an arrest warrant, a bench warrant authorizes a police officer to arrest and detain the suspect.
• Child Support Warrants:
This is another type of warrant that can authorize the arrest and detainment of the suspect. In this case, the person on the warrant has not committed a crime but has failed to appear in a child support hearing.
• Search Warrants:
A search warrant does not authorize law enforcement for the arrest of a suspect. Rather, it gives them the authority to search a person, vehicle, residence, or business. This type of warrant usually comes with an expiration date and can only be conducted during a specific time of day.
Is Your Warrant Active or Outstanding?
You may have heard the terms active or outstanding warrant thrown around. The reality is, an outstanding warrant is just an active warrant that hasn't been carried out yet. In other words, an outstanding warrant is an active warrant that was issued in the past for which an arrest was never made.
There are several reasons why a warrant may be outstanding. The most common reason is that the person simply does not know that they have a warrant. Another reason is that the person does know they have a warrant and is purposefully evading law enforcement. Lastly, a warrant may be outstanding if law enforcement has not yet carried out the warrant.
An arrest warrant will remain valid until the arrest is made, even if a significant amount of time has passed since it was issued. For this reason, it's smart to find out if you have an outstanding warrant so that you can take care of it the right way.
Next, we'll go over exactly how to do a warrant search so you can see if a warrant was issued for your arrest.
How Can You Check For Active Warrants?
1. Use a Background Check Website for a Warrant Search
One of the simplest ways to find out if an arrest warrant was issued for you is to use a third-party background check site.
A background check site typically uses public records to compile a report on a given person. That being said, if the details you are looking for are not in the public records you won't find them on a background check website.
You can use these services to see your own public records and see if you have anything to worry about. Keep in mind, this is not a replacement for professional legal advice, but it's a good tool to have. Here are three of the
best background check websites
out there.

Instant Checkmate is a highly regarded and popular background check site. This site provides access to extensive public records that can help you find out any warrant information that may be about there.
You can start your search with a first and last name, along with a state and city. The site will then run the information to see what is in the public record.
To perform a warrant search, your best bet is to take a look at the criminal record section of the site. This feature can help you find any criminal or court details in the public record. In order to use Instant Checkmate, you'll have to create a free user account.

Truthfinder
is another solid option for checking for outstanding warrants. You can use anything from a name to a phone number to generate a background report. The more information you input, the more accurate your results will be.
You can use the general people search to generate a report or use the criminal records for a more specific background report. In order to get the full report from Truthfinder, you will have to create a free account.

Last on this shortlist is Intelius. This background check website may be able to find important criminal details that may lead you to warrant information. Intelius is great because it puts your safety and anonymity as the top priority.

Intelius
offers traditional background checks as well as criminal background checks to help you find information on any warrants issued for your arrest. You can perform a search for potential warrants with just a name and city. Just like the other options on this list, you'll have to create an account.
2. Check the County Court Website
If a background check website doesn't work for you, you may be able to find information on a warrant directly on the county court website. Head to the county court website for the county in which the warrant was likely issued. You can also check the sheriff's website in the same county. From there, you can run a warrant search to see if any information is available.
Now, in some cases, you might find that the county does not have a court website. If that's the situation, you can call the county clerk to inquire about existing warrants. If you do decide to do this, you may consider withholding your identity as the person on the potential warrant or have a family member or lawyer call for you.
In order to call the clerk for warrant information, you'll need the following:
• Full name of the person on the warrant
• Social security number
• Case number
• Birthdate
3. Check Superior Court Records for Your State
If you're having trouble finding information in the county records, you can run a search for warrants on the superior court website of your state.
For this option, you will have to know the name, birthday, state ID number, and court case number. A superior court website may provide you with criminal details that might help you in your search.
4. Call the Federal Clerk of Court
If you suspect you might have a warrant for a federal case, your options are far more limited. While the U.S. Marshal's services do keep all outstanding warrant details on its site, it's not available to the general public.
In order to find details on a federal case, you'll have to contact the clerk of the court directly via phone call. If you choose this option, you might consider having another person, such as a family member, friend or attorney make the call or avoid revealing yourself as the suspect for the potential arrest warrant.
One thing to consider is that you may have more than one arrest warrant outstanding. If so, you will need to contact multiple clerks for all of the circuits that may have issued arrest warrants for you.
Because these types of warrants are harder to track down, it's in your best interest to hire a federal criminal defense attorney right away.
What to do if Your Case is Not in the Public Records
In some cases, you might not find any information available in the public record. If you're dealing with a missed court appearance, you'll probably find it in the public record. On the other hand, if it's something such as a juvenile delinquency case, you might be out of luck. Other cases that fall into this category are:
• Family and divorce cases
• Domestic violence cases
• Cases that involve restraining orders
If details are not available for arrest warrants, you'll want to contact an attorney immediately. An attorney can help you navigate criminal cases, provide legal advice and find out if you really have an outstanding warrant.
What to do if You Have an Active Warrant
If you've done the research and find that you have one or more outstanding arrest warrants, it's time to enlist professional legal help from an attorney. If you're worried about the cost, there are often free local legal services available to you through your city or county.
Now, in many cases, solving an outstanding warrant can be a simple process. You may just need to show up at the courthouse and pay a ticket or a fine. Whatever the situation may be, working with an attorney is always the smartest option before making any decisions.
Conducting a Warrant Search- Final Advice
Dealing with potential arrest warrants can be a stressful situation. You can start researching any outstanding warrants by using a simple background check site to check for any past crime or court cases. Most of these sites offer a free or discounted trial period so you don't have to break the bank.
If these websites don't work for you, you can search the court records directly through county or state websites. Of course, if you're working with a federal case, your best option is to hire an attorney immediately.
Once you confirm that you have arrest warrants, make sure to find professional legal advice so that you know the smartest path forward.