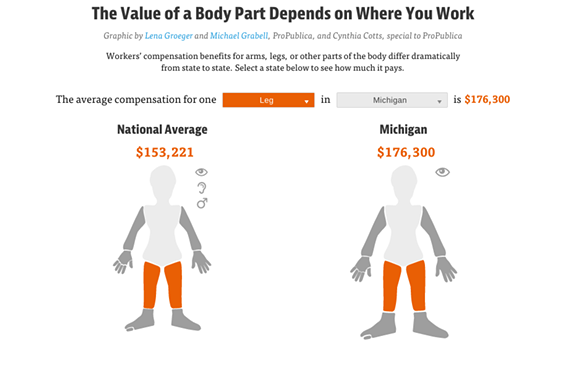 Screenshot via Propublica

Propublica
and NPR published a fascinating investigation today on workers compensation, and how neighboring states carry
wildly different prices for compensation — for the same exact injuries
.
The reason? It's essentially a geographical crapshoot. From
Propublica
:
This disparity grimly illustrates the geographic lottery that governs compensation for workplace injuries in America. Congress allows each state to determine its own benefits, with no federal minimums, so workers who live across state lines from each other can experience entirely different outcomes for identical injuries.
While the story is well-deserved of your time, for now, we'd like to direct your attention to the handy, interactive tool lodged in the story that helps answer the age-old question: How much is your testicles, feet, or hands worth?
Turns out, compared to the national average, Michiganders have it good. For example, the national average for one leg is $153,221; in Michigan, its $176,300. A middle finger is worth about $27,000 in Michigan, while in neighboring Indiana, it's roughly $21,000.