Noah Elliott Morrison
Captain Jim, the author, and Jobbie Nooner's Wheel of Destiny.
Living in Harrison Township means one of two things: You likely either own a boat or you know someone who does. During the 20 years I called Harrison Township home, I was thankful enough to fall into the latter category. All of my friends had their boating licenses at 14, and had access to their parents' dinghies and skiffs, which we would take to the bay on any given weekend to swim, flirt with boys, kiss each other, and escape the homework and oppressive parental forces that awaited us back on dry land.
Though my sleepy hometown refers to itself as "Boat Town U.S.A." for its many marinas and its proximity to Lake St. Clair, Harrison Township is actually less exciting than its nautical nickname suggests. And, not surprisingly, not much has changed in the 10 years since I left. The speed limit on Metropolitan Parkway has increased by a whopping five miles per hour, Blockbuster is now a Family Video, and high school kids still hang out behind the Kroger on Crocker Boulevard, except now they have smartphones and vape pens. But one of the few things that has remained devilishly impure and true of Harrison Township is the annual ritual of Jobbie Nooner — two words that continue to define the legacy of an unassuming little town that not even I can point to on a map.
"They just think it's Sodom and Gomorrah," Captain Jim says of Jobbie Nooner. "It's really not that bad. It gets wild out there, but it's really not that bad."
Captain Jim has asked me to omit his real name and profession when we talk two weeks before the 44th annual Jobbie Nooner event. Jim has been attending Jobbie since he was 18 years old — he is now 48.
According to local lore, Jobbie Nooner started in 1974 when Modern Engineering employees Lee O'Dell and Lee Wagner gathered 15 of their coworkers and blew off work on a Friday to celebrate Wagner's birthday by taking to the water. In the years since its conception, Jobbie has developed a reputation for being the "Mardi Gras of the Midwest" — attracting up to 10,000 boats and more than 100,000 people around Gull Island.
As a licensed captain, Jim's contribution to Jobbie Nooner is pretty significant. His boat, a pirate ship named the Mystic Maiden, has become a main attraction. But more than the ship itself, it is the ship's "Wheel of Destiny" that is a hallmark of the event, and perhaps Jobbie Nooner's unofficial mascot.
This year, however, marks the end of an era. "I'm retiring the Wheel of Destiny this year," Jim tells me. "I don't know, things have changed out there. It's not the same. I'm getting older and it's time for somebody else to take all the heat for this."
I assume when Jim says that things have changed he is referring to the #MeToo movement and the growing visibility of men's inappropriate and abusive interactions with women. The Wheel of Destiny is exactly what it sounds like — a wheel that, when spun, could determine whether or not your photo ends up being used as online masturbratory material. Women are invited aboard the Maiden to spin the wheel, which could land on one of the following options: "Kiss a girl," "show your boobs," "show your ass," or "show your xxx." Captain Jim says more than 500 women will spin the wheel on Jobbie Nooner and show their bits for some beads.
When the topic of consent comes up, Jim is quick to explain one of his main goals in providing an experience for Jobbie-goers is safety. "We don't force anybody to get on my boat," he says. "That's what kills me, is people get hammered and they come up on my boat and spin the wheel and then they get mad at me, and I'm like, 'What? It wasn't me who took the pictures, it was the 5,000 people around me that did.'"
In addition to his role as the Maiden's main man, which is used throughout the year for family-friendly charters, Jim runs and maintains JobbieCrew.com — an entertainment website for all things Jobbie, which he says receives about a million and a half hits per year.
The site describes Jobbie as a rite of passage for women — and then defines for its visitors what a rite of passage means. The concept for the event comes down to three simple things: "beautiful boats, beautiful women, and hanging out with friends." JobbieCrew.com details the history of the event, and goes out of its way to emphasize that consensual fun is championed above all else, and that anyone attending should clean up after themselves, and respect the police and coast guard authorities.
"It's not a smut website," Captain Jim says. "There's not a single nude photo on there. I know people just think we're a bunch of dirty old perverts out there looking at boobs, but it's turned into more than that. Like I said, it's getting to be a job for me, and nobody wants to do it if its a job."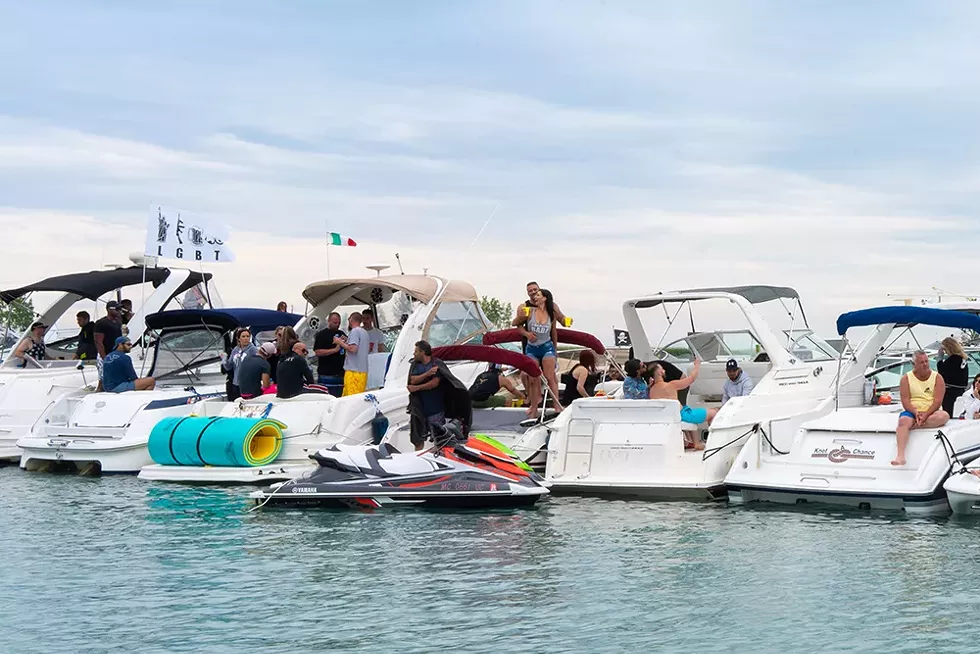 I have only been to Jobbie once before. It was 2015 and that morning gay marriage had been legalized. I remember sitting in the Kroger parking lot (a lot happens in the Kroger parking lot in Harrison Township) with my then boyfriend. We held each other and cried celebratory tears as NPR detailed the ruling over the radio before going into the grocery store to stock up on Jobbie supplies. Despite having both grown up in Harrison Township neither of us had ever actually gone to Jobbie. Though we accepted the invitation somewhat ironically, and in our seven hours at the event never actually left the boat (mostly because we did too many poppers), it remains one of my favorite memories.
So, going into my second-ever Jobbie experience, I was skeptical that the magic of three years ago would be possible to recreate. Not only was I going for work, but the forecast threatened rain and 15- to 20-mile-per-hour winds (which may not seem like much but when you're at sea can be problematic). It was this gloomy weather news that forced my captain (a Vietnam vet whom I had never met but was referred to me by a friend's mother) to drop out the night before.
I scrambled to find another boat, texting friends of friends, blowing up all of my social media accounts, and even posting to the JobbieCrew Facebook page where I was briefly tempted to rent (and expense) a pontoon boat for $500, as offered by one of the group members.
"Ew, why?" one of my Detroit friends said in response to my Instagram plea for a ride to the island.
Another responded with the puke face emoji on my Facebook post.
It was clear to me that there was a discernible stigma surrounding the event, especially from my Detroit community. I got the impression that others perceived Jobbie as "uncool" or "trashy," and though I may have held this opinion at some point over the years (and even when pitching this story), I found myself deeply offended by the attack on my hometown — and boatless.
When I finally decide to reach out to my childhood best friend, it is in a last ditch effort to attend Jobbie. Our friendship had been on the rocks (my fault) for the past few years, and I knew she might construe my out-of-the-blue communication as insincere.
I was right. She still lives in Harrison Township, and is familiar with my writing, which is why she was hesitant to charter me, my boyfriend, and our photographer to Jobbie. I couldn't blame her. I wouldn't want me on the boat either, knowing that I would be taking notes and possibly scoffing at the drunken behavior of these suburbanites.
What started as a simple phone call resulted in an hour-long emotional airing of grievances, apologies, and in the end a ride to Jobbie Nooner and a friendship on the mend — an unexpected bonus.
"Well, that's the first correction you can make in your story," my friend says when I suggest we hit the water around noon, as stated on the JobbieCrew website. "It starts early. We leave at 7:30 a.m."
Our boat is named Goin' Broke and by the time we load and launch it has nine passengers on board, plus a dog. One gentleman sports a cowboy hat made from a Budweiser box.
"I made this in 2016," he says, showing off its impressive craftsmanship and durability. "Thanks, YouTube."
Upon arrival, boats had already begun to link up to form the rings which in a few hours would create circles around the island. It was 8:30 a.m. This is not uncommon, I learned, and I was told this morning's turnout of 50 or so boats was disappointing compared to previous years.
"Usually by this time there are already hundreds of boats out here," our tight-lipped captain revealed, going on to say that many people spend the night so as to beat the thirsty nooners vying for a spot close to the island.
We had not been on the boat 30 minutes before our photographer made the mistake of knocking over a poorly placed glass handle of Captain Morgan's, which shattered completely. Great. Our first casualty.
By 10:30 a.m. I had been awake for four hours and had consumed the following: one cold brew coffee, four jello shots, three "butterscotch" shots, two cans of Two Hearted Ale, a sip of Captain Morgan's rum, and one third of a croissant. I watch as two blonde-haired twins from a few boats down appeared to be the first to venture into the freezing waters, holding their plastic cups above their heads. During this time, people begin to strip down from their sweatshirts to their bathing suits. It was clear on this overcast day that we could not rely on the sun to force ourselves into the water.
"Fuck it's cold," one girl yells, tip-toeing to her boat, teeth chattering.
If they could do it, so could we. We were headed to the island. But not before doing a shot.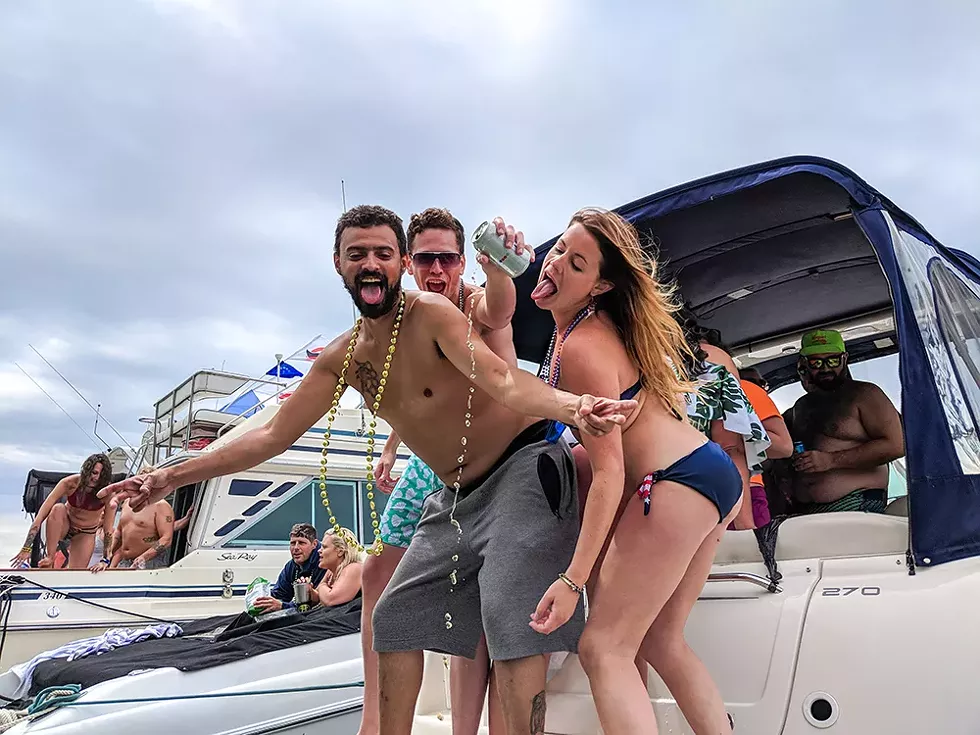 Things you will see at Jobbie Nooner may include, but are not limited to: Dildo fishing, faded tribal tattoos, beer bongs, asses covered in glitter, tits covered in glitter, clever signs advertising glitter in exchange for both ass and tits, blood, people who have lost their boat, twerking, grinding, shirts that say "REAL MEN EAT ASS," men offering to actually eat ass, dance parties, float parties, beads, blunts, Jell-O shot syringes, strippers, cool dogs, casual flashing, women miming blow jobs, men peeing off boats, men sleeping on jet skis, men peeing on jet skis, commissioned lap dances, used condoms, tampons, discarded sandwiches, girls kissing girls, guys kissing girls, politically incorrect flags ("LGBT: Liberty. Guns. Beer. Tits"), Bubba Kegs, and some of the best damn nautical puns you will ever read.
The water is vibrating. Music is coming from every direction and the water, I swear to you, is vibrating. Or am I vibrating? An EDM remix of Aerosmith's "Don't Want to Miss a Thing," Kid Rock's "All Summer Long," "This is America" by Childish Gambino, and Jobbie's unofficial anthem, "Turn Down for What," being blasted from a number of boats at any given time have come together to create a numbing dial tone between my ears.
On our maiden journey, we have brought with us a fifth of Captain Morgan's and in our sight is the legendary Mystic Maiden — the heart of the whole damn party.
"Look at her," a man aboard the Maiden yells through a megaphone. "It's Marilyn Monroe." He points to me and comments on my red bathing suit, red lipstick, and blonde hair, ushering for me to come closer.
Suddenly, I am a shrinking violet. He makes a few more attempts as I look toward my squad for support. They remind me that I am at work and to not spin the wheel would be missing the point. They were right. I could be anyone I wanted at Jobbie Nooner, and today I would decide to take on the persona of Marilyn Mon-hoe. As a believer in fate, today I would put all of my chips on destiny.
It is a different world atop the Maiden. There are hundreds of people surrounding the ship waist deep in the water below. Everyone is cheering and there are folks standing by ready with beads to festoon the necks of the ladies who fulfill their destiny. I ask the man with the megaphone if he happened to be Captain Jim. He points to the man to my right, a friendly looking guy wearing a necklace made of plastic marijuana leaves. I introduce myself and give him a hug and ask if I may spin the wheel — for the first, and likely, last time.
Of course, I land on "Show your xxx." I'm assuming that this means "vagina," and at 11 a.m., I am not going to show my vagina. Thankfully, in tiny lettering below the xxx it reads "or spin again" — an option I eagerly manipulate to land on "kiss a girl." I motion to a woman adjusting her boobs in her bathing suit top to come closer to ask her if I may kiss her. She smiles and agrees as I kiss each side of her face the way I had always seen European models kiss clothing designers.
Spinning the wheel was not at all scary. And what I loved most is that my destiny was in my hands the whole time. Before descending down the ladder, three strings of beads were placed around my neck and I would be lying if I said the beads didn't change me. Because they totally did. They felt like a medal of honor. I was one with Jobbie Nooner, and Jobbie Nooner was one with me. How could anyone hate this feeling?
Things you should know about Jobbie Nooner:
• Jell-O shots are both currency and your nutritional best friend.
• Everyone is a stray — expect strangers to outstay their welcome on your boat and know that you may end up doing the same.
• N0t everyone puts buoys on their anchor ropes, so wearing water shoes might be the best thing you can do for yourself.
• There are cops on jet skis everywhere and the coast guard can actually tow your boat if you're being a dick. It's called "Jobbie jail."
• You will lose something: your sunglasses, shirt, phone, hat, camera, shoe(s), cooler, wedding ring, etc.
• If you bring your kids you are a bad parent. Do not bring your kids to Jobbie Nooner.
• If you have to shit, you are shit out of luck.
• Getting lost is easy to do and you will likely not have phone service. Boat names are easy markers of where you've been and where you are parked. Try to remember SOMETHING.
• Pudding shots are gross. If someone offers you one, throw it out immediately.
My friend and I end up losing my boyfriend and the photographer as they had become distracted doing shots with a float full of bros before being invited aboard a boat full of strippers. It is here that my boyfriend has a deeply involved conversation with a black man named Pancho about restitution and systemic oppression, while a singular Confederate flag waves from the hull of a nearby boat. By the time our two roving guests return to us (it had been close to 45 minutes), their fifth of Captain's had been nearly depleted and they had a look in their eyes like they had seen some shit.
We were fine, though. Before heading back to the boat without them, we encounter a guy named Spencer (looking exactly how you would think a guy named Spencer at Jobbie would look), who offered us some of his Jell-O shot syringe.
"What's in it?" I ask.
"Roofie. Mostly Roofie and Jell-O," he responds. "No, no. I'm kidding. I don't think this has been roofied," he says, attempting to squirt the red gel into his mouth, busting the cap off in the process. We entertain him for a moment more before he tells me I look underage and attempts to recite his phone number for us to call later.
"We're not going to remember that," my friend says.
"No, I know," he says, defeated.
Spencer disappears into the reeds of the island's marshland and we can't help but laugh, wondering what could have been if we had only remembered his number.
Our second trip to the island had a mission that I rather not share as it involved a bodily function that required me to borrow someone else's shoes. Much of this trip remains a blur. Upon our return, I noticed a note I took on my phone: anti-mustache flags.
I still have no idea what this means.
When we return from our second trip to the island, it appears as though Goin' Broke had acquired a couple of strays, one of which was bleeding. Like, really bleeding. My friend's mom was covered in his blood as she tended to a wound that, in my drunken state, seemed like a goddamn gushing geyser. As it turns out, he had cut his leg on our propeller while boat hopping — a common Jobbie injury.
"You cannot get this cut wet," my friend's mom says, cleaning the cut with the scattered contents of a first aid kit. "There is piss and shit in that water and it will get infected."
"No, no," he says. "I'm good, it's not a big deal. I don't want anyone to, like, get my AIDS."
His fiance, who is also on deck and very disinterested in the condition of his wound, assures us that he does not have AIDS and joins us on the lower deck to talk about the health store she works at while touching the upper part of my boyfriend's thigh.
We flooded the "shitter" and our captain is pissed.
The boat's lower level is now covered in piss, a half-gallon of Captain Morgan's, a half-gallon of Captain Morgan's worth of glass, and I can't help but think this is partially my fault as I peed a lot and was never told that the toilet holds only 2 gallons worth of liquid. Plus, I had brought the butterfingered photographer. During the cleanup, a grey sheet of rain appeared in the distance and the temperature dropped a few noticeable degrees. After nearly 10 hours on the water, it was clear that it was time to go. The only problem, though, with being one of the first boats to arrive is that you are at the mercy of the boats in front of and behind you, because everyone is linked together and you have to communicate and wait it out. Both are seemingly impossible tasks when you've been drinking for hours. As everyone begins to wilt, we prepare for takeoff, many of us nuzzling under blankets, limply stretched across one another. And many of us are still drinking because if Jobbie teaches you anything it is that the party stops when you stop drinking. So, don't stop drinking.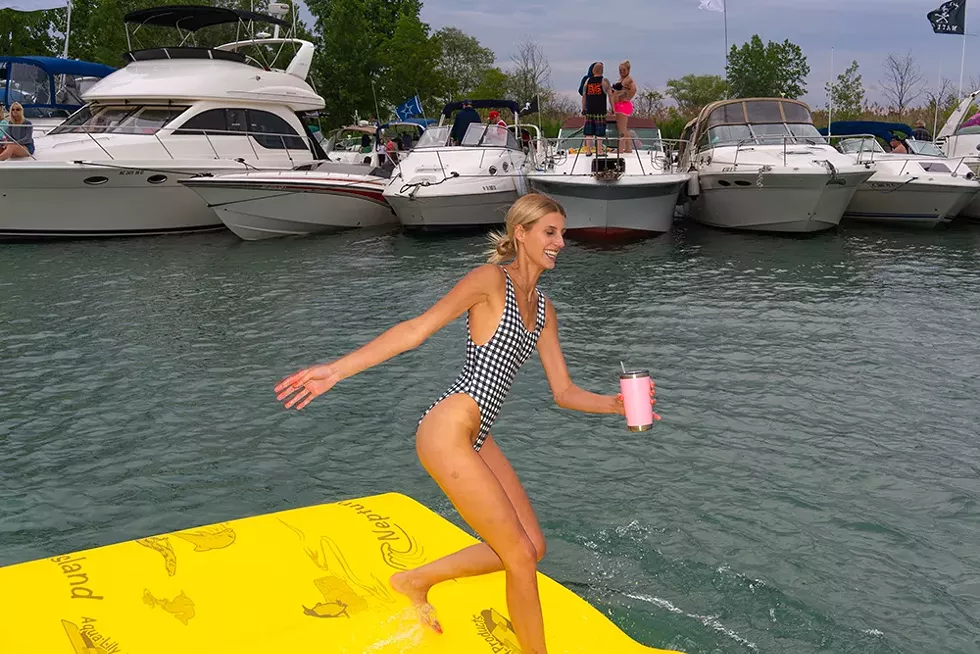 Jobbie Nooner stays with you. As you tend to your sunburn, hangover, or in many cases, open flesh wounds, you are reminded of that Friday you blew off work to get fucked up with friends, both old and new, and what it felt like to not give a shit about your life on dry land.
Having lived in Detroit for the past five years, I know that, yes, this city does in fact hustle harder. It is resilient, a Phoenix rising — but at the end of the day, clearly misinformed when it comes to understanding the beauty of Jobbie Nooner. Aside from some political incorrectness and tone-deaf comments, love is the name of the game when it comes to Jobbie. Sure, it's not as edgy as an underground, goth-wave show or, like, a fashion event where everyone is wearing raw meat, chains, and ironic '90s graphic tees. I like these things, too. A lot. But I also like tradition, and Jobbie is just that. It's a moment in time, a place in time, and ultimately no one cared if I was from Detroit. No one cared if my tit fell out of my bathing suit top or if I picked a wedgie in plain view, and I guarantee no one would care if I was at all "uncool."
Boats, beads, beer, and boobs.
"The more you go, the more people you meet," Jim says. "It just seems like every year it gets a little better. It's all about partying and hanging out with friends. That's it."
Get our top picks for the best events in Detroit every Thursday morning. Sign up for our events newsletter.