Page 2 of 3
Our boat is named Goin' Broke and by the time we load and launch it has nine passengers on board, plus a dog. One gentleman sports a cowboy hat made from a Budweiser box.
"I made this in 2016," he says, showing off its impressive craftsmanship and durability. "Thanks, YouTube."
Upon arrival, boats had already begun to link up to form the rings which in a few hours would create circles around the island. It was 8:30 a.m. This is not uncommon, I learned, and I was told this morning's turnout of 50 or so boats was disappointing compared to previous years.
"Usually by this time there are already hundreds of boats out here," our tight-lipped captain revealed, going on to say that many people spend the night so as to beat the thirsty nooners vying for a spot close to the island.
We had not been on the boat 30 minutes before our photographer made the mistake of knocking over a poorly placed glass handle of Captain Morgan's, which shattered completely. Great. Our first casualty.
By 10:30 a.m. I had been awake for four hours and had consumed the following: one cold brew coffee, four jello shots, three "butterscotch" shots, two cans of Two Hearted Ale, a sip of Captain Morgan's rum, and one third of a croissant. I watch as two blonde-haired twins from a few boats down appeared to be the first to venture into the freezing waters, holding their plastic cups above their heads. During this time, people begin to strip down from their sweatshirts to their bathing suits. It was clear on this overcast day that we could not rely on the sun to force ourselves into the water.
"Fuck it's cold," one girl yells, tip-toeing to her boat, teeth chattering.
If they could do it, so could we. We were headed to the island. But not before doing a shot.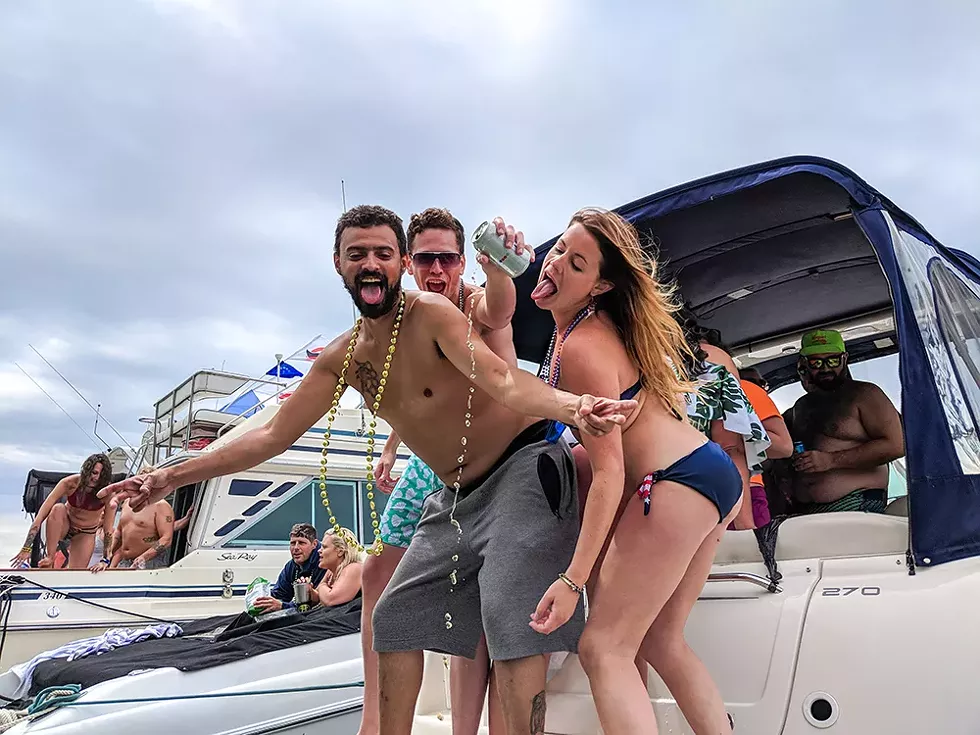 Things you will see at Jobbie Nooner may include, but are not limited to: Dildo fishing, faded tribal tattoos, beer bongs, asses covered in glitter, tits covered in glitter, clever signs advertising glitter in exchange for both ass and tits, blood, people who have lost their boat, twerking, grinding, shirts that say "REAL MEN EAT ASS," men offering to actually eat ass, dance parties, float parties, beads, blunts, Jell-O shot syringes, strippers, cool dogs, casual flashing, women miming blow jobs, men peeing off boats, men sleeping on jet skis, men peeing on jet skis, commissioned lap dances, used condoms, tampons, discarded sandwiches, girls kissing girls, guys kissing girls, politically incorrect flags ("LGBT: Liberty. Guns. Beer. Tits"), Bubba Kegs, and some of the best damn nautical puns you will ever read.
The water is vibrating. Music is coming from every direction and the water, I swear to you, is vibrating. Or am I vibrating? An EDM remix of Aerosmith's "Don't Want to Miss a Thing," Kid Rock's "All Summer Long," "This is America" by Childish Gambino, and Jobbie's unofficial anthem, "Turn Down for What," being blasted from a number of boats at any given time have come together to create a numbing dial tone between my ears.
On our maiden journey, we have brought with us a fifth of Captain Morgan's and in our sight is the legendary Mystic Maiden — the heart of the whole damn party.
"Look at her," a man aboard the Maiden yells through a megaphone. "It's Marilyn Monroe." He points to me and comments on my red bathing suit, red lipstick, and blonde hair, ushering for me to come closer.
Suddenly, I am a shrinking violet. He makes a few more attempts as I look toward my squad for support. They remind me that I am at work and to not spin the wheel would be missing the point. They were right. I could be anyone I wanted at Jobbie Nooner, and today I would decide to take on the persona of Marilyn Mon-hoe. As a believer in fate, today I would put all of my chips on destiny.
It is a different world atop the Maiden. There are hundreds of people surrounding the ship waist deep in the water below. Everyone is cheering and there are folks standing by ready with beads to festoon the necks of the ladies who fulfill their destiny. I ask the man with the megaphone if he happened to be Captain Jim. He points to the man to my right, a friendly looking guy wearing a necklace made of plastic marijuana leaves. I introduce myself and give him a hug and ask if I may spin the wheel — for the first, and likely, last time.
Of course, I land on "Show your xxx." I'm assuming that this means "vagina," and at 11 a.m., I am not going to show my vagina. Thankfully, in tiny lettering below the xxx it reads "or spin again" — an option I eagerly manipulate to land on "kiss a girl." I motion to a woman adjusting her boobs in her bathing suit top to come closer to ask her if I may kiss her. She smiles and agrees as I kiss each side of her face the way I had always seen European models kiss clothing designers.
Spinning the wheel was not at all scary. And what I loved most is that my destiny was in my hands the whole time. Before descending down the ladder, three strings of beads were placed around my neck and I would be lying if I said the beads didn't change me. Because they totally did. They felt like a medal of honor. I was one with Jobbie Nooner, and Jobbie Nooner was one with me. How could anyone hate this feeling?
Things you should know about Jobbie Nooner:
• Jell-O shots are both currency and your nutritional best friend.
• Everyone is a stray — expect strangers to outstay their welcome on your boat and know that you may end up doing the same.
• N0t everyone puts buoys on their anchor ropes, so wearing water shoes might be the best thing you can do for yourself.
• There are cops on jet skis everywhere and the coast guard can actually tow your boat if you're being a dick. It's called "Jobbie jail."
• You will lose something: your sunglasses, shirt, phone, hat, camera, shoe(s), cooler, wedding ring, etc.
• If you bring your kids you are a bad parent. Do not bring your kids to Jobbie Nooner.
• If you have to shit, you are shit out of luck.
• Getting lost is easy to do and you will likely not have phone service. Boat names are easy markers of where you've been and where you are parked. Try to remember SOMETHING.
• Pudding shots are gross. If someone offers you one, throw it out immediately.