Page 3 of 3
My friend and I end up losing my boyfriend and the photographer as they had become distracted doing shots with a float full of bros before being invited aboard a boat full of strippers. It is here that my boyfriend has a deeply involved conversation with a black man named Pancho about restitution and systemic oppression, while a singular Confederate flag waves from the hull of a nearby boat. By the time our two roving guests return to us (it had been close to 45 minutes), their fifth of Captain's had been nearly depleted and they had a look in their eyes like they had seen some shit.
We were fine, though. Before heading back to the boat without them, we encounter a guy named Spencer (looking exactly how you would think a guy named Spencer at Jobbie would look), who offered us some of his Jell-O shot syringe.
"What's in it?" I ask.
"Roofie. Mostly Roofie and Jell-O," he responds. "No, no. I'm kidding. I don't think this has been roofied," he says, attempting to squirt the red gel into his mouth, busting the cap off in the process. We entertain him for a moment more before he tells me I look underage and attempts to recite his phone number for us to call later.
"We're not going to remember that," my friend says.
"No, I know," he says, defeated.
Spencer disappears into the reeds of the island's marshland and we can't help but laugh, wondering what could have been if we had only remembered his number.
Our second trip to the island had a mission that I rather not share as it involved a bodily function that required me to borrow someone else's shoes. Much of this trip remains a blur. Upon our return, I noticed a note I took on my phone: anti-mustache flags.
I still have no idea what this means.
When we return from our second trip to the island, it appears as though Goin' Broke had acquired a couple of strays, one of which was bleeding. Like, really bleeding. My friend's mom was covered in his blood as she tended to a wound that, in my drunken state, seemed like a goddamn gushing geyser. As it turns out, he had cut his leg on our propeller while boat hopping — a common Jobbie injury.
"You cannot get this cut wet," my friend's mom says, cleaning the cut with the scattered contents of a first aid kit. "There is piss and shit in that water and it will get infected."
"No, no," he says. "I'm good, it's not a big deal. I don't want anyone to, like, get my AIDS."
His fiance, who is also on deck and very disinterested in the condition of his wound, assures us that he does not have AIDS and joins us on the lower deck to talk about the health store she works at while touching the upper part of my boyfriend's thigh.
We flooded the "shitter" and our captain is pissed.
The boat's lower level is now covered in piss, a half-gallon of Captain Morgan's, a half-gallon of Captain Morgan's worth of glass, and I can't help but think this is partially my fault as I peed a lot and was never told that the toilet holds only 2 gallons worth of liquid. Plus, I had brought the butterfingered photographer. During the cleanup, a grey sheet of rain appeared in the distance and the temperature dropped a few noticeable degrees. After nearly 10 hours on the water, it was clear that it was time to go. The only problem, though, with being one of the first boats to arrive is that you are at the mercy of the boats in front of and behind you, because everyone is linked together and you have to communicate and wait it out. Both are seemingly impossible tasks when you've been drinking for hours. As everyone begins to wilt, we prepare for takeoff, many of us nuzzling under blankets, limply stretched across one another. And many of us are still drinking because if Jobbie teaches you anything it is that the party stops when you stop drinking. So, don't stop drinking.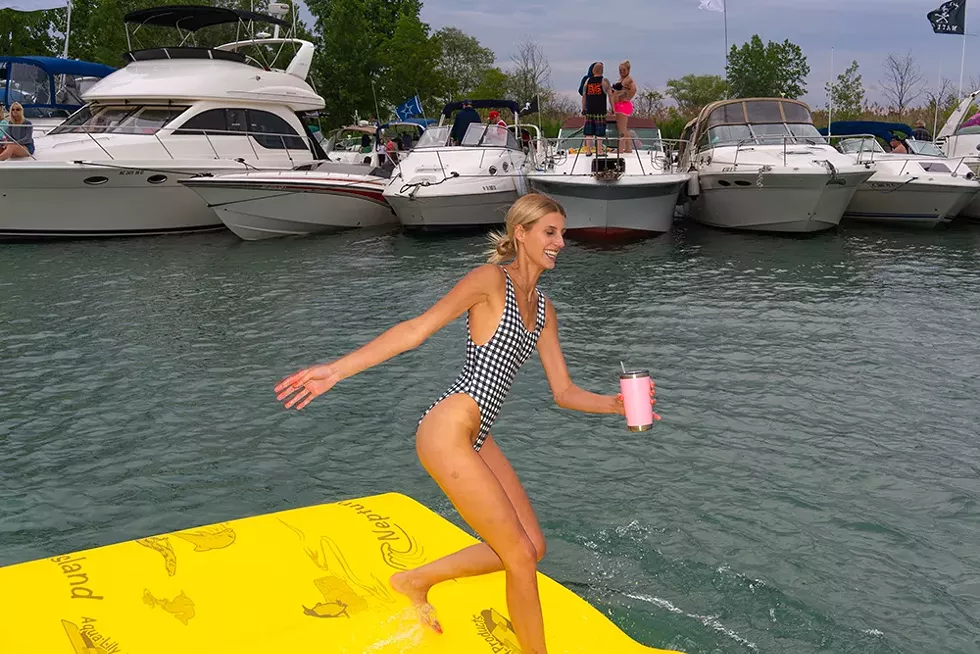 Jobbie Nooner stays with you. As you tend to your sunburn, hangover, or in many cases, open flesh wounds, you are reminded of that Friday you blew off work to get fucked up with friends, both old and new, and what it felt like to not give a shit about your life on dry land.
Having lived in Detroit for the past five years, I know that, yes, this city does in fact hustle harder. It is resilient, a Phoenix rising — but at the end of the day, clearly misinformed when it comes to understanding the beauty of Jobbie Nooner. Aside from some political incorrectness and tone-deaf comments, love is the name of the game when it comes to Jobbie. Sure, it's not as edgy as an underground, goth-wave show or, like, a fashion event where everyone is wearing raw meat, chains, and ironic '90s graphic tees. I like these things, too. A lot. But I also like tradition, and Jobbie is just that. It's a moment in time, a place in time, and ultimately no one cared if I was from Detroit. No one cared if my tit fell out of my bathing suit top or if I picked a wedgie in plain view, and I guarantee no one would care if I was at all "uncool."
Boats, beads, beer, and boobs.
"The more you go, the more people you meet," Jim says. "It just seems like every year it gets a little better. It's all about partying and hanging out with friends. That's it."
Get our top picks for the best events in Detroit every Thursday morning. Sign up for our events newsletter.