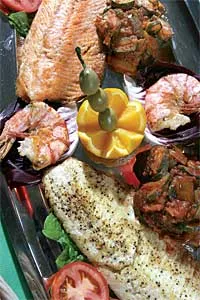 MT photo: Rob Widdis
Grigliata Mista di Pesce: Salmon and whitefish.
It's a good sign, in an Italian restaurant, when you hear the pizza makers talking to each other in their native tongue, and that tongue is Italian. As one cook's hands dart above the surface of a quattro formaggi, strewing shredded cheeses as he works in front of the open brick oven, I pick out "questa tavola" and guess that "that table" is in for a treat.
The big oven is the first thing you see at La Zingara (la ZEEN-ga-ra, "the gypsy woman") when you walk in off Erie Street East. It's made and used traditionally: A hardwood fire is built in the middle of the oven, and burns until the bricks are hot. Then it's pushed to the side to make room for the pizzas, which are slid directly onto the oven floor without a pan, and occasionally lifted gently with an oversize spatula to keep them from burning.
I order the four-cheese quattro formaggi too. Unlike a typical American pizza, dominated by gobs of sticky mozzarella, this pie's most prominent flavor is Gorgonzola, complemented by Romano and Parmigiano. The result is pungent but not overwhelming, just right; the crust is thin and tender.
There's nothing wrong with a Chicago-style deep-dish or a thick-crust pie that's crunchy. But the Maceroni sisters, Antonia and Pina, who own and run La Zingara, and whose roots are in Italy's Lazio region, prefer this more traditional style. Note that their pepperoni pizza is dubbed the "Americano."
Their biggest seller is Quattro Stagioni (Four Seasons), with ham, artichokes and black olives. I try the prosciutto pizza, which doesn't stint on that salt-cured delicacy. Rather than little bits scattered about, a thin sheet is laid over each slice, for plenty of salty, gamy flavor.
Backing up a bit, La Zingara serves excellent chewy Calabrese bread and some wonderfully simple appetizers that rely on the excellence of their ingredients. (The bread comes with little tubs of butter, but I'm sure if you ask for olive oil, you can get some. Toni says, "We put our heart out for the customer.")
Melanzane (eggplant) is first grilled and then marinated in olive oil and spices, including red pepper, and served cold. The long, thin, well-charred slabs are striped from the grill, rich, meaty, tangy, smoky and sensual. It's hard to think of a better seduction dish than this one.
Grilled radicchio is also top-notch, its crunchy, smoky bitterness offset by some excellent balsamic and olive oil, which you add to suit your taste. La Zingara's fish soup combines clams, baby shrimp and some larger ones in a tomato-based broth that tastes mostly of the sea, but is warmed and brightened, figuratively, by the land ingredient, and by some more red pepper flakes. It's all one flavor, and an inviting one.
Equally uncluttered starters are caprese (fresh mozzarella with tomato and basil); prosciutto with Parmigiano; and roasted peppers. The best idea is to order "antipasto della Zingara," which combines the melanzane, prosciutto, Parmigiano and caprese for $7.50 (Canadian) per person.
Pasta dishes, misleadingly called "first courses" (they're big), follow the same formula of simple and traditional. (Exception: Because customers want it, spaghetti with meatballs, invented in the U.S. of A., is on the menu). Penne all'arrabiata is a straightforward blend of tomatoes and a little hot pepper, but the heat creeps up on you. Carbonara is made the time-honored way, using grease from the pancetta. A bit of cream, a more modern innovation, is added to make the dish moister, but the principal flavor is still mild side-meat of pig.
It's hard to lure me away from pasta when it's done this well, but we tried one "second course" dish, broiled trout that was almost too plain. The usual veal scaloppines are offered, as well as quail, rack of lamb cooked in the wood oven, and a mixed grill of fish for two.
For dessert, there's an intensely coffee-flavored tiramisu that's made in-house — the freshest I've ever tasted — and sweet-tart lemon torta della nonna (grandmother's cake) brought in from Italy — both good.
One wall of La Zingara's substantial space is painted orange, and its overhead lights are recessed in orange cavities. The tablecloths are bright green and the dinnerware is white, so you're more or less dining inside the Italian flag. The room is set up with plenty of big tables, because a good proportion of the trade is large parties — repeat business — that order a set meal of several courses served on platters, family-style.
The Maceroni sisters will accommodate even a party of four who arrive unannounced and ask for this type of service, but you're better off calling ahead to make reservations and see what the chef will do for you. Chef's choice netted my little party a meal to write home to Italy about: the antipasto della Zingara plus, pappardelle with portobellos, grilled calamari, the best veal tenderloin ever, and after-dinner digestifs of Limoncello and Amaro. It was our anniversary; the meal convinced him to stick with me.
Unlike many Erie Street restaurants, La Zingara is open every evening. A combo headed by keyboardist Phil Whitfield plays in the adjacent bar area on weekends.
Jane Slaughter dines for Metro Times. Send comments to [email protected].