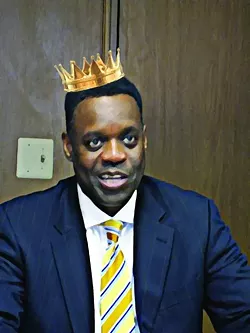 King Kevyn the Good issued Orr-der No. 3 last week. The decree coincided with Mayor Dave Bing's unveiling of his proposed budget for the coming fiscal year, and seemed intended to make clear to everyone that the scepter of city government is firmly gripped by the emergency manager — and no one else.
Issued on April 11, the order states that the mayor and City Council can continue performing their usual functions, but that nothing they do will have any effect unless given Orr's stamp of approval.
In other words, Detroit's elected officials have been reduced to a purely advisory role. Orr's third proclamation makes that point perfectly clear:
"Any orders, ordinances, resolutions, appointments, approvals, terminations, appropriations, contacts, permits or other related actions of the Detroit Mayor and City Council from and after March 28, 2013, shall be submitted to the Emergency Manager for consideration, but will not be valid or effective unless and until approved by the Emergency Manager or his designee in writing."
But that iron fist comes wrapped in velvet. Orr spokesman Bill Nowling keeps telling reporters that his boss respects the process, and wants the mayor and council to keep working on a budget.
"It serves no purpose to come in with a heavy hand," Nowling said, according to a Reuters report. "It's important for the elected council and mayor to weigh in. That is going to position us to work on restructuring the long-term problems."
The hope that this will be a cooperative effort was also expressed by Bing when he delivered his budget to the council.
"He [Orr] has a responsibility to come here to make the changes to help us to get from where we are to where we need to go," Bing reportedly said. "But in doing that, I think he also will listen to us, both myself and council, in terms of what we deem to be most important."
As for the "where we are" part, it is definitely not a good place, fiscally. Bing told the council that, under his plan, this city's budget deficit would rise from $327 million to $380 million. That deficit increase of more than $50 million is necessary to keep the city functioning, the mayor said.
"Any additional permanent staff cuts at this time would be more devastating to operations than cost-effective," Bing told the council.
That statement gets to the heart of the problem. How does the city balance its books while at the same time delivering the services necessary to make Detroit a place where people want to live and do business?
The tide of red ink that continues to rise dramatically — despite the city's yearlong oversight by the state courtesy of the consent decree signed last April — illustrates the seemingly intractable nature of the fiscal dilemma facing Detroit.
Big changes are certainly looming.
One of Orr's primary tasks will involve attempts to restructure the city's nearly $15 billion in long-term debt. The emergency manager has said that the threat of bankruptcy is a "cudgel" he can use to help wring concessions from bondholders.
Helping him to do that is the law firm Jones Day, where Orr was an equity partner until resigning one day after being appointed Detroit's emergency manager.
Although already working on behalf of the city, a $3.35 million contract with Jones Day has yet to be approved by the Detroit City Council. (A vote on this issue was scheduled to take place Tuesday, a day after this issue of Metro Times went to press.)
Of course, it doesn't really matter how the council votes. As Orr-der No. 3 makes clear, it's the emergency manager who has the real say on issues like this.
As long as the state's emergency manager law remains in place, there's not much disputing the power placed in Orr's hands. An analysis of the Jones Day contract done by the City Council's Research & Analysis Division (RAD) acknowledges that. David Whitaker, the head of that division, spelled things out for council in an analysis dated April 12, 2013: "… in his capacity as Emergency Manager, Kevyn Orr has ultimate authority to approve the [Jones Day] contract, with or without City Council's concurrence…"
Orr has said that he resigned from Jones Day to ensure there's not even an appearance of conflict of interest when it comes to him working with his former firm.
That assurance, however, hasn't exactly erased all concerns for the lawyers at RAD.
The feeling that things are a little too cozy for comfort starts with the fact that Orr, while still with Jones Day, was part of the team that initially pitched its services to the city. He later stepped away from that process, and the Bing administration, claiming to have acted independently of Gov. Rick Snyder and his selection of Orr as the city's emergency manager, chose Jones Day to be the law firm in charge of Detroit's financial restructuring.
Further complicating matters is Jones Day's representation of Bank of America, the parent company of Merrill Lynch. That's significant because Merrill Lynch is one of the so-called "counter parties" involved in negotiations over its share of a $400 million payment the city might have to cough up as part of a credit swap deal that went awry.
Jones Day has said it will seek conflict of interest waivers from any client seeking money from the city.
As we noted in a blog last week, the online publication The Am Law Daily checked with some legal experts who said the arrangement is not inherently unethical.
"A trio of ethics experts contacted by The Am Law Daily Wednesday agreed that Orr's ties to Jones Day do not by themselves create a conflict of interest and that the city's decision to employ a firm that Orr is familiar with and knows to be experienced in restructuring work is a smart one," the publication reported.
The analysis by RAD, though, indicates that there's a bigger picture that needs to be considered. Saying that it would require more time to fully analyze a contract this complex, Whitaker did offer this:
"In general … it is important to note that concerns about the proposed Jones Day contract are not limited to either potential conflicts of interest the firm may have with other clients, or the status of Mr. Orr's former employment relationship with that firm. Rather the real concern arises out of the combination of Jones Day's and Mr. Orr's multiple intersecting, overlapping and complementary roles…"
Those roles, as explained in the analysis, include Jones Day serving as counsel "for both the city and its creditors and other major multinational corporations that may well be able to assert claims or pursue private interests in the vast and complex process of Detroit's restructuring." Then there's Orr's role as emergency manager, which removes the checks and balances usually found in city government and places both executive and legislative functions in his hands — alone.
"In other words," Whitaker writes in the analysis provided to council, "evaluating the propriety of the Jones Day contract involves multiple issues, conflicts and public policy concerns arising out of the totality of the combination of the roles they are being asked to play in conjunction with the State and Mr. Orr, as Emergency Manager."
In other words, it is a sack filled with writhing snakes.
Punching bags
Given the number of goofballs, dimwits and shysters who've had seats at the table over the years, beating up on the Detroit City Council has long been fairly easy sport. So it's not too surprising that the legislative branch of government is being targeted for severe cuts now that an emergency manager is running the city.
Mayor Bing has proposed cutting the council's $11.2 million annual budget by $4 million. But that 35 percent slash seems almost generous when compared to the $7.6 million reduction being recommended by the private consulting firm Conway Mackenzie. Based in Birmingham, the specialists in financial restructuring are being paid $4.2 million to help Detroit find a way out of its financial mess.
After analyzing city council budgets and duties in a number of other cities, the firm recently issued a report recommending that council be reduced to a part-time body, with drastic reductions to its support staff.
That includes the above-mentioned Research & Analysis Division, as well as the Fiscal Analysis Division.
The Conway Mackenzie report indicates that many of the City Council's functions are redundant, and therefore can be consolidated or eliminated.
Here's the thing: A properly functioning City Council is supposed to provide a check and balance to the city's executive branch. And, in our years of covering city government, the council's analysts have done just that. Especially when Kwame Kilpatrick was mayor, Irvin Corley Jr. and his crew of fiscal analysts were there exposing the fictitious spending plans Kilpatrick's administration regularly served up.
The same has long been true of RAD, which consistently provides credible analysis of legal issues facing the city. In a way, with power now consolidated in the hands of emergency manager Orr, that sort of independent insight is more important than ever.
But getting that kind of analysis would be virtually impossible if cuts as draconian as those being proposed by Conway MacKenzie are actually implemented.
"It would be devastating," David Whitaker said in response to a question from News Hits.
In a way, now that it has been denuded of any real decision-making power, and control of the city has been placed in a single pair of hands, the role of council as watchdog is more important than ever. Whitaker ably makes that point at the conclusion of the Jones Day contract analysis.
"In an effort to preserve and protect some semblance of a democratically elected city government during this process, appropriate public discussions (under the Open Meetings Act) relative to important policy decisions can be held by City Council before plans are executed, to the extent possible," he writes. "City Council has been, and will continue to be, the public's route of access to its government. It is important that the independent review and analysis that is vital to open government be maintained going forward. Preserving access and openness may ease the road ahead for the city."
News Hits is written by Curt Guyette. Contact the column at 313-202-8004 or NewsHits@metrotimes.com.