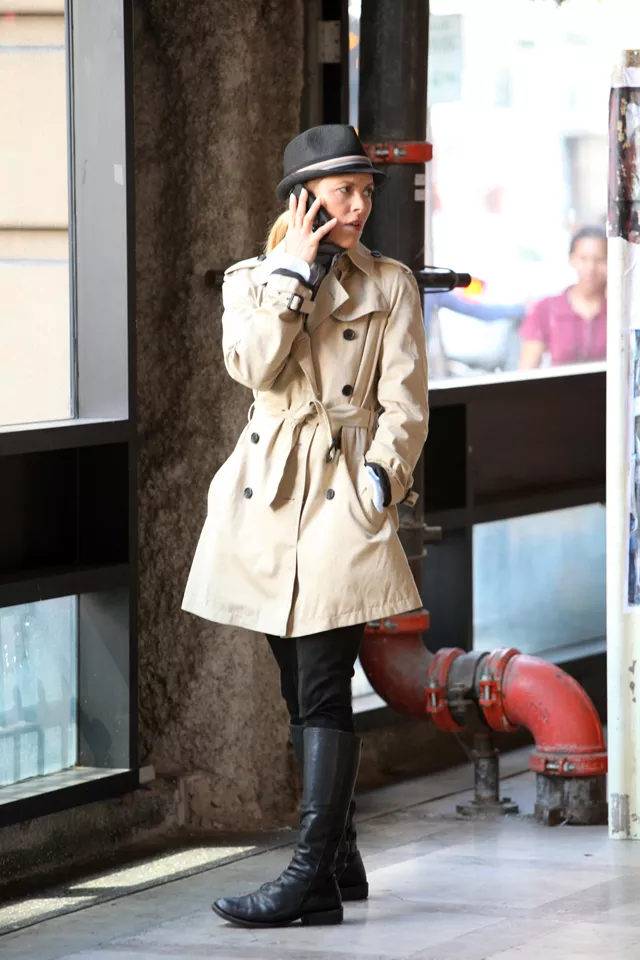 Maria Bello as Lady Kojak.
Kojak's lollipop. Columbo's raincoat. Magnum's Tigers cap. Since the dawn of TV time, once networks figured out that crime does pay in terms of higher ratings, the most memorable and charismatic crimebusters have been distinguished by a prop, an accessory that identifies the character as immediately as voice or mannerisms.
And so it is again this fall with the best new cop show on TV, NBC's Prime Suspect (10 p.m. Thursdays, Channel 4 in Detroit). This time, however, the accoutrement favored by Maria Bello as NYPD homicide Det. Jane Timoney — a tight black porkpie hat with a cream-colored band — has caused more than a few people to flip their lids.
Weeks before the show premiered Sept. 22, reviewers at the Television Critics of America summer tour who screened the pilot lambasted the chapeau as "distracting," "outdated," "curious" and "looking like a 1940s mobster." Me-ow.
It's a hat. Whatsamatta? Lady Gaga can wear all manner of whacked-out bonnets but Bello can't look like Lady Kojak?
"She's a bit quirky," Bello acknowledges about her character, while suggesting that the good-girl-in-black-hat idea was her own invention. "My best friend, Claire, gave me that hat last year," she says in a conference call. "She had it on, and she took it off immediately and put it on my head. She said, 'This belongs to you.'
"And as soon as I read [the part of] Jane, I knew that hat belonged to her. There was something about feeling invincible in this hat, something about an attitude. As soon as I put it on, it was Jane. And I like this idea that some people are saying, 'Why the hat?' 'What's with the hat?' because I think that's who Jane is. The greatest part about her is she doesn't really care who gets it and who doesn't."
This is a series that doesn't need a gimmick, and that "best new cop show" accolade may be surprising to regular readers of this column. I have criticized Prime Suspect for swiping the name of the incomparable British police series of the '90s starring Helen Mirren. Even though the original Prime Suspect writer and producer Lynda La Plante is an executive producer of the NBC version, I described the Americanized copy as "a slightly dated procedural that pales in comparison to the original." That's true. But that wasn't meant to say it isn't a fine show on its own merits; it just didn't need the name association. "Slightly dated," in the sense Blue Bloods and Hawaii Five-O are slightly dated, can be a good thing. And as TV Guide scribe Matt Roush so succinctly put it, "This ... will never approach the dark ambitions of the British classic, so why call it Prime Suspect?"
"I really didn't care what the title was when I read it," Bello says. "It was such incredible writing. I hadn't read a woman like this on television before who was so complex and strong and quirky and self-possessed, and I just knew I wanted to do this show. It could have been called, you know, Arlington, for all I cared."
Besides, the show has grown on me. Unlike some series that shoot their wad in the pilot then quickly fade (hello, Person of Interest), every episode of Prime Suspect has been better and more intense than the last, and tomorrow's installment promises to be the best yet. 
Bello, best known for her film career in movies like A History of Violence and Coyote Ugly, commands her show like no other woman on television, even Julianna Margulies in The Good Wife. She owns this role, and despite a solid supporting cast led by Aidan Quinn, Kirk Acevedo and Brian F. O'Byrne, her Jane Timoney has bigger balls than anyone else on the set. As the only female detective in her squad Jane faces constant abuse from her misogynistic male colleagues — the major story element this Prime Suspect borrowed from its predecessor, managing to capture some of the vicious tension of the original — but Bello's Jane gives as good as she gets. Better, even.
"Jane has her own definite point of view about everything," Bello says. "She's really good at her job and she knows it, but she really has to fight in a man's world to be recognized for the detective she is. She's very tough but also incredibly vulnerable, dealing with the stuff outside her job. Her boyfriend, her boyfriend's kid, her father, trying to quit smoking. You know, just being a real person having to do this job. 
"You know, the cop shows I always liked were the Columbos and the Kojaks and the Barettas, that had real distinct characters going through situations. I think people in general like them because it's a mystery that unfolds during an hour that they get to follow and figure out. I feel this show has such an energy and a life force and an excitement to it, kind of a wildness, and I think people will dig that energy, because I certainly do."
Networking: Is Homer Simpson more valuable dead or alive? That's the question swirling around TV's longest-running series as the voice cast of The Simpsons is embroiled in a salary dispute with 20th Century Fox TV. David Banks, an analyst for Rbc Capital Markets, opines that because of the show's age — this is its 23rd season — it's locked into a deal that limits syndication to local TV stations like Detroit's Channel 50. But cable wasn't the colossus 20 years ago that it is today. Banks says canceling The Simpsons would end the restriction and allow Fox to realize an extra $750 million in syndication fees to cable and online services like Netflix. An all-Simpsons cable channel has been discussed. Even if talents like Dan Castellaneta, Hank Azaria and Julie Kavner accept the massive pay cut Fox is demanding, this season could be The Simpsons' last. D-oh! 
Dexter, Showtime's flagship drama, opened to killer ratings in its sixth season, drawing 2.2 million viewers — a 24 percent increase over 2010 and Showtime's highest-rated original series opener in almost 14 years. But series star Michael C. Hall also is in a contract dispute; his deal ends after this year and negotiations with Showtime for a seventh season have broken down. ... Puritans, rejoice! NBC has canceled The Playboy Club after only three episodes, as series star Eddie Cibrian was rushed to the hospital after sustaining a severe injury on set. All those bunnies, and not a rabbit's foot in sight. Hugh Hefner's reaction? Shoulda been on cable. ... NBC also dumped Hank Azaria's new sitcom Free Agents. Suddenly that Simpsons pay cut may not be looking so bad.