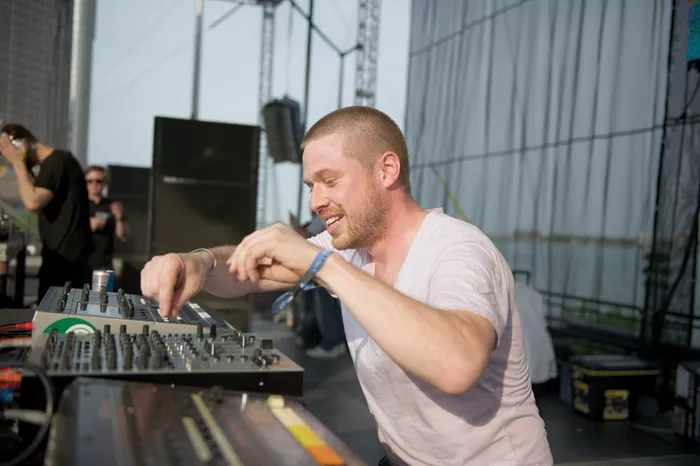 The set starts gently, the beat pulsing like a faraway heartbeat. The speed very steadily increases, offering the impression that something is building. Long strokes. Synths kick in, as do some female vocal samples. The beat switches up, anticipation grows. Waves of music wash over you, and then — fucking boom! — the climax is reached. The come-down is both paralyzing and welcome, and then it starts all over again.
That's a Kevin Reynolds set; fast and slow, dark and light, charged up and chilled out. The yin-yang effect is something that's very important to the man. "I always have to have balance," he says. "Yin-yang. You have to have love in order to have anger. You have to be sad to be happy. You can't be one way the entire time. If you listen to my music, there's always a dynamic between the two. You get some deep, emotional, strings, or some kind of sample, and then I'll have some 'I'm gonna fuck you up' drums. Or vice versa — I'll have some pretty drums, and then some gnarly synthesizer."
He's right, of course, and there are few electronic music artists capable of capturing that sense of anticipation and then holding on to it so effectively. Reynolds claims to have a sound of his own, soaking up the sounds of house and Detroit techno and fucking around with them, throwing in some funk, jazz and soul, and emerging with something familiar and warm, but also exciting and fresh.
Reynolds was born in Detroit in 1976, and grew up on the edge of Hamtramck. When his mom got accepted into a Michigan State nursing program, he moved to East Lansing, where he attended high school and college. "That was a big culture shock for me, coming from Detroit public schools to East Lansing, where kids are driving BMWs to school," Reynolds says. "I moved back to Detroit in 1999. I worked for Transmat [Derrick May's record label] from 2007, and then my personal music started doing well with commercials — I actually bought my house with the money I made from the commercial work with Ford, Blue Cross Blue Shield, Lexus, and a few more. That helped me get my feet on the ground, and I've been making my music ever since then."
Growing up in Detroit, it's natural that Reynolds heard a lot of techno music, and he was attracted to it right away because it sounded like nothing else he had ever heard. With his parents tuning into the Electrifying Mojo regularly, Reynolds quickly became hooked, and he soaked up all of the local sounds he could find. That trend continued in Lansing. "When I learned that techno music is from Detroit, I knew that this is what I love," he says. "I feel like it represents who I am — the multiculturalism, futurism — it's everything that I like."
Working for Transmat obviously meant working closely with Derrick May, one of Detroit's techno pioneers and one of the Belleville Three. For Reynolds, the world opened up from that point on. Electronic was suddenly a viable way to make a living, a source of income. The whole experience was, he says, an education.
"Having the chance to work at Transmat really opened my eyes," Reynolds says. "I got to travel around the world, do tour management, and I learned that there is more out there than playing a local party, a house party, or something like that. I saw that it was tangible. It wasn't just the big guys that started it, the Bellville Three. If you put your heart and soul into it, you could actually do this."
Still, with much of his time and energy devoted to the music of other artists, Reynolds' ability to spend time on his own music was hampered. "I like to help other people, that's my nature, so I was always making my own music but it was in the background," he says. "It was 10 years before I put out my first record after I started making music. I had to overcome the fear — fear of failure. When I quit my part-time job at a deli, the first few months were scary as hell. I grew up working-class, and the concept of not having a 'real job' was unfathomable. I don't care, I'll shovel shit to pay the bills. But after about three months of freaking out, all of a sudden the phone started ringing, I got an agent, I got interest from bigger labels, and that's when it clicked. The ball started rolling."
Reynolds freely admits that working with May could be intensely difficult due to what he perceives as the naturally contrary way that "real artists" can change their mind in a heartbeat. Oddly enough, the pair had met in a previous life when Reynolds would go to Roscoe's Video Arcade near Wayne State in Detroit, and May was working there, handing out free quarters to the kids.
"He was something else," he says. "I'd play Spy Hunter, Skater Boy, and stupid games like that. Fast-forward 15 years and I'm working with him. The guy taught me a lot. He's a true artist, in a good way and a bad way. He can be out there. He can change his mind like the Michigan weather, which sucks when there are contracts in place. Things I'd learned in audio engineering school, he would tell me the complete opposite. One time, we had a race — ProTools vs. tape. He bet that he could edit faster than me. He's using the razor blade and tape to do the edit. He was just as quick as me. It's mind-blowing. I had a good time working with him for sure."
Again, Reynolds deftly blends house and techno with older genres like R&B and funk. To him, the whole thing forms part of a very distinct Detroit sound. "It's Detroit," he says. "I live by old Tiger Stadium and Detroit's in my heart and soul. There's something about this city. I don't know what it is. Once I had discovered the sound of Detroit, I was influenced by its jazz, funk, soul, everything. The music here is crazy."
That attitude of loyalty to his city has spread across the Atlantic, with the BBC calling Reynolds the "new sound of Detroit." That's a fair shout too, and, considering the fact Detroit birthed techno in the 1980s, it's quite a feat that the very observant Brits are admiring his ability to mix the old and the new from so far away. "That was Radio 1," Reynolds says. "They championed my first record big-time. I think I have my own sound for sure, but that's a big compliment coming from the BBC. That's something I can show my grandparents."
In a world where there seems to be a new subgenre of electronic music sprouting up every five minutes, it's perhaps surprising that, like "rave" or "jungle," the word techno hasn't started to sound tired. The genre has evolved though, helping it retain energy and keep fresh.
"It's evolved because, with the machines, things changed," Reynolds says. "There's a certain sound, for sure. Derrick and the original guys were recording in 135 bpm. The new guys are at 110-118 bpm. It's slowed a little bit, but you can take more chances now. People always want something fresh. That's the beauty of Detroit — you can try whatever you want. Another good thing is that a peer will come up to you and tell you that your shit is wack. Harsh critique is a great thing here. The past five years or so, I've seen a lot of people patting each other on the back and not saying shit about the music. I hate that."
When we ask him to describe the "Kevin Reynolds live experience," he initially replies with "Lots of Jamesons." After a little coaxing though, he allows the mask of humility to drop a little. "I try to make people feel something inside," he says. "It's about getting down, and you're gonna sweat. That's my goal. I want to make you think as well. My fiance says that I make journeyman music. I take you on a journey. I only play live — I don't DJ at all. I've never performed a DJ set in my life. It's always my own stuff. I'm always changing stuff, and it's always different. That's one of my problems — I'm always trying to create a new live set every time I play, and sometimes I forget to make actual songs for people to put out on vinyl. It's attention deficit disorder music."
Reynolds recently started his own label, Todhchai (pronounced TOW-a-key), which he admits is mainly an outlet for his own music. "It means future of things to come in Gaelic, and I'm Irish," he says. "I wanted something that represented who I am. It is an output for my music. I'm an Irish-American Catholic who grew up in Detroit, and this is my shit. See if you like it. It's futurism, grounded in history."
That's a tidy link back to the earlier point, that Reynolds is always looking to move forward and create something unique, while paying heavy homage to the rich history of the music that he loves, in the city that he adores. Perhaps it's his keen eye on the past that made him an attractive musical partner to the Detroit Symphony Orchestra, with whom he's worked on a couple of occasions, adding textured beats to the traditional orchestral music.
"I'm doing another project with the DSO for the Ruth Ellis Center, which is an LGBT displaced youth thing," he says. "The DSO and I are going to work together at the Ruth Ellis Center and compose something. The first time I worked with the DSO, I thought that they would think I'm an idiot and they'd laugh at me. They loved it though, even if they didn't understand it."
That's Kevin Reynolds — creating new music and waiting for the rest of the world to catch up.
Kevin Reynolds plays at 10 p.m. on Saturday, June 21, at the Crow Manor's Saturday Solstice Dance, 3407 Trumbull St., Detroit. He also plays at 10 p.m. on Sunday, June 22, at the TV Lounge's Tec-Troit, 2548 Grand River Ave., Detroit; 313-965-4789; $10.