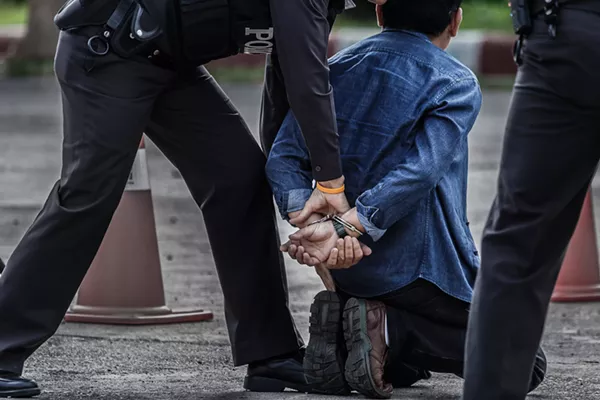 Police take an oath to protect the rights of citizens.
But time and time again, cops deny the basic, fundamental rights of free speech when they don't like being the target of profane language.
In April 2016, a Sterling Heights officer arrested 26-year-old Awni Safadi for calling the cop a "fucking asshole" after a traffic stop. On Monday, Safadi filed a federal lawsuit against the officer for violating his first amendment rights, conducting an illegal search and seizure of his car, and malicious prosecution.
A jury acquitted Safadi of disorderly conduct on October 2017 because he was exercising his free speech rights.
In a separate case in March, the U.S. Court of Appeals for the Sixth Circuit ruled that a Taylor cop violated the civil rights of a Brownstone Township resident after she extended her middle finger at the officer for giving her a speeding ticket in June 2017. After she flipped off the cop, he pulled her over a second time and handed her a more serious ticket for speeding.
The court determined the officer had no right to pull over the woman a second time because extending the middle finger is not a crime.
While running for president in March 2016, Donald Trump
called for the arrest of a protester
in Cadillac for having "a filthy, dirty mouth."
"Then we'll see what his mommy and daddy say when they have to go and bail him out," Trump said.
In April 2017, a Detroit cop
threatened to arrest protesters
for "swearing in front of women and children" because they were chanting "Fuck Trump" outside of the Wayne County Jail. The officer was referring to a 120-year-old law that made it a crime to use "indecent, immoral, obscene, vulgar or insulting language in the presence or hearing of any woman or child."
Authorities may be wise to brush up on constitutional law and Michigan's own famous case involving a canoeist who was convicted in 1999 of violating an antiquated law that prohibited "vulgar language" in front of women and children.
That conviction was later overturned by the Michigan Court of Appeals on the grounds that it was unconstitutional to ban such speech.
Finally, in December 2015, Michigan Gov. Rick Snyder signed a bill that eliminated numerous outdated laws, including the prohibition on swearing in public.
"Modernizing state government is an ongoing effort," Snyder said after signing the bill. "I appreciate the work of the legislature in analyzing the criminal code and eliminating statutes that no longer make sense in the 21st century."
The U.S. Supreme Court also has ruled in several cases that the use of profane language is generally not a punishable form of speech.

Stay on top of Detroit news and views. Sign up for our weekly issue newsletter delivered each Wednesday.