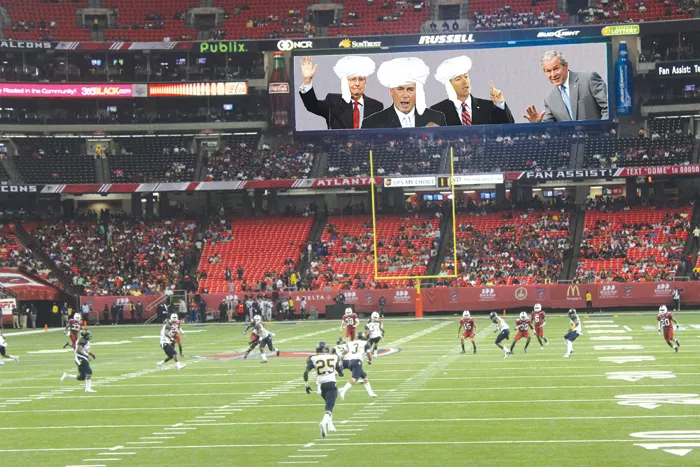 HAPPY NEW YEAR, comrades!
If you don't see any political commercials during whatever football game you watch next, enjoy it while it lasts.
This is, after all, an election year. Every state official has to face the voters, from Gov. Rick Snyder right down to the most craven timeserver in the state legislature.
Within weeks at most, the ads will start. We are apt to see more of them — and more outrageous lies and distortions than ever before. The Republicans, who control state government at all levels, passed a law late last year to make sure that special interests and fat cats could spend untold millions on outrageous "issue-oriented" ads without revealing who paid for them.
They did that because they know they have access to far more slimy money than the Democrats do.
They also know this will be a key and crucial election. My guess is that most of you, dear readers, are not totally in love with our governor, who was sold to us as a "moderate" in 2010.
Since then, Rick Snyder has participated in ramming Right-to-Work legislation through the legislature in a single day, after saying repeatedly it was "not on my agenda." He signed a law repealing the motorcycle helmet requirement, something that has already led to dozens of deaths.
Immediately after taking office, our "moderate" leader slashed higher education spending and started taxing pensions — in order to give Michigan businesses a huge tax break that was supposed to create jobs. So far, that hasn't happened.
We could list all sorts of other wonderful benefits the current moderate regime has provided for us, together with the Michigan legislature, which has, to be fair, outdone Snyder in demonstrating a particular contempt for women's rights.
You, ladies, will now have to pay extra — and request a special supplemental rider to any insurance policy — if you want coverage that will pay for a therapeutic abortion if a pregnancy means your health or fertility are in danger. Ditto if you want protection should your brother or father rape you.
They've passed lots more dandy and nifty people-hating laws, more than enough to fill several columns.
However, the voters now have a chance to get at the people who have done these things and remove them.
But will they?
Sorry to break it to you, friends … but probably not.
Unless those opposed to the current regime catch a few lucky breaks, odds are that, in January 2015, Snyder will still be governor and the GOP will still control the legislature.
That's true for a number of reasons: First, most people don't even bother to vote in any election that doesn't include a race for president. Republicans are much better than Democrats at voting in these so-called "off year" elections.
Second, money talks — and the GOP is likely to have much more of it. As I've noted, under Michigan law, even convicted money-laundering criminals or terrorists could give millions to run ads smearing, say, Mark Schauer, the Democratic candidate for governor next year. Worse, voters now have no ability whatsoever to find out where the money came from.
Snyder is not uniformly popular. He'll almost certainly get less than the 59 percent he got the first time. He's not especially charismatic and has a voice that sounds like a cross between Kermit the Frog and a tungsten drill.
He should be vulnerable, but his opponent isn't exactly a man who can set a room on fire either. And Democrats have a lot of ground to make up. History, too, is on the Republicans' side. No governor has been denied a second term in more than a half-century. In fact, all have won by larger margins when they ran for re-election. (Jim Blanchard did lose a third-term bid in 1990, but governors are now only allowed two terms.)
Add to that the fact that the off-year election in any president's second term tends to be bad for that man's party, and you have a hell of a hard slog facing the Democrats.
However, that doesn't mean that beating Rick Snyder is impossible. I asked former Attorney General Frank Kelley, a man regarded as the godfather of the modern Democratic Party, about this. "There is a chance Schauer could win — if he gets a lot of outstate money for a massive TV campaign," he said.
That campaign, he added, should focus exclusively on the governor's record and his betrayal of the state's citizens.
But don't hold your breath.
When it comes to the legislature, the news isn't good for Democrats either. They did gain five seats in the House of Representatives in 2012, but are still a 59-50 minority.
They would need to win, net, a half-dozen more seats. Realistically, it's hard to see how they could possibly do that. The boundaries are astoundingly and unfairly gerrymandered.
Far more people — 400,000 of them — voted for Democratic state legislative candidates than Republicans two years ago, but the GOP still got 59 seats.
That was on a night President Obama won the state by a landslide. If Dems couldn't win control then … how can they think they can win it back this year?
My guess: They'll be lucky if they don't lose any ground. What about the state Senate? There, the GOP has an astonishing 26-12 margin. You could put all the Dems in two big cars.
Odds are that Democrats will make gains here — somewhere in the two-to-four seat range. But that would enable them to do little more than prevent the most outrageous bills from taking effect immediately.
Incidentally, I could be wrong about this. Nothing says we're certain to keep electing the people who are destroying the middle class. Someone could start a citizens movement to take back our state, which turns out hordes of voters who are educated, focused and angry at what they've lost.
But it won't happen by accident. If you want change, you have to work for it — hard. Gov. Snyder and his friends are betting their opponents won't want to work hard enough.
Mental Health Milestone
VERY FEW PEOPLE PAY as much attention to mental illness as, say, a mindless sport like football. But severe mental illness afflicts more than 11 million Americans every year, according to the Substance Abuse and Mental Health Services Association.
We provide hardly enough resources for treating them, but now there's a real chance to do something. Sen. Debbie Stabenow has partnered with U.S. Rep. Roy Blunt, a Missouri Republican, on a bill called the Excellence in Mental Health Act, which would give community health centers funds to provide a full range of mental health services, including round-the-clock crisis care.
That bill is now headed to the U.S. Senate floor for a vote. Hopefully, it will pass this month and arrive in the House. Everyone in the country ought to tell his or her congressman to support it. This bill would save lives.
It was, in fact, inspired by the massacre of all those little children at Sandy Hook Elementary School. Imagine if just one community center had somehow reached one of the insane people who headed to a school with a gun. That would more than justify this bill's estimated $160 million a year annual cost.