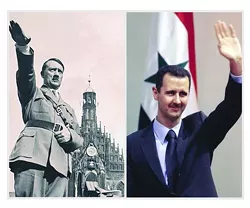 Forget what Congress says or surveys about what U.S. and global public opinion show: This is the time to rain Tomahawk missiles on poor peasants and villagers in Syria.
Why? Simple: To punish the Syrian government for using chemical weapons on poor peasants and villagers in Syria.
Naturally, whatever symbolic attack we stage won't hurt Syria's president, Bashar al-Assad, or any of his cronies, and said weapons are likely long-since hidden; and I am not sure bombing them would be all that safe.
But it is the principle of the thing. We need to rain down death and violence in the name of peace. After we give them a little of the old "shock and awe" (remember how that inspired Saddam Hussein to surrender?), we really should consider sending a few thousand boots on the ground to help move Syria's leaders and people toward a more humane government and good old New England-style democracy.
After all, in my own lifetime, I can remember those policies working well in Iraq and Afghanistan; not to mention Lebanon … and Cambodia … and Vietnam, etc.
Now to get serious: Though once I covered foreign affairs and arms control issues, and knew a fair amount about Cold War diplomacy, I do not pretend to be an expert on Syria, the Middle East or on United States policy toward the region.
However, I have tried in recent years to devote a good deal of time to the study and cultivation of rational behavior. There is no common sense whatsoever in staging a phony symbolic bombing of Syria weeks after the regime gassed its own people, and lots of reasons that is probably a bad idea.
Want to prevent future chemical attacks? Try to get the United Nations to adopt a resolution promising swift international retaliation if Assad does it again. If that fails, then the United States may want to consider promising unilateral action, after spelling out exactly what that would mean and then living up to our word.
Even more importantly, the Obama administration needs to firmly decide how far down that path they are willing to take us. Not doing so tends to produce wars like Vietnam.
My guess is the media has missed one major aspect of what is going on here. President Obama is, I think, far shrewder about all this than we tend to give him credit for. That's why he turned to Congress to debate what Washington should do about Syria.
Obama has to know that the present Congress couldn't possibly agree on the color of piss, let alone how to pour it out of a boot.
Asking them to decide was a brilliant way of playing for time and frustrating the hell out of certain militaristic Republicans, who have been itching to bomb or kill somebody, but hate to do anything that might smack of support for that Kenyan Socialist Muslim occupying the White House.
As I expected, they've continued to dither, until it is clear that any kind of long-after-the-fact military attack would make little sense, except perhaps as a recruiting tool for al-Qaeda.
I know, of course, the contrary argument, which gets dragged out every time there is any kind of military threat anywhere: Remember Hitler and appeasement. That familiar, tired narrative goes like this: By not standing up to Adolf Hitler at Munich in 1938 and allowing him to take Czechoslovakia without a fight, Western democracies led the dictator to think they were weak, which emboldened him to start World War II.
Well, yes, there is some truth in that, though other historians have argued that the good guys then weren't even close to being ready for war. Appeasement made sense to them, because the memory was fresh of millions of dead and mutilated in the utterly senseless hell that was World War I.
Journalists, like generals, are always ready to fight the last war, not the present one. So I want to offer a deal. Let's agree not to rush into the briar patch called Syria, but if Hitler shows up again and demands either the Czech or the Slovak nation — we plug him.
Moronic Statement of the Week
In my last column, I mentioned how a handful of Republicans in the state Senate were threatening to cost our state hundreds of millions of dollars out of nothing but cowardice and spite.
This has to do with the Medicaid expansion, which narrowly passed the state Senate by a 20-18 vote on Aug. 27.
Normally, once both houses in the legislature pass a bill, it is automatically voted on to give it immediate effect. Though that requires a two-thirds majority, votes are often not even taken.
Giving this bill immediate effect was especially crucial, since some 320,000 pretty poor people who will now qualify for health insurance coverage when the program starts in January won't get it till April.
Not only will they have to wait longer for coverage, they may have to pay fines for not having any until their Medicaid coverage kicks in; and even if you don't care about those folks, the state now stands to lose $7 million a day in federal money from January until we finally begin covering people in April.
According to James Haveman, the Snyder administration's director of community health, it means Michigan loses $630 million it can ill afford. Though he calls himself a proud conservative, Haveman thought that was crazy. "Let's face reality and move forward," he said.
But the state Senate told the people to essentially go screw themselves. Frankly, I thought they would reconsider, and that Gov. Rick Snyder could, by some miracle, get two of the holdouts to switch.
However, Senate Majority Leader Randy Richardville (R-Monroe) — known affectionately as the gutless wonder — wouldn't even take another vote. What he said about it was so pathetic that it deserves quoting: "It's like we had this really big dinner. We got the dinner done and people are going to ask for dessert. We are going to skip dessert on this one."
Well, that's the first time I have ever heard costing the taxpayers $630 million called "dessert," but, as Aristophanes might have said, these days we are living in cloud cuckoo land.
Here's what's really going on: Most of the 14 senators who refused to give the bill immediate effect (likely) know just how stupid their votes were, but are scared of the band of vindictive, ignorant yahoos known as the Tea Party.
The teabaggers are already vowing to run primary candidates against anyone who voted to extend Medicaid to the working poor, and some GOP senators are nervous.
Richardville felt trapped between his colleagues and the governor. He probably felt he had done more than enough for the governor by allowing a vote on the issue, even though it was supported by less than a third of the GOP caucus.
Earlier, he had indicated he wouldn't even allow a vote on the issue unless it was supported by at least half the Republicans. In the end, only eight out of 26 backed it.
That leads to an important question we should ask Richardville, and the 14 senators who refused immediate effect: Why is clinging on to a lousy $70,000 political job you can only have for — at most — four more years worth selling your soul, hurting poor people and selling out the state?
Don't expect anything like an answer.
Jack Lessenberry opines weekly for Metro Times. Send comments to letters@metrotimes.com.