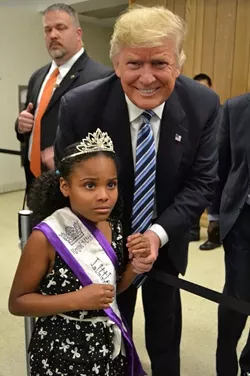 Photo by Twitter
"Little Miss Flint" being a true hero.
We all remember when President Obama
visited
"Little Miss Flint," aka Amariyanna Copney and collectively made our hearts crumble into a million little pieces — well, Miss Copney got to meet with "another toxic orange-ish mess" today and...well, you see the picture.
Allie Gross
tweeted out
the photo that was taken Wednesday when Amariyanna met with the Republican nominee during his visit in Flint. Amariyanna's mom wrote in a
Facebook post
that she wanted to ask Trump "What are you going to do for the kids in Flint here?" but she didn't get the chance.
For comparison, here is a photo of Amariyanna Copney when she met President Obama a few weeks ago:
Four more years?