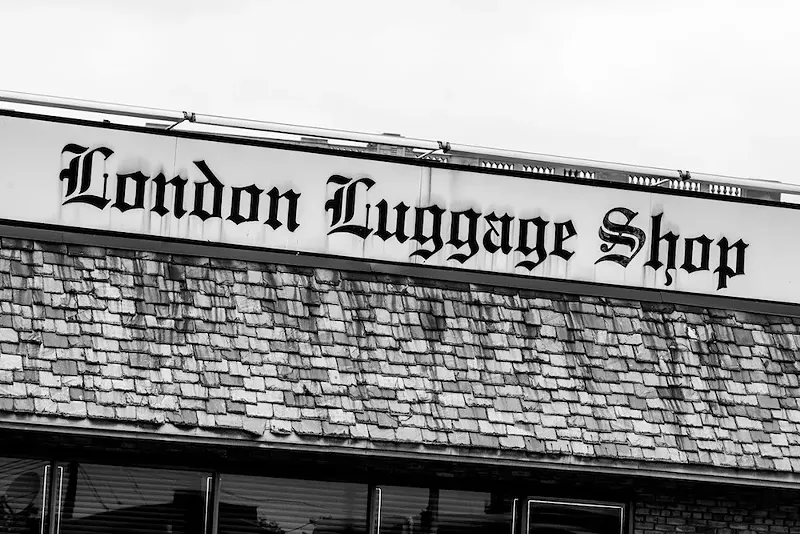 I've never been to a luggage store before. Frankly, I didn't even know such speciality brick-and-mortar stores still existed, especially in Detroit. But, London Luggage has been operating on Woodward in Midtown for the last 70 years, regardless of whether or not I knew about it.
The shop, found just down the street from the Park Shelton, opened in the 1940s and is now in its second generation of ownership. Stop by on any given day and proprietor Ward Dietrich is milling about the showroom, ready to help customers find the perfect bag.
I popped in looking for a bag to use as a personal item on an upcoming flight, a piece of luggage that's smaller than a carry-on, but larger than a purse. Dietrich is basically an authority on what airlines will allow you to get away with, and he coached me on which items would work, and why. It's the kind of personal attention we don't get in shopping malls or department stores anymore, much less while trying to pick something out on Amazon.
In the end, I settled on a Pacsafe backpack that looks more like a stylish work bag than the JanSports I carried in college. The shop stocks the brand, which specializes in theft-proof items, but this bag was new to the store. In fact, they didn't even have it on the floor yet. But, in a show of how real-deal friendly this shop is, a salesperson brought out her own bag (she'd just bought one, loved it, and ordered more to carry in-store) and let me poke through her stuff to get a feel for the item. Spoiler alert: I bought the bag. Honestly, how could I not?
While Pacsafe is a newer company, London Luggage also carries tried-and-true brands like American Tourister, Briggs and Riley, Samsonite, Swiss Army, and Vera Bradley.
The pieces in the shop are expensive — I didn't see anything for less than $100 — but the items are made to last a lifetime and the quality is obvious. The shop stamps luggage tags in-store as well, allowing you to personalize an item that's going to be with you for a long time.
So, how does a shop that sells items meant to last a lifetime stay in business? Well, they also sell upscale women's handbags, fancy watches, fountain pens, and other gift items. I've never felt compelled to purchase a Dooney & Bourke bag, but I think these people could convince me I need the $200 purse. The shop might be Detroit's best kept secret, but they have a faithful clientele who gobble up new stock each season.
The shop is easy to find, and it has a rear parking lot — if we were in the business of awarding bonus points we'd give 10 for this invaluable feature. Pull in through an adjacent driveway and you can park right behind the store without the worry of adding an expensive parking ticket to the cost of your purchase.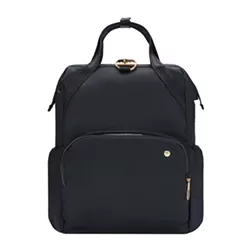 Detail
Citysafe backpack by Pacsafe
$130
Sometimes I need to pack a laptop, other times it's diapers. Regardless of what's inside this backpack, it's going to be safe. Pacsafe is a company that focuses on creating theft-proof bags, and this incarnation is perhaps their most stylish yet. It's great for traveling, work, or just tooling around town. The best part? Its design is rather androgynous, so even masculine partners won't feel uncomfortable carrying it around.