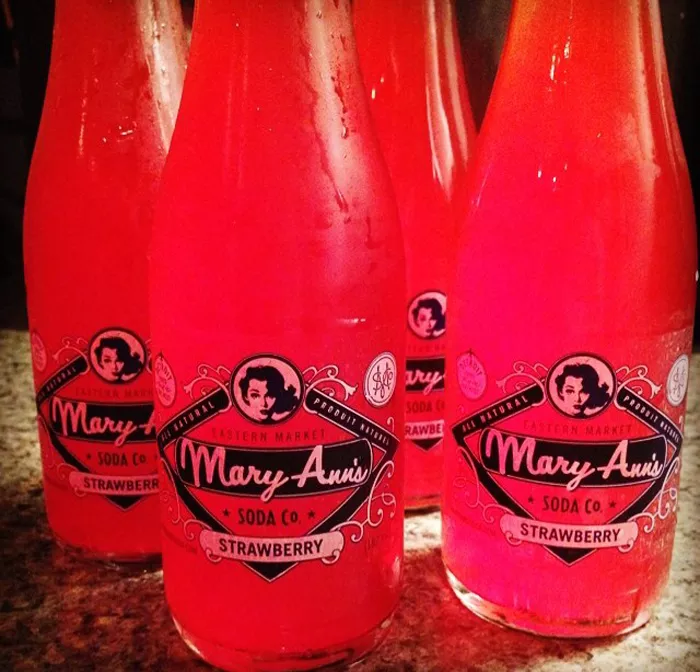 Move over, Faygo, there's a new soft drink in town. Mary Ann's Soda is the brainchild of Derek John of the Storefront Gallery, and it's making its way to bars, restaurants, and stores near you. Using all-natural ingredients that include organic fruit, raw sugar, and alkaline water, Mary Ann's Soda is handcrafted in Eastern Market in a giant centrifuge. Packaged in glass bottles with a retro-inspired label, the pop is delicious in both its flavor and aesthetic. Having just launched on July 4, strawberry is available in 187-milliliter bottles for $3 each, while sparkling soda comes in 750-milliliter champagne bottles for $4.99, with ginger beer being added to the roster soon. According to John, more flavors will be added periodically, heralded with launch parties at local eateries for each.
Because the soda is all-natural, the shelf life isn't quite the same as your run-of-the-mill soft drink, therefore bottles will be available in smaller quantities, but John says he's working on distributing to local bars and restaurants. For now, bottles will be available at the StoreFront Gallery, which John owns and operates.
Because the bottles Mary Ann's comes in are expensive, John says the company plans on recycling the glassware, collecting them from places they're sold and sanitizing them to be reused. This practice will keep the company sustainable and will keep prices down.
Mary Ann's website also notes that the pop pairs well with liquor, specifically, tequila with strawberry, vodka with sparkling soda, and whiskey with the soon-to-be-released ginger beer. Having tasted the strawberry flavor, we must concur that a little agave juice mixed with the sweet-yet-tart flavor would be quite delicious. The strawberry soda in itself is delightful, sweet without tasting artificial or too saccharine. The pulp in the pink liquid also testifies to its naturalness, adding a nice texture to the soda.