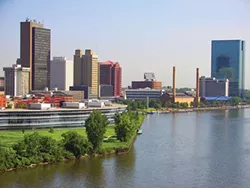 Before analyzing Detroit's election results, it might be useful to consider what happened last week in Toledo.

Given that Toledo is in a different state, and Jamie Farr is no longer on M*A*S*H, most of us pay little or no attention to what goes on there. The fact, however, is that — in many ways — Toledo is more like Michigan than Ohio.

Toledo is a smaller, aging industrial town, deeply tied to Detroit's economy. Traditionally, we made cars; they made parts and Jeeps.

And, like Detroit, Toledo has gradually been losing population, though far more slowly. Today, Toledo has 290,000 or so residents; down less than a hundred thousand from its peak.

Demographically and in other ways it somewhat resembles Detroit in the early 1960s. The black population is a little over a third. Most people in the county still live in the city.

Yet more and more, the neighborhoods are crumbling. We know what happened in Detroit: A succession of mayors desperately tried to save the city by investing heavily in downtown. Today, downtown Detroit is, in most ways, in much better shape than it was, say, 30 years ago.

The neighborhoods, on the other hand, are by and large a terrifying and scandalous ruin, resembling, in some places, a cross between a third world nation and a bombed-out one.

Detroit's leaders succeeded in saving their downtown and losing their city. More than a million people — a million — have left since 1960; those who remain likely can't afford to leave and are reaping the results.

Toledo may be doing something different. For years, its leaders, both political and media, also concentrated their efforts on saving their downtown, which is on the Maumee River.

They built skyscraper office buildings and two new excellent sports stadiums, and lured a European Sofitel hotel, but none of it worked.

Toledo bet heavily in the 1980s on a downtown mall called Portside Festival Marketplace. It lasted barely five years. Today, on days when the Toledo Mud Hens aren't playing at home, you can literally fire a cannon down the streets without risking serious mayhem.

What matters more, however, are the neighborhoods, which are as varied as Detroit's were (once upon a time), and they are starting to slip. Toledo also had a scandal involving the city's neighborhoods department, allegations of bid-rigging, contract favoritism (sound familiar?) and incompetence.

Mayor Mike Bell, a much-loved former fire chief, had been elected in 2009 on a platform to be above politics.

Bell is a charismatic man, physically fit and a good speaker. He successfully courted investment from China and elsewhere; made nice with the state's GOP leader, Gov. John Kasich; and got the city's books in order. He ended up facing D. Michael Collins, a longtime city councilman and former head of the police union.

Collins is, to put it bluntly, dumpy and a bit rumpled. He has been a longtime gadfly, fond of catching errors and falsehoods in city budgets. Few saw him as mayor.

But he upset the predictions by finishing a close second in the primary, though he had far less money than two other contenders, who were enthusiastic Democrats. Heading into the general election, most of Toledo's establishment favored the mayor.

Heavily outgunned and outspent, the challenger had just one thing going for him, the thing that got him through the primary. He was a man of the neighborhoods. He ceaselessly talked about their concerns and about the need to reopen a closed police station and to put more money into homeless shelters.
Essentially, he ran on just one slogan: "Collins Cares."

The mayor, acting certain of victory, gave the appearance of acting as if he were above it all. And Mike Collins beat him in a 57-43 percent landslide.

No, Toledo is not Detroit.

But there is a similar message in the results. Detroiters — those who are still left — want results, and want them now.

They are desperate. Nothing works: The cops take an hour to come and the streetlights don't come on at all. They aren't in love with Mike Duggan. Some I talked to — and who voted for him — don't even like him very much. They probably would rather spend a weekend with Wayne County Sheriff Benny Napoleon, the man he defeated, if they had the chance; they weren't convinced Benny could make it happen.

They saw Duggan as a man who gets things done. Most knew he was Ed McNamara's deputy and fixer in the old Wayne County machine. Later, he straightened out the finances of SMART, the suburban bus system.

Though he hasn't had much to do with trains, Duggan can indeed say he made the buses run on time. Most recently, he straightened out the eternally troubled finances of the Detroit Medical Center, before selling it to Vanguard Health Systems.

Nothing more needs straightening out than Detroit. So the voters took a gamble.
Though polls showed Duggan ahead by nearly two to one, in the end, the results were a closer, if solid, 55 to 45.

Sadly, in the last weeks of the campaign, Napoleon lowered himself by running what the Free Press, with some delicacy, called a "nativist" campaign. That is to say, one with the subtext: "Don't let whites take our city away from us."

Napoleon announced he would make the reality-challenged Krystal Crittendon his deputy mayor. This is the woman, remember, who had to be bounced from her job as Detroit Corporation Counsel for repeatedly attempting to sabotage the consent agreement designed to stave off an emergency manager and, indirectly, bankruptcy.

Now, Mike Duggan is mayor-elect in a time like no other we've ever had, anywhere. Not only is he not mayor yet; not only is the city fighting to be allowed to declare bankruptcy, but even when he takes the oath of office in January, Mike Duggan's powers will be essentially limited to what Emergency Manager Kevyn Orr says they are. But you can bet the two men will get along just fine for the next nine or 10 months.

After that, Orr probably will be gone. Under the law, the newly elected City Council has the power to fire him in October, or any time thereafter, if it has a two-thirds vote to do so.

During the campaign, Duggan said he didn't think an emergency manager or bankruptcy were needed. He knew better; he needs both almost as much as the city does.

Because afterward, he — and the City Council — can blame all the painful and unpopular decisions that will have to be made on Orr, who will be back to making big money at Jones Day or some other D.C. Beltway firm.

After that, however, comes the real test. Mike Duggan and the newly elected council somehow will have to find the money for the city services Detroit needs to keep functioning.

Duggan needs to somehow keep Detroit from defaulting — in a world where it may be shorn of debt but also of some of its assets and where nobody will lend it any money.

How he will do that is the question of this century, the question that will determine whether not just the city, but also the state, has a prosperous future. Frankly, I don't have a clue.

But I have to think that wheeler-dealer Mike wouldn't have taken on any of this if he didn't have a plan.