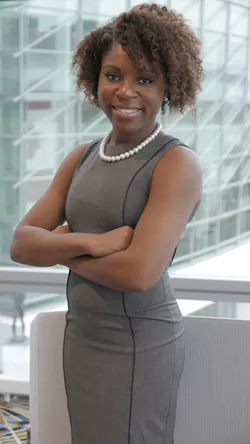 Myya D. Jones has overcome a great number of obstacles in her 22 years of life. She helped raise her five siblings after her mother, who has bipolar disorder, fell into a deep depression when Jones was in fifth grade.
Before that, she was sexually abused.
When she was in ninth grade Jones discovered that the man she thought was her father — a man who'd been in and out of jail and had hardly participated in her life — wasn't her biological father at all.
And later Jones would be diagnosed with bipolar disorder herself.
But none of that stopped her from being accepted into Cass Technical High School and later being awarded 18 scholarships to attend Michigan State University, where she's currently studying business management. Her resume includes a stint as the president of the National Pan Hellenic Council, an internship on Capitol Hill with Congresswoman Brenda Lawrence (D-Mich), and two positions on the board of the National Association of Black Accountants. She's been a Google Student Ambassador, she sat on MSU's Sexual Violence Advisory Committee, and she's studied abroad in six different countries.
Jones, who was born and raised in Detroit, wants to use those experiences — those personal lows as well as those personal triumphs — to help enact change in her hometown.
That's why she's running for mayor of Detroit.
Jones' interest in politics can be most easily attributed to her time on Capitol Hill, though she's been pondering it for a while now.
"I have always been interested in civil engagement," Jones says. "But I was turned off from doing politics because we had such a negative stigma around politics in Detroit."
Now, she's hoping to turn that narrative around.
"While I was interning in Congress, I knew this was something I wanted to do. I want to give the voiceless a voice," Jones says.
For Jones, the voiceless include people who live in Detroit's many neighborhoods. She says she'd like to change the focus of Detroit's revitalization from Downtown and Midtown to those parts of town.
"I have lots of plans for the neighborhoods," Jones says. "I want people to be able to walk down the street and go to the park. I want to clean up our streets and make sure we have block clubs and neighborhood clubs. I want to make sure people feel a responsibility to their neighborhood. Right now those things aren't happening."
As for Detroit's current administration, Jones says she feels, for the most part, they're doing a good job — but there is lots of room for improvement, especially when it comes to focusing on Detroit's longtime residents.
"We can't forget about the people who have to live in Detroit. We need to create more opportunities for people to have jobs, for them to be financially literate," Jones says.
As a student of business, financial literacy is of utmost importance to Jones and she says, if elected she'll focus on sharing the skills she's learned in school with Detroit residents.
Her other areas of interest include mental health awareness, engaging with youth, education, and working to create a better police force.
"We want the police to work together with the people in the neighborhoods," Jones says. "If [police] do live out of city limits, they need extra training on how to help the people of Detroit."
Whether Jones wins the election or not, she says the exercise won't have been futile. She hopes to share her experience with other young people who want to be civically engaged.
As President Barack Obama said in his farewell speech, "If something needs fixing, lace up your shoes and do some organizing. If you're disappointed by your elected officials, grab a clipboard, get some signatures, and run for office yourself. Show up. Dive in. Persevere."
Jones is doing just that.