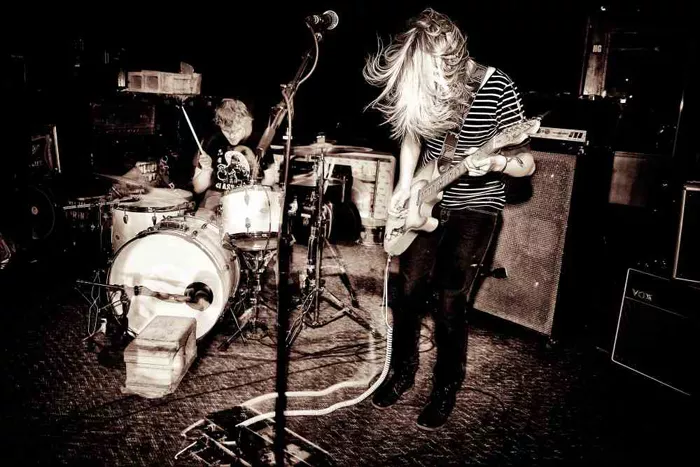 How long before the audience comes at you with a compliment? That's one reliable indicator of your live show's potency. For Elise Poirier and Cody Marecek of YUM, it's usually about eight seconds, give or take, before someone comes up with some exuberant variation of "You guys fucking rock!"
YUM started one year ago in Poirier's hometown of Bay City; Marecek hails from the nearby farming community of Freeland. They've turned heads with their blend of garage-rock roughness, emotive bluesy solos and punk gusto, making for front-row-clogging magnetism. But they've endeared themselves to the Detroit scene due to how sincerely down-to-earth they are once the feedback fades and the amps are unplugged. Their youth is deceptive, as they've both been playing music half their lives; they're in their element here, so don't expect aloof punk kids noisily figuring things out. It's a mean, mighty rock sound that they've both grown up loving, learning and, now, perfecting.
Metro Times: So, when you got together last April for your first jam, what was it like? Did you talk about a sound or a style?
Elise Poirier: Things just kinda floated out the way they did. I didn't have any intention for what I was writing. I had these more Green Day-ish punk songs that I'd written but I never really liked. But having Cody add his part made it more intense, to have that backbone gave me more freedom. I've always loved garage-y, loud music. Cody's into some really heavier stuff. Our influences combined to make this loud mess, I guess.
Metro Times: Indeed. Cody, can you talk about the heavier stuff?
Marecek: Like, hardcore New York punk stuff. I was always into ska, and I try to sneak that and some reggae beats into songs somehow. But, the band Lightning Bolt's the biggest influence, as far as unleashing crazy amounts of energy on stage. Their drummer said in an interview that if you're not, like, writhing in pain after your show then you weren't into it enough.
Metro Times: Is that a gauge for you guys, then?
Marecek: Yeah, I want to feel pain when I'm done.
Poirier: I want to fucking hurt!
Marecek: I don't know if that's masochistic or what?
Metro Times: It almost sounds like you want to head-butt the crowd …
Poirier: Right, but we're not assholes! We're the biggest sweethearts. It's just, I like being intense on stage. I like putting on a crazy show. I don't mean any of my songs to be like that but, just, when I'm onstage, I want to be as loud as possible.
Metro Times: Is any of this energetic display part of some forceful quash of nervousness? Like, channeling jitters into jumping off of bass drums?
Poirier: I've never been a nervous person onstage. It's like I almost feel more nervous sitting in the crowd just waiting to play. I feel better on stage. I know that when I go to see a band, I like seeing them get into it. It's about just owning the stage.
Metro Times: Cody, you mentioned Lightning Bolt. Any other particular influences?
Poirier: I worshipped Green Day for about eight years. I got really into the Black Keys, and that really pushed me. I was brought up playing power chords, but I admired how Dan Auerbach played. When we play, it sounds way more aggressive, but we're a pretty punky-garage band when we're live.
Marecek: Our genre is "energy."
Metro Times: Well put. So talk about the early days, or your first show, even though it was just a year ago.
Poirier: Right. My dad and older brothers all play, I've played for 11 years and we had a family band. YUM's first show was at Bemo's Bar, where I used to play my dad's stuff when I was younger. They love my family so I told them I had this new band and we played, and it snowballed from there. I guess it was word of mouth. Friends in Grand Rapids got us a show out there, and it all happened quick, getting asked to play more and more shows each week. We don't even book shows, we just keep getting asked. I don't even remember setting these shows up.
Metro Times: That's the beauty of Facebook, I guess. But has that been overwhelming for you? So much, so fast — how've you kept grounded?
Poirier: Overwhelming in a good way. I'm so thankful.
Marecek: Definitely very appreciative.
Poirier: All my life, all I've wanted to do is perform. It motivates me more knowing people are interested.
Metro Times: It's good to see you more regularly down here. What's your take on the Detroit's music community, from your Bay City perspective?
Poirier: It really is a little community. I love it. I feel like everyone knows each other's bands. But I don't know quite what to think yet cuz we're not really in it yet. Our foot's in; I feel like we kinda belong now.
Marecek: Pretty much any music scene is a good music scene for us 'cause there's no music scene in Bay City.
Poirier: People buying our CDs and coming out to our shows, getting into it! You play Bay City and that doesn't really happen.
Metro Times: Where does the chemistry come from? How come YUM works so well?
Poirier: We're both on the same page in our lives — we just wanna be in a band and we both feel that that's what we're meant to do.
Marecek: I like where I live, I like my job. But I definitely want something else.
Poirier: Instead of college, I mean, I graduate soon. No matter how many people discourage me or tell me I need a real job, I think if we put enough time and figure out how to make it work, we can. I don't feel like I'm good at anything else. I'm good at music. I guess I should use it.


YUM plays the Metro Times Blowout, April 30-May 3; mtblowout.com.