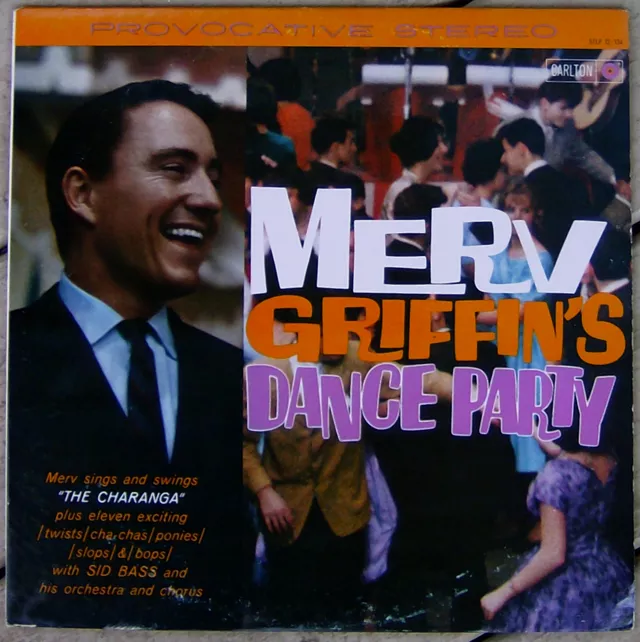 I'm sensing that your apprehension about stepping into the time machine to attend a Merv Griffin dance party might have something to do with the 1991 sexual harassment lawsuit ($11.3 million sought; case dismissed) filed against him by former employee Deney Terrio — the host of Dance Fever. But relax, we've got the dial pulled way back to 1962, when Merv's powerbase only included a bunch of B-films, a few failed game show-hosting stints and this cha-cha-charmless dance album, issued in "Provocative Stereo." Why? Because if they issued it with a huge "Provocative Mono" banner across the front, even more unsold copies would've returned to Carlton Records. (I have a sneaky suspicion the stereo separation has something to do with Merv keeping as far away from the female background singers as possible.)
Not one to let Chubby Checker accrue all the twisting jetsetters, Merv introduced his own dance craze here: "The Charanga" — where you take the cha cha cha and the pachanga and kick them both when they're down. No boppin' and sloppin' boomers fell for this ploy, no matter how many background singers Merv hijacked at gunpoint from a Bobby Rydell record to sing on it. 
And yet there are a few esoteric record collectors who swear that it's not a party unless Merv's jaunty versions of "I've Got a Lovely Bunch of Coconuts" and "My Little Grass Shack" are playing in the background. Yes, but let's qualify that — it's what a party in 1962 would be like if you were standing against the wall, sipping a Polynesian Planter's Punch and hoping the Cuban Missile Crisis might spare you from hearing Merv mangle "Don't Get Around Much Anymore."