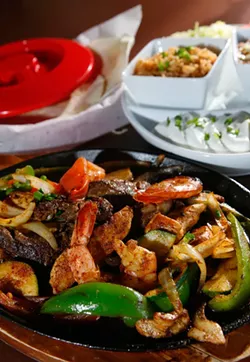 Rob Widdis
Steak and shrimp fajitas
Fuego Grill
37040 Schaefer Rd., Dearborn;
313-581-9800
No traditional chorizo, no lomo, no carnitas? Certainly no menudo. Sam Alvarado is stepping up to the challenge of running the only halal Mexican restaurant in the state. That means no pork, of course, and no other meat that wasn't killed using the methods prescribed by Islam. A liquor license won't be sought.
Open since June, Fuego Grill is attracting both Muslims and others with a menu that's all made in-house. Alvarado copes with the pork ban by fashioning a chicken-based chorizo using vinegar, cumin and a paste of dried Mexican peppers that he says has "fooled many Mexicans."
He comes naturally to the Mexican restaurant business — if not to halal. His grandfather, also Sam Alvarado, opened Mexican Fiesta in Dearborn Heights in 1963, and some of Fuego's menu items are borrowed from or named after the first Sam. But other of Alvarado's ideas seem to have come from his stint in culinary school.
The place has a bit of an upscale feel compared to most Mexican restaurants in the area, with floor-to-ceiling windows and attention paid to a contemporary presentation. White tableware includes recessed square plates and dramatic off-center salad bowls. Photos of the owner's hometown in Nuevo Leon adorn the walls — no sombreros and serapes here. But tables are bare and napkins are paper, and service is ultra-friendly and accommodating from a staff both Mexican and Middle Eastern.
One of the unique dishes is tortilla chips, dusted with a house-made spice mix, starring chipotle and ancho chili powders, as they come out of the fryer. They're not super-spicy, just delectably good, far more interesting than most restaurants' chips.
It's a good thing the chips are entertaining, as Fuego's devotion to freshness can mean a wait for other dishes. A fabulous appetizer is chorizo-, pepper- and cheese-stuffed mushrooms, drizzled with balsamic. My party scarfed these so quickly we hardly had time to analyze the stuffing, but I would order these again and again.
Also good was "flaming queso" (cheese), which is not opa!-style as in Greektown but a dense, sizzling mix of cheese, chorizo and veggies, very rich, so spoon it onto a warm tortilla.
I liked the serious dose of lime in the guacamole but thought it made the dish a little watery. It's chock-full of tomatoes and onions.
You can design your own taco, burrito, tostada or enchilada by choosing the filling and two toppings. (Here's where I missed carnitas most.) The best deal is $5 for one of the above plus two sides: beans, rice, excellent and varied seasonal grilled veggies, slaw, guacamole or plain avocado, home fries with the house spicy seasoning. Both refried and black beans, unfortunately, need work — they're bland. You can make good beans without lard, of course, it's just that more effort is required.
More interesting are the tortas (sandwiches) and platos fuertes (entrées). The braised beef tips in Big Sam's Original Sandwich have the taste and texture of braised short ribs — tender and luscious. The "sandwich" is layers of rice and beans and beef and flour tortilla, smothered in Muenster. It's vast; the trencherman who ordered it ate half.
The "California-style" Baja burrito also follows the everything-but-the-kitchen-sink way of thinking, with some excellent steak, crunchy rice, beans, tomatoes, lettuce, cheese, sour cream, guacamole and lime juice. Regular readers know that I prefer the simpler and more authentic approach to Mexican food, rather than cheese and sour cream smothering all, but if you're going to order this type of dish, I have to say: It satisfies.
Another big sandwich is carne asada with grilled onions and peppers, avocado crema and cilantro lime vinaigrette. There's a lot good going on there, and I'd advise the chef to hold the refried beans and toast the big bun.
Not titanic but still filling are three fish tacos dressed with long shreds of cabbage and plenty of lime. Other items that look tempting are chicken glazed with mango-chipotle — and hummus!
Fuego offers a couple of big salads, one with that glazed chicken and — spectacularly un-Mexican — dried cranberries. (Alvarado says when creating dishes he follows his own tastes.) The taco salad uses some good greens, including Swiss chard, black and green olives, avocado and lots of crisp corn tortilla shreds. The warmth of the refried beans and the tortillas works well with the rabbit food.
For dessert are traditional sopapillas (the Mexican version of every culture's fried dough sweet), rice pudding and fried ice cream. The pudding was not creamy enough for my taste, but the ice cream was its sinful best, drizzled with caramel, crunchy, creamy, cold, hot. There's a reason this one turns up on all kinds of menus.
Those looking for truly traditional Mexican dishes should go a few miles east to Mexicantown. Fuego follows the more-is-more pattern Americans have become accustomed to — but with some welcome surprises and attention to detail.
Those looking for halal, of course, should stop here.