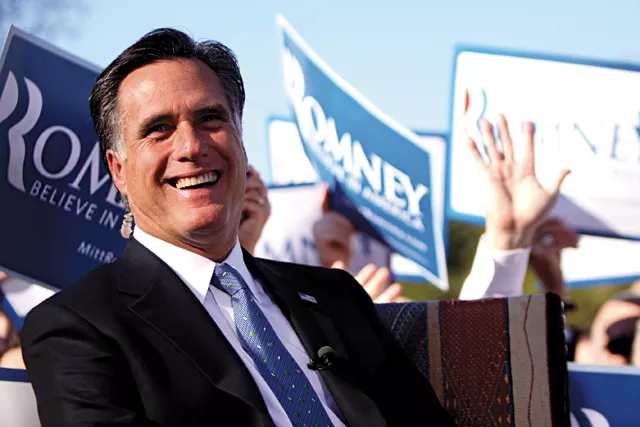 Romney told a private gathering about his team of "Karl Rove equivalents."
Sometimes in the course of a campaign, politicians beat up on each other for weeks without having much of an effect on the voters.
But once in a while, something happens that suddenly crystallizes opinion and forever fixes an impression in the public mind. The clearest example of that I ever saw was on Oct. 5, 1988.
Democrat Lloyd Bentsen and Republican Dan Quayle were going at it in their vice presidential debate. The selection of Quayle, a lightweight 41-year-old senator from Indiana, had stunned members of both parties who felt that he was in no way up to the job.
Unwisely, Quayle attempted to compare his experience to that of John F. Kennedy. Bentsen, who was old enough to be Quayle's daddy, intoned in his deep baritone, "Senator, I served with Jack Kennedy. I knew Jack Kennedy. Jack Kennedy was a friend of mine," and he paused, before adding, "Senator, you're no Jack Kennedy."
The cameras cut to Quayle's shocked, deer-in-the-headlights face. In an instant, Quayle's political future was over.
Ironically, he did end up becoming vice president; fortunately for him, we don't elect vice presidents separately, and nobody could have saved the hapless Michael Dukakis from defeat. 
But Dan Quayle spent his four years in office mainly as fodder for gag writers. When he eventually ran for president on his own, few noticed. Though today he is the same age as Mitt Romney, Quayle has been pretty much completely forgotten.
Which brings us to Mitt, who last week suffered what may turn out to be his own Dan Quayle moment — except Romney's was far deeper, more self-revealing and completely self-inflicted.
For months, Democrats have argued that Romney was an out-of-touch rich guy who doesn't give a damn about ordinary people. This wasn't especially imaginative on their part. Democrats try to pin that label on almost every Republican, often with no success.
But then Romney proved they were righter than they probably knew. The evidence is a fascinating surreptitious videotape of the candidate speaking at a fat-cat Florida fundraiser in May.
You can easily find the videotape, or read a transcript of it, on the Internet. But reading it isn't enough; you need to see it; need to see his facial expressions, his tone. Romney officially may be a Mormon, maybe even wears their funny underwear. But this video makes it clear he is really a sneering Social Darwinist.
If you aren't rich, if you haven't made millions, if you need some sort of help from the government of any kind, well, then, you are an inferior specimen and lower life form. To quote the video:
"There are 47 percent of the people who will vote for the president, no matter what ... who are dependent upon government, who believe that they are victims, who believe that government has a responsibility to care for them, who believe that they are entitled to health care, to food, to housing, to you-name-it." 
"That's an entitlement," Romney explained helpfully, and the lower orders evidently feel that "the government should give it to them. And they will vote for this president no matter what." 
Throw in a few deluded liberal dupes with jobs, and "I mean, the president starts off with 48, 49, 48 — he starts off with a huge number. These are people who pay no income tax. Forty-seven percent of Americans pay no income tax. So our message of low taxes doesn't connect. And he'll be out there talking about tax cuts for the rich. I mean, that's what they sell every four years."
What would he do for the lower orders? Evidently, kick them to the side of the road. "My job is not to worry about those people — I'll never convince them that they should take personal responsibility and care for their lives." Mark Dobias, an irreverent lawyer in Sault Ste. Marie, sent me a one-word e-mail: Untermenschen.
Yes, mein führer, that's about the size of it. No, I'm not implying Romney is a Nazi. He doesn't want to exterminate these people; just cut off their freebies, and then I suppose have them work in our kitchens and sewers for a pittance and be neither seen nor heard.
There are other fascinating revelations on this tape. The only time I ever interviewed Romney, five years ago, it was clear he thought he was the most intelligent person on the planet.
It must be wonderful indeed for Mitt to greet his mirror every morning. His belief in his own cleverness is fascinating. 
At one point, he mentions that he wrote a book that "lays out my view for what has to happen in the country," before modestly adding "people who are fascinated by policy will read the book," the title of which (No Apology: The Case for American Greatness) he never even bothers to mention. No wonder; as he candidly adds:
"I don't think it will have a significant impact ... a setting like this, a highly intellectual subject, a discussion of a whole series of important topics typically doesn't win elections." He said he'd leave that to the ads, and bragged, "I have a whole team of extraordinarily experienced, highly successful consultants ... Karl Rove equivalents," whom Mitt evidently relies on to sell him like any other product. 
Beyond that, well, he cynically said he'd be happy to exploit a foreign policy crisis; if one happens, "I will work to find a way to take advantage of the opportunity." As for the Palestinians, screw 'em.
"I look at the Palestinians not wanting to see peace for political purposes, and I say there's just no way," he said. 
The Mittster also managed to shoot a sneer at Hispanics, by saying that if his father, George Romney, was born in Mexico, if Mitt had been "born of Mexican parents I'd have a better shot at winning this." There's more, but you owe it to yourself to see the entire performance. 
This is Willard Mitt Romney unplugged, and if you are filthy rich in your own right, if you are sure you'll never get sick or old, or that you and anyone you love will never need any kind of benefits ...
If you are sure that you are superior and can make it under your own terms, like Howard Roark or Jay Gould or Big Jim Fisk ...
You've got a chance to put your dream candidate in the White House. But if you think any president, as Harry Truman once put it, is supposed to be the Washington lobbyist looking out for the vast majority of Americans who can't afford their own lobbyist ...
Good luck if Mittney wins this election. 
Debating same-sex marriage: Polls show the nation is pretty evenly divided on the issue of same-sex marriage — and the Democratic and Republican presidential candidates also disagree.
That could matter, big-time, because whoever is elected in November is likely to name several U.S. Supreme Court justices over the next four years. John Corvino, the chair of the Wayne State philosophy department, has a new book, Debating Same-Sex Marriage, written with Maggie Gallagher, who has crusaded against allowing gay Americans to marry. 
Corvino has been a popular columnist for years in mainly gay publications. Thursday night, they will debate the issue in person from 7:30 to 9:30 p.m. at WSU's Community Arts Auditorium. 
Admission, sponsored by the Center for the Study of Citizenship, is free. This is a good opportunity to learn a lot, regardless of your politics or position on the issue. 
Jack Lessenberry opines weekly for Metro Times. Write to [email protected]