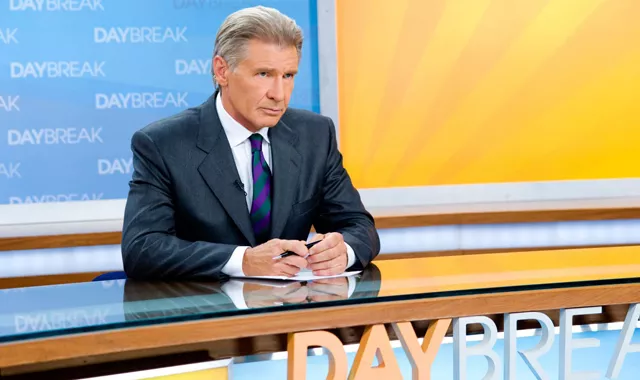 According to contemporary romantic comedy orthodoxy, if you haven't achieved everything you've ever dreamed and landed a perfect husband by the ripe old age of 28, then you are an utter abject failure, worthy of ridicule. This bitter pill is served up early on in Morning Glory, presented bluntly by a bleary-eyed mother to her relentlessly ladder-climbing daughter over lunch. That tirelessly plucky gal is Becky Fuller, the archetypal movie career-girl, played with 10,000-watt perkiness by Rachel McAdams. She's so desperate to leave behind her rinky-dink New Jersey a.m. TV gig that she blindly signs on as the newest revolving door executive producer on a moribund, fourth-rate network morning show called Daybreak, which is on the brink of collapse. Becky's Hail Mary play is to replace the show's shallow cad male anchor (the hysterical Ty Burrell) with legendary newsman Mike Pomeroy (Ford), unjustly put out to pasture but still under contract. This unlikely duo forms the core of what turns out to be a strictly platonic romance of comedic opposites; She's all sunshiny orange juice sweetness, and he seems to be perpetually sucking on a lemon.
Harrison Ford stopped having any fun in movies sometime around A Clear and Present Danger, so it's a kick to see him engaged in a role for once. He blusters and grumbles his way through every scene, a powerhouse outraged to be stuck doing cooking segments, and five-part exposés on menopause.
Hollywood once had a use for witty, urbane satires, and these sorts of films were made by such heavy hitters as Mike Nichols, yet Morning Glory is helmed by a pleasant bantamweight Roger Michell [cq] (Notting Hill) who stings like a butterfly. Here, the eternal struggle between entertainment and substance in news is reduced to a comparison between donuts and bran flakes. It's a decent gag, but the film is eager to force everything through the same glittery prism it rightly accuses TV of doing to the news.
However, grading on the bell curve of modern romantic comedy, Morning Glory is heady stuff. It's charming, funny and as frothy as the ubiquitous lattes everyone runs around drinking out of those blue Grecian coffee cups found only in New York. Those paper cups are cinema shorthand for big city hustle and bustle, and the hurried script is loaded with similar shortcuts, summarizing characters and whole subplots into mere blurbs, as it races along like it's trying catch a taxi in Midtown. Bubbly Diane Keaton luckily gets turned into an afterthought, as does Patrick Wilson, as McAdams' dull romantic interest seemingly on hand just to prevent any creepy May-December make-out scenes. Maybe substance is more than we can hope for in a rom com, and should be satisfied with a few laughs and smiles, but despite some tantalizing glimpses, it's clear: the donuts won.