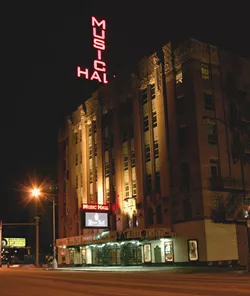 Detroit's Music Hall has announced details for a fundraising concert featuring "Queen of Funk" Chaka Khan in order to help raise funds to eliminate a looming debt that threatens to close the historic theater.
Scheduled for Friday, Feb. 12, the concert will feature Kahn as the headliner. Other acts on the bill include Jon Barfield and Irresistible, Michael Cooper and Con Funk Shun, Michael Mindigall, Maurissa Rose, and Ashton and Rivonne Moore.
The theater is trying to chip away at $4.2 million in accumulated debt. Music Hall says that if the event raises $300,000, donors Vivian Carpenter and Jon Barfield pledge to contribute an additional $100,000.
"With the impending April 30 deadline looming, Music Hall must raise $1.7 million by that date, or we will risk falling into loan default — which could effectively close the historic theater," reads a press release.
More information is available by calling 313-887-8510 or at
musichall.org
.
Music Hall Center for the Performing Arts is located at 350 Madison Ave., Detroit.