NEW "1969" MERCH BUNDLE CELEBRATES THE ORIGIN OF BOY HOWDY!
In 1969, on the cover of CREEM No. 2, underground cartoonist R. Crumb we introduced Mr. Dreamwhip—a smiling, suggestive, (SO totally PC for 2020) middle-finger to the stuffy LIFE Magazines populating the newsstand. But it was the mischievous little guy right above, Boy Howdy!, that wormed his way into our cold, corroded hearts, instantly becoming the mascot of the magazine, and an enduring symbol of the rock 'n' roll counterculture.
Now that we're back, it seems appropriate to bring out Mr. Dreamwhip for yet another encore. This time as a
LIMITED-TO-50
, screen-printed, 18"x24" poster. It's one of our favorites, a piece of rock history, and the perfect way to say "The Boy is back!" These are available NOW (but not for long) in an exclusive bundle that also includes a Boy Howdy! tote, a copy of the CREEM50 Commemorative Magazine, and a 6-pack of Boy Howdy! beer wraps. Grab yours at the link below! ME NEXT MISTER DREAMWHIP!
50th ANNIVERSARY COMMEMORATIVE MAGAZINE - GOING FAST!

PRE-ORDER NOW - AVAILABLE LATE OCTOBER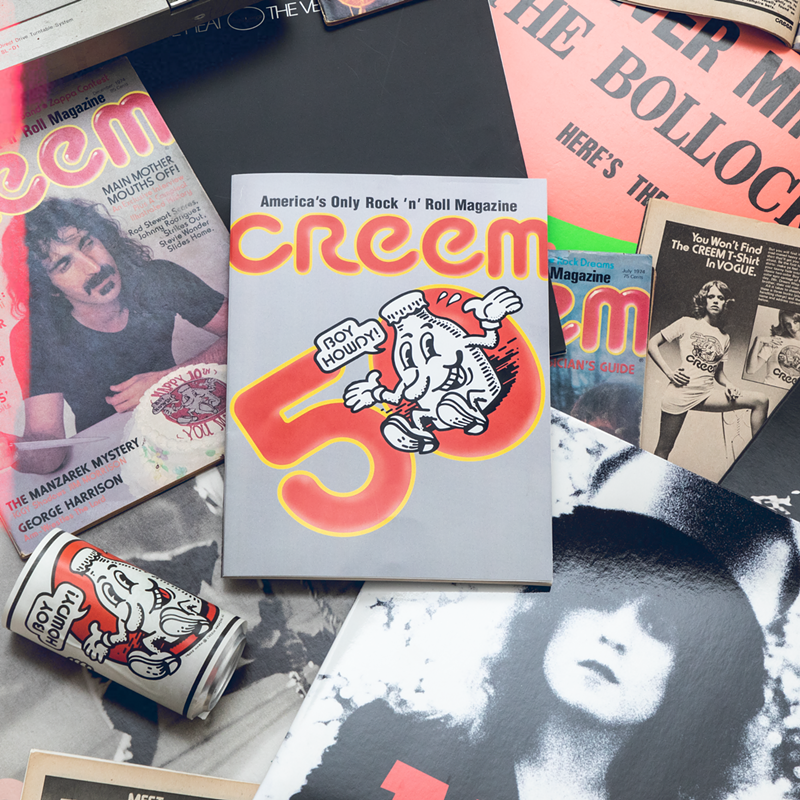 Our
limited edition commemorative magazine
, celebrating CREEM's 50grabbed th anniversary is already 50% GONE (thanks to CREEM-heads like you!). If you haven't yours already, WHADDER YA WAITIN' FOR?! This collector's item features highlights from CREEM's incredible twenty year print run from 1969-1989, including:
• Genre-smashing articles by
Lester Bangs
,
Dave Marsh
,
Jaan Uhelszki
, & others
• Iconic CREEM's features like Stars Cars and CREEM's Profiles
• Best (and Worst!) Record Reviews
• Letters to the Editor
• And MORE of what made CREEM the greatest rock rag ever
GO BACKSTAGE! JOIN THE NEW CREEM FACEBOOK GROUP
Photo by Richard Lee (from left): Charlie Auringer, Lester Bangs, Ric Siegel, Jaan Uhelszki, and Dave Marsh.
For fanatics, by fanatics. The CREEM Fan Page is your one-stop shop to proudly display your most cherished CREEM swag, trade your old issues, and celebrate/debate/commiserate over all things CREEM. We'll even chime in from time-to-time to set y'all straight.
Not to mention group members will get early access to exclusive merch drops (if you're into that sorta thing).
FROM THE ARCHIVE: BOY HOWDY'S GREATEST HITS
Looking to revamp your record collection? Look no further than our CREEM record labels, originally published in the July 1975 issue.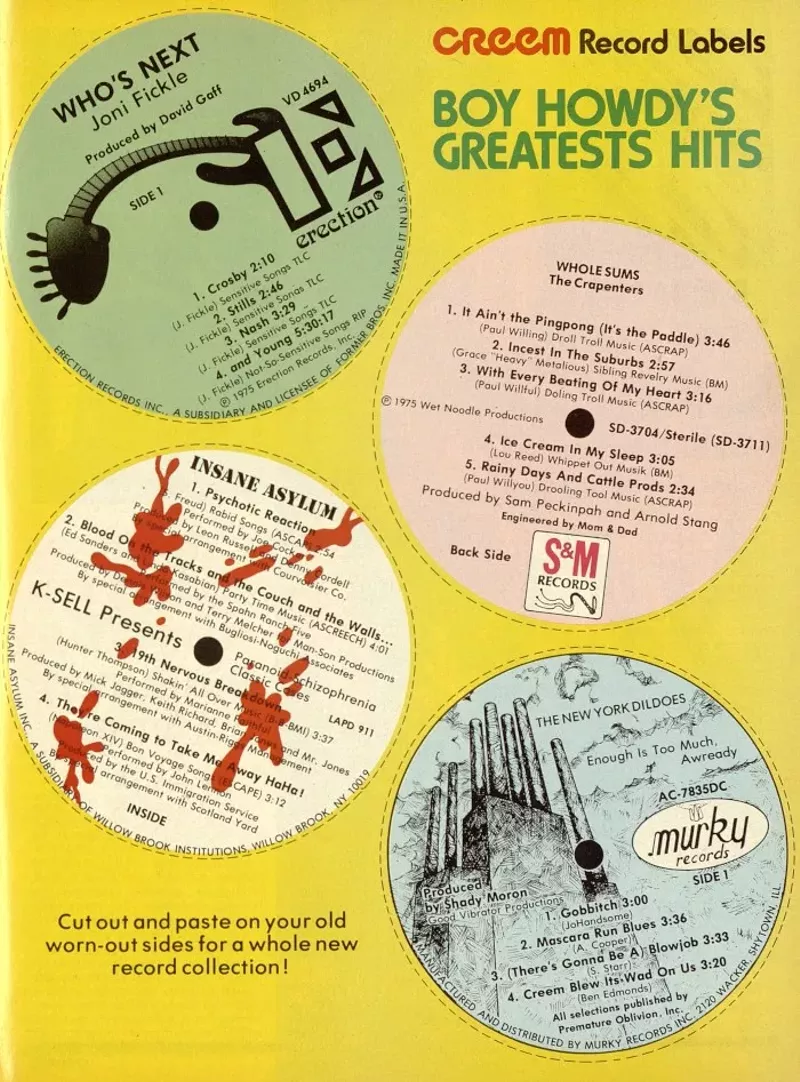 'CREEM: America's Only Rock 'N' Roll Magazine' is available
NOW
to rent & own digitally on Apple TV & Amazon Prime. Bring home the critically-acclaimed documentary ON DEMAND!