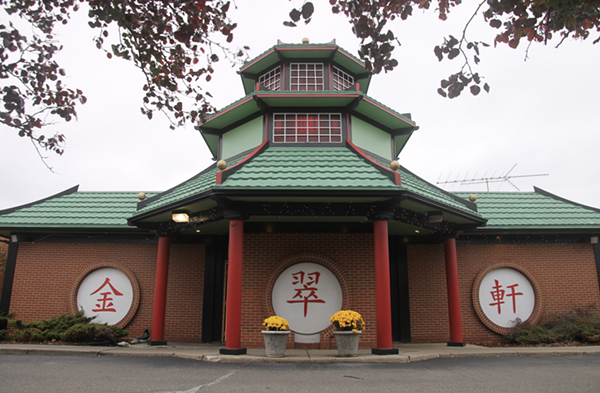 A federal judge sentenced Novi's Kim's Garden owner to nine months in jail after five undocumented Mexican employees who lived in his basement died in a fire.
The
Freep
reports that Roger Tam, 56, pleaded guilty last February to harboring five undocumented immigrants who lived in his basement and worked in his Chinese restaurant for $2,000 a month. He owned the home on Mystic Forest Drive, where the Mexican immigrants slept at night after working six days a week, 10-to-11-hour-shifts at the restaurant.
The basement didn't have a working smoke detector and only one exit when the fire killed the victims nearly two years ago. Nine months for the death of five people seems like a light sentence for someone who was exploiting them for cheap labor — prosecutors asked for seven years. They also argued the man's wife deserved seven years since she benefited financially from the employment arrangement.
"This case is about greed," Assistant U.S. Attorney Tim McDonald told the court. "It's about taking shortcuts, maximizing your profit through cheap labor ... he did this for years."
The defense argued that Tam and his wife loved the immigrants like family, but prosecutors disagreed.
"If Mr. Tam loved them like his own family, then why doesn't he know their names? Why didn't he pay them minimum wage? Or overtime? ... Why did he lie to the 911 operator when he told 911 that everyone was out safely?" McDonald asked.
Two days before the fire, Tam and his wife left their Novi home to stay at their lake home because of a cockroach problem.
The
Freep
reports that one victim was found in the fetal position against a bathroom wall, and bloody hand streaks found on another wall indicate someone was trying to escape but couldn't.
"Imagine their suffering, your honor," McDonald told the court.
The defense stressed that the fire was caused by careless smoking.
The victims had been here for six months before they died. They include Brayan Medina Contreras, 16; Leonel Alvarado Rodriguez, 18; Simeon Diaz Nunez, 18; Miguel Nunez Diaz, 23; and Pablo Alvaro Encino, 23.