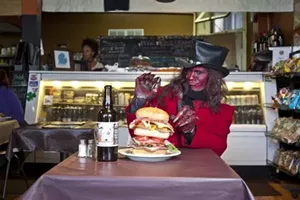 Best Makeover
Santorini Estiatorio
501 Monroe St., Detroit
313-962-9366; santorinidetroit.com
Pan-global fusion joint Mosaic closed its doors for three months of remodeling to reopen as Santorini Estiatorio. It's the first new Greek restaurant in Greektown in a long time, and it makes a wonderful addition. The new look is rustic island, and the stylish blown glass droplets above the bar (the only design elements from Mosaic that remain) fit perfectly with the new theme, as do the large paintings of serene ocean views done by local artist Blake Carmichael. Wicker lampshades that resemble fishing baskets hang from the ceiling, and the dining room is separated from the bar by what looks like the hull of a boat. It makes for a relaxed, comfortable atmosphere perfect for enjoying wonderful Greek cuisine.
Best Menu Makeover
The Emory
22700 Woodward Ave., Ferndale
248-546-8202; theemory.com
With its distinctive design, friendly staff, good beer selection, and attractive twenty- and thirtysomething clientele, the Emory has been a favorite haunt for Ferndale locals since it opened in 2006. However, apart from the burger night special on Tuesdays, the venue has always seemed more of a destination for the bar scene than for dining. We may see that change in 2013, as the Emory has recently rolled out a rebooted menu. The burgers remain, of course, but they've added a pork & sage burger with apple slaw and a cilantro lime salmon burger to its traditional lineup. Numerous other tweaks have been made, but perhaps the most exciting update is the addition of sausages from Detroit's Corridor Sausage Co. Make a difficult choice between the Vietnamese chicken, turkey red mole and garlic & juniper brat, all served on a freshly baked roll from Hermann's and each with different complimentary garnishes, or come back often and try all three; this is bar food to get excited about.
Best Building Repurposed as a Restaurant
Vinsetta Garage
27799 Woodward Ave., Berkley
248-548-7711; vinsettagarage.com
Before you even get past the door at Vinsetta Garage, you'll notice details of the building's past life incorporated into its new incarnation as a hip, mid-priced restaurant. The original neon sign and gas pumps remain out front; old lamps and service orders adorn the waiting area. Although the restaurant's design was much-hyped and well-executed, we're happy to say the joint is more than just a pretty face. The quality of both the food and service more than matches the effort surrounding the building's redesign — in fact, they were qualified to win Best Pizza in a Non-Pizzeria for their excellent wood-oven pies.
Best Bar in a Restaurant
London Chop House
155 W. Congress St., Detroit
313-962-0277; thelondonchophouse.com
Since the London Chop House dusted itself off and reopened for business after two-plus decades, the restaurant's buzz has centered on the "time warp" classic steakhouse ambiance of dim lights and well-polished wood. However, if $100-per-person tabs are not part of your everyday dining budget, you can still experience what all the fuss is about with a visit to the LCH bar. Nestled between the dining room and the dessert lounge, the bustling bar offers a chance to soak up the über-traditional midcentury steakhouse vibe while rubbing elbows with a blend of local businesspeople, WSU staff and out-of-towners. Cordial, genteel bartenders serve generous pours of top-shelf liquor, including an appropriately good selection of Scotch.
Best Restaurant for Ordering One of Everything
Green Dot Stables
2200 W. Lafayette Blvd., Detroit
313-962-5588; greendotstables.com
There aren't many non-fast-food restaurants where the majority of menu items are a) $3 or less, and b) worth ordering, let alone pretty outstanding. So when you go to the Green Dot, don't hold back; bring a couple friends and order one of everything. How could you live with yourself knowing that you passed up the Coney Dog slider with venison chili, the Korean slider with peanut butter and kimchi, or (heaven forbid) the Mystery Meat? While you're at it, order a side of the excellent skinny fries and a $3 specialty cocktail or two to wash it all down.
Best Budget Gourmet
St. Cece's Pub
1426 Bagley St., Detroit
313-962-2121; stceces.com
No higher praise than this: top-notch food on what chef Adam Verville calls "a working man's budget." At this lovely pub with a stone fireplace and house-infused spirits, you find influences from all over: Mediterranean to the Carolinas, France to Japan. The recipes show Verville cares about his offerings, like walnut squash cakes over crisp kale and rainbow trout with polenta and pomegranate seeds. A burger with caper aioli, roasted beet salad with shaved fennel — it's all very tony, and yet the highest-priced item is $13; most dishes are less than $10. Saturday and Sunday brunches are almost as affordable.
Best Addition to Ferndale Dining Scene
Local Kitchen and Bar
344 W. Nine Mile Rd., Ferndale
248-291-56509; localkitchenandbar.com
When Rick Halberg, long one of Detroit's favorite chefs, set out to plan his latest venture, he chose Ferndale, a hip, bustling, tight-knit community. The stated goal of Rick and his business partner, Brian Siegel, was, "to be the kitchen table of our community; a notably comfortable place where friends gather regularly for exceptional everyday food, drink and camaraderie." Thus was born Local Kitchen and Bar, which has fulfilled that goal, serving "well crafted-comfort," both food and atmosphere, drawing crowds for the combination. The restaurant offers a 16-seat bar and a communal table for large parties or for strangers to share space, food and camaraderie. The menu is at once simple and innovative, with an emphasis on local, sustainable foods. There's everything from burgers and steak to fried green tomatoes and fried chicken, with such sides as mac and cheese with candied bacon, brisket sliders and Sicilian meatballs. For vegetarians there's a variety of salads, crostini and panini and a black bean burrito. The wine list is affordable and there are a couple-dozen beer choices on offer. Save room for Rick's signature brownie or a seasonal cobbler.
Best Upscale Nontraditional Mexican Restaurant
Burrito Mundo
19459 Mack Ave., Grosse Pointe Woods
313-884-2028; burritomundo.com
What Burrito Mundo may lack in authenticity it more than makes up for in creativity. Some tacos are classics, including the Gringo (shredded cheese and lettuce, diced tomato and ground beef), the Santa Fe (shredded cheese, chicken and lettuce, with corn salsa and black beans) and the Asado (shredded cheese, roasted poblano and red bell peppers, onion and marinated steak). But the inventive specials can include braised pork tacos, heaped with house-braised pulled pork, smoky roasted corn salsa with black beans, and cilantro on sturdy hand-pounded corn tortillas. Or the chili lime shrimp taco with jicama slaw, habanero guac and cilantro, generously mounded with grilled marinated shrimp, perfectly cooked, almost buttery, drizzled with rich Mexican crema. Perhaps best is the mahi mahi taco, sporting generous little fillets that flake apart in the mouth, topped with just enough garlic aoli to make them pop.
Best Budget-Gourmet Italian
Magdaleno Italiano
962 Dix Hwy., Lincoln Park
313-386-0260
A former chef at Bacco's brings his sensibilities downriver but bows to the local price structure. Chef Ernesto Magdaleno makes his own pastas and sausages and a don't-miss cannellini bean dip, spices up mussels and calamari, and serves such favorites as carbonara and lasagna as well as a house specialty called gemelli norcina, with truffle oil and tomato cream sauce. There's nary a meatball to be found, and most pasta dishes are $10 or less, veal at $12-$14 — with side dishes included in the price. The lack of atmosphere and liquor license can be worked around.
Best Kinda French Restaurant
Rodin
15 E. Kirby St., Midtown
313-285-9218
Owner Torya Blanchard wanted "a play on French," and she and chef Kate Williams are having a great time with it. Classic French dishes are interpreted freely — very freely. Bourride, a fish stew with aioli, becomes a drier dish with salmon and roast potatoes. Duck confit cassoulet loses its casserole character but keeps white bean gravy. Coq au vin emerges as chicken wings coated with candied bacon dust. Beignets are doughnut holes. Great things are done with spiced-up pommes frites. It's all delectable and served small-plates-style, and the all-French wine list is complemented by fun but not-necessarily-French cocktails — and dancing.
Best Shandong Food
Empire Dynasty
29505 W. Nine Mile Rd., Farmington Hills
248-888-6866; empiredynastymi.com
Yes, it's probably the only Shandong food in the area, but that doesn't make Empire Dynasty less excellent (and the chef cooks Szechuan and Cantonese dishes, too). Shandong province, located on the Pacific and home to one of China's eight traditional cuisines, is known for its salty seafood, complex vinegars and use of noodles instead of rice. Try Empire Duck instead of Peking Duck, for example; it's cooked very crisp, with the interior losing none of its fatty lusciousness. Ask for Shandong Soup or one of several steamed fish, brought to your table still simmering, which allows the flavors to become concentrated. This place deserves more traffic from those looking for authentic Chinese of any variety.
Best Nonstandard Middle Eastern
Yemen Cafe
8731 Joseph Campau, Hamtramck
313-871-4349
Forget hommous — it's not traditional in Yemen — and seek dishes far afield from the well-known Lebanese. The 8 a.m. to midnight, seven-day-a-week café is no-frills — no raw juices, no dessert — and oriented toward men from the neighborhood. A giant piece of flatbread (malooga) is the utensil of choice. Basically, lamb is spiced and cooked in a variety of ways, in large servings: on the backbone with vegetables; in a dark broth; ground with egg and vegetables; in stews called soups and served in heavy cast iron pots. Prices are nonstandard too: $5-$10 for entrées.
Best Goan Food
Indo Fusion
44175 W. 12 Mile Rd., Ste. F-143, Novi
248-946-4804
The tiny seaside Indian state of Goa adapted its Portuguese rulers' culinary habits, and the result was a culture whose national motto is susegad — no worries. Indo Fusion makes the most of a cuisine based on rice, fish, coconut milk and lots of spices. You'll forget all about naan after trying light and spongy sannas: steamed dumplings made of ground rice, fresh coconut and buttermilk. In robust pork dishes like dhukramas, sorpotel and chorizo curry (that's the Portuguese side), meat and spices make equal contributions to flavor. Goan Green Chicken is spiced with chilis, cilantro, ginger, garlic and cinnamon, and Goan shrimp are cooked with peppers and served on a slaw of cabbage and cilantro. And who would expect to find a Goan Christmas dessert, bebinca, in Michigan? This restaurant is one more bit of proof that fusion makes the world go round.
Best Sushi Buffet
Fuji Japanese Buffet
32153 John R Rd., Madison Heights
248-616-8868; fujibistro.info
We've gone to sushi bars and found that, after gorging ourselves on nigiri and rolls, the bill sometimes amounted to more than $80. No such fears at Fuji, where the fixed-price buffet means you can stuff your face with quality sushi and still not break the bank. Even though Fuji's talented sushi chefs work overtime to keep the sushi counter loaded, it's only natural that many diners' first choices will be salmon, crab or tuna. But all the sushi choices are quite good, if the cuts aren't as generous as when you buy sushi a la carte. And if you love the oily tang of fresh fish, there's no reason to shy away from the mackerel nigiri. On both visits, we were able to load a plate with more than a half-dozen pieces of the shiny-skinned, scallion-topped pleasures.
Best New Indian Buffet
Aahar Indian Cuisine
35564 Grand River Ave., Farmington Hills
248-473-4500; aaharcuisine.net
Indian food ain't all curry. The fare of the subcontinent, and its many regional cuisines, offer dals, breads, sambar, tandoori-cooked meats, dosa and a vast array of vegetables. Sound unfamiliar? Now is the time to explore. And there may be no better place to launch your exploration than Aahar Indian Cuisine in Farmington Hills. For less than $10, you can feast on at least a dozen dishes on a lunch buffet that always includes curried goat and tandoori chicken. The staff will explain all of the items. Unlike many other buffets that cater more to non-Indians, Aahar's spice levels are assertive, but not fiery hot. Namaste.
Best New Small Plates
The Sardine Room
340 S. Main St., Plymouth
734-416-0261 ; thesardineroom.com
Some interesting combinations, like scallops, pork belly and sweet potato, and curried rabbit, and somewhat venturesome ingredients, like foie gras and roasted bone marrow, make the Sardine Room a fun place to order a table-full of plates for sharing. Choose from a trio of country hams or find out what puréed arugula adds to gnocchi, or taste the storied Mangalista pig with stuffed cabbage. The only thing longer than the menu is the drinks list, with lots of single malts and digestifs. And if one small plate isn't enough, you can ask for it again.
Best Half-Off Night
Pizzeria Biga
29110 Franklin Rd.,
Southfield; 248-750-2442
711 S. Main St.,
Royal Oak; 248-544-2442
In these less-than-rosy economic times, with restaurants competing for a shrinking pool of diner dollars, many are opting to do a "half-off" night in an attempt to draw customers on a typically slow night of the week. We love a bargain, but these deals often involve warmed-over bar food that's barely worth the discounted price. Not so at Pizzeria Biga. At both the Southfield and Royal Oak locations, Biga offers half-off delicious wood-fired pizzas with high-quality toppings and homemade pastas on Mondays until 7:30 p.m. If beverage bargains are more your speed, the restaurant offers half-off bottles of wine on Tuesdays. As always, don't forget to tip your server on the pre-discounted amount.
Best Lunch Downtown
(They Deliver)
Mudgie's
1300 Porter St., Detroit
313-961-2000; mudgiesdeli.com
The mania to make everything in-house means fabulous slaws and krauts, and mustards to top the already mile-high sandwiches, which are stuffed with meats smoked outside by the eponymous Greg Mudge. If you don't want to waddle back to work, best bet is a half-sandwich with thick soup, or half-salad and the same — though the salads, like everything else here, are generously laden, and come with nine Mudgie dressings. Now that Michigan wine, beer and mead [honey wine] have been added, there's nothing not to like — if your afternoon schedule allows.
Best Restaurant We're Anticipating to Open
La Feria
4130 Cass Ave., Detroit
Participating in the Hatch: Detroit business competition, in which business ideas are promoted via social media and voted for online, Elias Khalil initially didn't think he had a chance in hell. One of three partners in the Spanish tapas restaurant La Feria (a nod to Seville's famous yearly fair), Khalil considered himself rather inept at online promotion; in the months before the vote, he pounded the pavement in his Cass Corridor neighborhood handing out fliers and telling people firsthand about his concept. But family and friends in Detroit and Spain rallied ⎯ and thousands of votes later ⎯ La Feria came out on top. The restaurant, located on Cass at Alexandrine, is currently under construction and hopes to open sometime this summer. We've had the pleasure of sampling some of the food in Khalil's home and at a couple local events, and we can't wait for the full experience. Unlike many of the upscale "small plates" concepts that have been popular in the last decade, La Feria is to offer authentic, inexpensive Spanish tapas, such as tortilla de patatas (a dense potato omelet), mushroom caps with a parsley and garlic sauce, and crunchy, creamy croquettes stuffed with chicken and béchamel.
Best Indoor Street Food
Woodward Imperial
22828 Woodward Ave., Ferndale
248-850-8060; facebook.com/imperialonwoodward
The concept of Imperial is simple but genius: Use fresh, local ingredients to create a menu that's unique, delicious and eminently affordable — in this case, L.A. street-food-style tacos. Serve a wide range of domestic and Mexican beers and some creative cocktails alongside. Design a cool layout that, in nice weather, blurs the boundaries of indoor and outdoor space to enhance the cantina vibe. Play good music. Put it in Ferndale, a city where people love to go out but don't necessarily have the deep pockets of some other Oakland County burbs. Pat yourself on the back as your restaurant deservedly becomes one of the most popular spots in town.
Best Scientifically Healthy Food
Hut-K Chaats
3022 Packard Rd., Ann Arbor
734-786-8312; hut-k.com
When an oncologist gets diabetes, he may look for a lifestyle makeover, and if he's Indian, the result could be vegetarian and vegan street food in which baked replaces fried, sugar is outlawed in favor of dates (high-fiber), and nutrition is the goal of each dish. Skeptics will be amazed. A vegan mango-avocado-soy shake is both sweet and rich. Chaats' wraps and pizzas create cornucopias of flavors by using dozens of ingredients. Baked flatbread is made with 15 different grains. Scoff at a carrot and red pepper pizza sauce … till you've tried it. Hut-K Chaats won the most votes at a competition sponsored by Mark's Carts — with a vegan dish.
Best Breakfast Pizza
Crispelli's Bakery & Pizzeria
28939 Woodward, Berkley
248-591-3300; crispellis.com
We're seeing fried eggs atop everything these days, and a pizza is as good a place for one as anywhere. At Crispelli's, they're baked, actually, super-fast in a 500-degree stone oven, over traditional breakfast ingredients like ham and cheese, or an Italian version: prosciutto and mozzarella. Even better, a reconstructed New York bagel breakfast with smoked salmon, tomato, cream cheese and red onion, all on a very thin crust. Scrambled eggs on top are possible too, and then the choices multiply. If breakfast pizza doesn't work for you, there are calzones, quiches, waffles, French toast from house-made baguettes, frittatas and pain au chocolat. And prices are a little lower than at most fancy breakfast places.
Best Poutine
Brooklyn Street Local
1266 Michigan Ave., Detroit
313-262-6547; brooklynstreetlocal.com
Ah, poutine — that decadent mess of golden fries drenched with salty, hot gravy and finished off with cheese curds that add the final textural element to the crunchy and saucy confection. Poutine has been popping up in restaurants all over the metro area as of late, but you won't find a better version than the one served at Brooklyn Street Local. Perhaps it's because BSL's owners hail from Canada, the birthplace of poutine; whatever the reason, they've nailed the formula. The only drawback: rather than quelling a post-bar, booze-fueled snack attack (which seems to be poutine's raison d'être), you'll have to indulge during daytime hours, as BSL is a breakfast-and-lunch-only joint. A late-night BSL food truck, or at least a poutine-only carryout window, would be a great public service.
Best Burger to Munch to Live Music
PJ's Lager House
1254 Michigan Ave., Detroit
313-961-4668; pjslagerhouse.com
To be the best, the music would be a wide variety of original local acts, from punk and heavy metal to country, blues and rockabilly; and that burger would be the Black and Blue. It's grilled with Cajun blackening spices on one side (paprika, oregano, etc.) and blue cheese on the other, so it's spicy but mellow, with double umami from the dairy and the ground steak. Other burgers come with onions grilled to perfection or they aren't burgers at all, but house-made falafel.
Best Nontraditional Pizza
Amar Pizza
11608 Conant St., Hamtramck
313-366-0980; amarpizza.biz
This little Bangladeshi-American pizzeria serves some of the most unusual — and flavorful — pies in town. Amar makes round, square and deep-dish pies, and it only gets more interesting from there. They can make pies with a spicy naga sauce, which General Manager Khursed Ahmad says is commonly found in Bangladesh and eastern India. Another Bangladeshi ingredient Amar uses to great effect is bhut jolokia, the ghost pepper, once recognized by Guinness World Records as the hottest pepper in the world. The ghost pepper pizza has a pleasant burn for those who like it, although Amar's menu warns: "Extreme heat — eat at own risk." Other innovations include a tandoori pizza, a Philly steak pizza, a gyro pizza and a dry fish pizza. It's all Halal, which means there's no pork — and even the pepperoni is made from beef.
Best Kosher Pizza
Jerusalem Pizza
26025 Greenfield Rd., Southfield
248-552-0088; jpizza.com
6600 West Maple Rd., West Bloomfield
248-592-1200
JP is the granddaddy of kosher pie palaces in metro Detroit. Of course, keeping kosher need not be the driver for you to check the place out. If you are a veggie who wants the thrill of carni toppings without the guilt, you've hit paydirt. With pies like the cheeseburger, bar-b-cue pizza and Thai chicken, it's as close as you dare get to the real thing. If you don't see what you want on the menu, chart your own course among the myriad toppings. Owners Brian and Rivka Jacobs, along woth their motley crew, keep the lights on seven days a week (opening after the Sabbath on Saturdays). The Southfield location has a couple of tables but is otherwise a takeout joint. The West Bloomfield location, housed inside the Jewish Commuity Center where Matt Prentice's Milk and Honey called home, has a much larger dining area, complete with a coffee bar. Jacobs, who can general be found behind the counter in Southfield, let's his rotund frame testify to the quality of the food.
Best Vegetarian Sandwich in a Bar
The Bronx Bar
4476 Second Ave., Detroit
313-832-8464
There's joy in finding something exceptional where you'd least expect it, and that something is the Veggie Machine. Every dive bar menu worth its salt offers burger and fries, which range from barely edible to serviceable, to Miller's-level legendary. The Bronx Bar is no exception, and its burgers are more than sufficient for soaking up a few PBRs and shots of whiskey. But it's the Veggie Machine sandwich that makes us actually go out of our way to eat there. The grilled focaccia bread is something magical; its crunchy, buttery goodness is the perfect vehicle for the always-fresh baby spinach, cucumbers and tomatoes. Swiss cheese and a special sauce seal the deal. Even die-hard carnivores of our acquaintance are known to sing the praises of this magnificent sandwich specimen.
Best Place to Eat a Fancy Low-Carb Meal
Texas de Brazil
1000 Woodward Ave., Detroit
313-964-4333; texasdebrazil.com
If you're on some version of a low-carb diet — paelo, Atkins, South Beach — it can be hard to go out for a fancy dinner without sabotaging your diet. As long as you avoid the mash potatoes and the not-so-good-anyway dinner rolls, feel free to eat pretty much anything else since most things on the menu are sword after sword of simply prepared, perfectly cooked cuts of meat. The salad bar is loaded with delicious low-carb options like Spanish cheeses, lunchmeats, grilled veggies, fish, and bacon. Mmmm … bacon.
Best Kid-Friendly Restaurant
Noodles & Company
Locations throughout the Detroit metro area; noodles.com
Of course, there's a cross-section of our readers who would love to try the many eclectic suggestions above, save for one problem: kids in tow. Dining with the family can be an exercise in patience and mediocrity, depending on finnicky palates and varying degrees of table manners. Enter Noodles, the kid-friendly, notch-above fast food restaurant that caters to the Underroos crowd. From ordering to eating, there's usually not more than five to seven minutes in between. We haven't met too many kids who don't like some variation on the noodles theme, whether it's the creamy mac 'n' cheese or the guilty-pleasure buttered noodles. However, there are many healthier, more flavorful plates to be found. Our favorites include the slightly spicy Japanese pan noodles with tofu (you may choose from three different proteins to add to any dish) and the creamy, hearty tomato bisque. Food is brought to your table, and the servers do not accept tips. Good food, quick, efficient service, and a carefree attitiude toward child antics makes Noodles our best choice for family dining.
Best Vegetarian Pop-Up Restaurant
Chartreuse
We've seen a variety of new pop-up restaurants appear over the last year, but several factors put Chartreuse out in front. For one, its run by a certified raw and vegan chef, Corinne Rice. The four-course dinners are vegan, raw, organic, gluten-free, seasonal and made with local produce as much as possible, supporting local farms. What's more, the creative menus often take classic dishes and deconstruct them, putting the ingredients together in new ways. Plus, the events usually overtake interesting surroundings, such as urban farms or art spaces, often to the accompaniment of live music. Taken together, Chartreuse hits just about every note a pop-up can, and all for just $50 per diner.
Best Nonvegetarian Pop-Up Restaurant
Schnack
Pop-ups are proliferating faster than fruit flies on a rotten summer tomato these days, but they're not all created equal. Schnäck, the roving German restaurant brought to you by Porktown Sausage and friends, is the one we look forward to with the most eager anticipation, and try never to miss. The wursts and wieners are the most delectable in town, but that's not the only draw. In addition to meat products that are stuffed and smoked by hand, expect something pickled on the menu — herring at one dinner, tongue at another. They even ferment their own sauerkraut and make their own mustard for the full German experience. Although the meat is to die for, vegetarians need not miss out; there's always a creative veggie option, like a celery root "schnitzel" crusted in Better Made potato chips. Best of all, the food is expertly matched with German beer and wine selections.