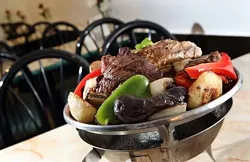 A parrillada from Parrilladas Patagonia in Detroit.
Parrilladas Patagonia
4314 W. Vernor Hwy., Detroit
313-551-0235
parrilladaspatagonia.com
Bathroom upstairs
Entrées: $10-$19
I worry that the word "Pazatagonia" brings to mind expensive down jackets before what it used to mean, the land at the end of the known world, the last before Antarctica. Chile and Argentina share the remote bottom tip of the Southern Hemisphere, sparsely populated except by sheep. It's parrilladaspatagonia.com, not the area, that gave those two countries their celebrated parrillada meat-fests, but somehow its name is still evocative, to us Northerners, of gauchos, beef and an open flame.
Chilean-born Alvaro Morales soft-opened his new parrillada restaurant in January, taking over a former taqueria with an attractive upstairs. Kinks are still being worked out, with not all menu items necessarily available and the menu in need of more graceful translations. You may need to be emphatic if you want your meat rare. After the fact, I used my dictionary and found "a la inglesa" for "rare" — in the English style. Or "poco hecho" might work. But the family is working hard to create a new destination for those seeking beef cooked South American-style.
The ultimate is the parrillada itself, a $38 meal supposedly for two but plenty for four, or maybe six: four "flat steaks," four skirt steaks, two Italian sausages, two blood sausages and two chicken breasts. It's brought to the table, wafting terrific smells, in a brazier with a flame underneath.
I recommend not worrying too much about the terminology or the translations, and just accepting what comes (except do be firm about doneness levels). We thought the parrillada's best meat was the "flat steak," which our waitress, Alvaro's mama, also called "ribs." They are flattish — though not flat like a tough Mexican carne asada — and the rib bones are at the end. They're not fatty at all but not terribly chewy, a little salty and full of animal flavor.
Next best are the skirt steaks (entrañas), thicker but tougher. The Italian sausage is fennel-flavored, pretty ordinary, and blood sausage (morcilla) is, well, you have to like blood sausage. It's black, with a tough skin and innards that crumble when it's opened, tasty enough but still reminding the reader that something has congealed to make this dish.
I don't know why anyone would bother with chicken in this assortment. There's no need to make the record that birds exist.
A terrific topping for the meats is pebre, a mixture of cilantro, onion, olive oil, garlic and peppers that's brought to your table with the bread. In fact, my Chilean friend says Chilenos put it on everything, which is wise, because it's so good, better than Mexican pico de gallo, in my opinion.
But you don't have to go for the whole parrillada. A thick New York strip called bife chorizo (ignore the name, nothing to do with Mexican sausage) is plenty to eat and muy Argentino (though not nearly as melt-in-the-mouth as the steaks I had in Buenos Aires). It comes with a plush mushroom sauce, on the side. Just make sure the chef leaves you plenty of pink. And bistec a lo pobre — a workingman's dinner — is enlivened with two fried eggs, grilled onions and french fries. The meat is tougher but the onions and eggs add great character. I could imagine myself eating this in a Santiago diner.
Amid all this beef, it was at the empanada appetizer that I thought my Chilena friend would have a When Harry Met Sally moment. "Que recuerdo" — "What a memory!" — she sighed. This cousin of the pasty and the samosa, as big as your hand, is a bargain at $3, flaky pastry stuffed with ground beef and onions, and with an olive and a piece of hard-boiled egg tucked in as a surprise. Since Patagonia is a couple blocks from my house, I can easily imagine making a couple of empanadas the base of dinner on a night it's too late to cook. Smaller versions are just $1.50.
I didn't try the seafood entrées, salmon and something called "swait." But a seafood-stuffed avocado as an appetizer (the Chilean term is palta) was toothsome, with mussels, shrimp and lots of yellow mayo, served with balsamic and oil to make your own dressing.
I hope that by the time you read this, another appetizer, the matambre, will be available (meaning "kill hunger"). It's a thin slice of beef filled with vegetables and hard-cooked eggs, rolled up and roasted.
On Valentine's Day, Morales was giving away his signature dessert, a crêpe filled with dulce de leche and topped with chocolate sauce, surrounded by fruit. I'll take any excuse to eat dulce de leche; actually, just plain would be fine. But the crêpe felt sufficiently romantic for the day.
If it's not up to Southern Hemisphere standards yet, Patagonia is still a welcome newcomer in an area of town where many menus are all alike. A couple of blocks away, the Argentinian Tango Bravo lasted only a few months in 2007, victim of mismanagement rather than any faults in the cuisine. Let's hope that the Morales family will be able to lure venturesome diners, who will surely be ingenious enough to picture a way around the lack of a liquor license.
Jane Slaughter dines for Metro Times. Send comments to letters@metrotimes.com.