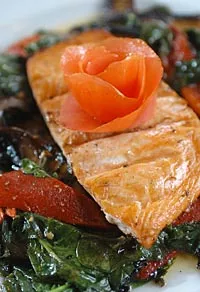 Rob Widdis
Grilled salmon at Phoenicia.
The family behind the Phoenicia and Forest are planning a new casual dining concept in downtown Detroit's Capitol Park.
The
Free Press
reports that the Eid family will open Leila on the ground and mezzanine levels of the historic Farwell Building. The mezzanine will hold a private dining space, and patio seating will be available during warmer weather.
Expect a menu with family-style Lebanese mezze, but there will be "room for imagination," owner Sammy Eid says.
He's bringing on two-time James Beard Award semifinalist Nick Janutol and Forest's executive sous chef Neal Murakami to run the kitchen.
So many restaurants, so little time. Find out the latest Detroit dining news with our weekly food newsletter delivered every Friday morning.