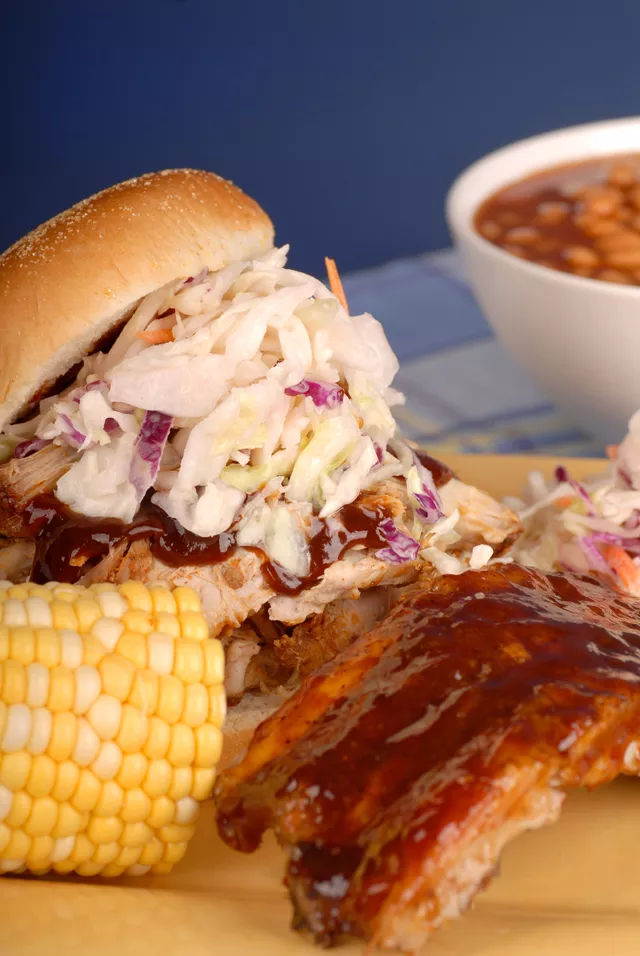 Detroiters love the smoky, sweet and savory flavors of classic barbecue. Detroit's venerable pit-style barbecues have long lived a prosperous, almost charmed life. And ribs and the like have long been staples on local menus. Then five years ago Slows Bar-B-Q, mixing low-and-slow 'cue with hip interiors and bad-ass beers, ushered in the new era. On Saturday, MT's inaugural Pig & Whiskey event kicks off from noon to 8 in downtown Ferndale with more than 15 whiskeys, a beer selection from WAB, 11 eateries, music by the Detroit Cobras and more — with a portion of proceeds to Ronald McDonald House. Details on Pages 14-15. 
Bad Brad's BBQ 35611 Green St., New Baltimore; 586-716-9977; badbradsbbq.net: Opened just last year, Bad Brad's motto is "From our smoker to your plate," summing up their intention to give diners the best barbecue possible. They start every day at 5 a.m., cooking beef brisket and pork shoulder in fruit wood and hickory smoke as long as 14 hours. Get a taste of the meat in one of their many cleverly named sandwiches, (all $8). Or choose among sliced or chopped brisket, pulled pork or chicken, or pork sausage. You can also go "whole hog" with a half ($13.50) or a full ($23) slab of St. Louis-style ribs. Also, the clever wall illustrations by Detroit artist Jerome Ferretti don't hurt either.
Bert's Marketplace 2727 Russell St., Detroit; 313-567-2030: On summer Saturdays, Eastern Market seems to be bursting at every seam. Stalls and sheds overflow with colorful produce as merchants set up shop along Russell Street. And Bert's is not only a great place to sit and do some Eastern Market people-watching, you can also enjoy some serious barbecue. (You also get a front seat to some of the most unusual karaoke performances ever!) The menu runs from catfish to 'cue, and on warm market days when the grillmasters are in full view outside, you'll be able to see before you buy!
Blue Tractor BBQ & Brewery 205 E. Washington St., Ann Arbor; 734-222-4095; bluetractor.net: The menu is full of down-home fixings, the beers are pure contemporary craft, the interior is warm and quirky, and inventive specials year-round keep switching it up. And the barbecue? It's mostly slow-cooked proteins that get a douse of rub or sauce during final grilling, and includes baby-back ribs, Carolina pulled pork, barbecue "beer can" chicken, and even some more interesting-sounding choices, such as bacon-wrapped meat loaf, apricot-mustard turkey and smoked barbecued duck.
Bone Yard Bar-B-Q 7010 N Telegraph Rd., Dearborn Heights; 313-561-0102; 13100 Hall Rd., Sterling Heights; 586-731-1600; see theboneyardbbq.com for more locations: Since 1972, the BoneYard has been cooking up barbecued ribs using their open-flame rotisserie, racking up awards over the course of 38 years. The ribs are the house specialty, natch, and the slabs run from about six bones for $10.99 to about 15 bones for $20.99. Even the BoneYard's starters seem formidable, with such choices as jalapeño poppers and mozzarella sticks, yes, but the Bone Yard sampler (ribs, wings, tenders, mozz sticks and onion rings), "Pork Slammers" and the "Onion Tower," hand-cut Spanish onions breaded and gently fried, piled up and served with the restaurant's original sauce. 
Bo's Smokehouse 51 N. Saginaw St., Pontiac; 248-338-6200: With three separate levels occupying almost 12,000 square feet, Bo's Brewery & Bistro offers patrons full bar service, billiards and more. As many as 40 people can sit at the bar and enjoy such Michigan craft beers as Bell's and King's, followed by special desserts every week. And over the last year, they've upped their barbecue game, expanding their selections of smokehouse pork and beef. 
Buffalo Wild Wings Grill & Bar Fifteen locations in metro Detroit; see buffalowildwings.com for info: Ah, B-dubs. The bar's mid-day and late-night happy hours show that it's recession friendly, and it flies flags of local pro and college sports teams so that when you're too broke for game tickets, the next best place to be is inside one of these joints, where friends gather, drink, steal some Wet-Naps, and maybe catch some action on the television.
Cleary's Pub 113 S. Main St., Chelsea; 734-475-1922: This small joint in the center of downtown Chelsea has 19 tables, three booths and a full bar — as well as a couple of TV sets with Keno. The kitchen usually serves until 11 p.m. and is extensive with fish (sometimes serving frog legs), ribs, salads, sandwiches and burgers. The clear favorite among barbecue offerings would be the baby-back ribs with homemade Jack Daniels sauce. Sorry, no happy hour, because they're always happy!
Famous Dave's 20300 E. 13 Mile Rd., Roseville; 586-293-2900; $: Why is Famous Dave's so famous? The barbecue, of course! Serving hot-smoked ribs straight out of the Southern Pride Rotisserie Smoker, you'll need lots of Wet-Naps, a cool beverage and probably a "slice of heaven," a homemade bread pudding. The bar seats 10, and there's Blue Moon on tap. They offer $1 pints on Wednesdays and $4 off-the-menu "Famous" drinks on Thursdays. 
Fishbone's Rhythm Kitchen Cafe 400 Monroe St., 313-965-4600; 23722 Jefferson Ave., St. Clair Shores; 586-498-3000; 29244 Northwestern Hwy., Southfield; 248-351-2925: What began as a Creole-Cajun sort of establishment has now branched out in all directions, offering not just Nawlins-influenced fare but American and sushi as well. And Fishbone's has earned its reputation for doing things in a big way. The main event is their huge weekly brunch, and then there are those rich soup choices, including such specials as clam chowder (Fridays), lobster bisque (Saturdays) and roux-y gumbos. But then there's the barbecued meat, which includes baby-back ribs ($16 for a half-slap, $24 for a full) and roasted chicken.
Hogger's 2959 12 Mile Rd., Berkley; 248-548-2400; eatathoggers.com: This little spot specializes mostly in carry-out orders, but also has some space for folks to dine in. Enjoy an order of baby-back ribs, slow-roasted, grilled and basted in the joint's signature sauce, four pieces for $7.49, or as much as a full slab for $21.99. There's also barbecued chicken, shredded chicken, and a wide variety of meaty sandwiches. Or get the "Feast" of four meats and two large sides for $23.99.
Lazybones Smokehouse 27475 Groesbeck Hwy., Roseville; 586-775-7427; and 43203 Garfield Rd., Clinton Twp.; 586-247-7427; lazybonessmokehouse.net.: Our readers say this is the best barbecue joint in Macomb County. Why? Because this east side joint has sandwiches starting around $7 and $17.99 for a slab of ribs. But the prices get nicer at lunch every Wednesday; for $7.99, you get to stuff a three-compartment polystyrene container with choices that can range from smoked chicken to chopped pork. Lazybones boasts Black Angus beef, Grade-A fresh pork, and Amish country chickens, done broasted, pit-smoked or grill-ready for pick-up. And for those who want to throw a home party without running the grill, Lazybones can cater to your wishes, with party pans big enough to hold 100 ribs or the equivalent in pulled pork.
Lenny's Ribs and Chicken 15405 Gratiot Ave., Suite 100, Detroit; 313-527-0000: Years ago, it was Kenny's Ribs and Chicken; only the first letter in the name has changed. Located at Eight Mile Road, it's a big building with one level serving up hot ribs, chicken, fish and non-alcoholic beverages. (Hey, have a lemonade for once!) Most popular barbecue order: Rib tips!
Lockhart's 202 E. Third St., Royal Oak; 248-584-4227; lockhartsbbq.com: Lockhart's, named after a town reputed to be the barbecue capital of Texas, is a handsomely retrofitted space on the high-ceilinged first floor of an old bank building. In a stainless-steel open kitchen, the kitchen turns out reasonably priced, hefty portions. The main courses, served authentically on paper in metal trays and with a white bread sopper, involve brisket, ribs, pulled pork, sausage, chicken and ham, and combinations thereof, all smoked ever so slowly over local white oak and hickory. One can sample most of the meats in the "special" combo of brisket, half-rack of ribs, sausage and pulled pork. Or if that mix is intimidating, a half-chicken and ribs or brisket and pulled pork are less daunting combos. Aside from the renditions of smoked meats, sandwich offerings also feature fried catfish, smoked salmon, and smoked chicken salad.
Milt's Gourmet Bar-B-Que 19143 Kelly Rd., Detroit; 313-521-5959: Just because it's gourmet doesn't mean you're not gonna get it on your shirt. The family-style restaurant seats 45, but it's more or less there for the carryout connoisseurs. Barbecued ribs with homemade sauce and desserts offer patrons finger-lickin' good 'cue for cheap.
Nunn's Barbecue Restaurant 19196 Conant St., Detroit; 313-893-7210: Another one of Detroit's old-line barbecue joints, Nunn's (or, Nunn's II as it's called; the first Nunn's burned down), churns out a steady diet of pit-style ribs cooked to perfection, all ready for your carry-out order. One rib aficionado we know says they're the best ribs on the east side.
Parks Old-Style Bar-B-Q 7444 Beaubien St., Detroit; 313-873-7444: Tucked away from East Grand Boulevard on the edge of New Center and the old North End, Parks Old-Style has stood since the mid-1960s. Parks' trimmed ribs, $19.90 a slab, stand out because of their flavor. The vinegar accent to their fare helps it stand out. Proud owner Roderick I. Parks tells us "the sauce is a vinegar-based product and perhaps an acquired taste. It has, however, delighted the multitudes since 1964. Parks also features a 'sweet' sauce for the sensitive palate and an extremely hot sauce for the more venturesome." As for sides, Parks may not have greens, black-eyed peas or cornbread, but they have baked beans, peach cobbler that's sweet but not overpowering, a very cheesy mac 'n' cheese, and a terrific cole slaw, speckled with celery seed, full of flavor, and with a slightly al dente consistency to the cabbage. Parks is open 11 a.m.-10 p.m. Tuesday-Thursday, 11 a.m.-midnight Friday-Saturday, and 2-10 p.m. Sundays; closed Mondays.
Real Bar BQ 3695 Dix-Toledo Rd., Lincoln Park; 313-769-5010; realbarbq.com: Opened just this month, they tout their high-quality smoked meats, which include choice Angus beef, Southern-style ribs, chicken, turkey, sausage and pulled pork sandwiches, as well as a host of sides, including baked beans and mac 'n' cheese. The sandwiches are affordably priced — all less than $7. Their Smokehouse Combo Four offers four meats atop hand-cut fries for $24.99.
Red, Hot and Blue 33800 Van Dyke Ave., Sterling Heights; 586-979-6400; $$: Here are some formidable meals. You can get sandwiches, ranging from the pulled pork and chicken versions to the smoked sausage sandwich and on to something called the "Pig Squealin' Combo." There are also ribs (wet, dry or sweet), platters ("Five Meat Treat," "Delta Double" and "Tennessee Triple"), as well as such Southern faves as catfish, ribs and crispers, and fried Gulf shrimp. Sides include sweet potatoes, garlic-mashed potatoes, beans and more.
Red Smoke 573 Monroe St., Detroit; 313-962-2100; redsmokebarbeque.com: Try the sauces with a plate of pulled pork, whose texture couldn't be better; the beef brisket is also fork-tender; and both the pork and brisket show obvious smoke rings — telltale marks of proper barbecue. The pork ribs are dry-rubbed and far tastier, with just enough connective tissue left to keep meat attached to the bone and come right off in the teeth. Eight Michigan beers are on draft, from such venerable mainstays as Bell's Two Hearted Ale and New Holland Full Circle to local brews from Dragonmead and Motor City Brewing Works. Open Sunday through Thursday, 11 a.m.-midnight, and Friday and Saturday, 11 a.m.-1 a.m.
The Rib Rack 5304 Dixie Hwy., Waterford; 248-623-4800; 28601 Southfield Rd., Lathrup Village; 248-483-7427; $$: The Rib Rack is a place where you can enjoy the outdoor barbeque atmosphere at picnic tables and choose from a variety of traditional but tasty barbecue. Their specialty, of course, is ribs, infused with flavorful barbecue sauce and with meat that practically falls off the bone. The menu also includes a variety of specialty sides, including the house-made "Rib Rack Potatoes." The Rack could even provide the food for your next tailgating party if you'd rather drink instead of barbecuing. Just see their catering menu.
Roast 1128 Washington Blvd., Detroit; 313-961-2500; roastdetroit.com: Some will bristle: "Roast isn't a barbecue joint; it's upscale casual dining with a twist!" Really? We feel that, with all the effort that Roast puts into its meat, barbecue mavens might feel right at home with a plate of beef that's naturally raised and dry-aged for a minimum of 21 days. The same care is lavished upon all proteins, including poultry and seafood as well. Still doubt us? Visit the main dining room, where you'll find a wood-fired rotisserie gradually turning tomorrow's "roasted beast of the day" over coals. Wood plus smoke plus meat: If that isn't barbecue. ...
Rub BBQ 18 W. Adams St., Detroit; 313-964-0782; rubbbqdetroit.com: A big draw is the beer selection: 29 drafts — from PBR to Bell's Two-Hearted Ale — and the scores of domestic and international bottles. The stars are the meats, of course, including the fabulously tasty appetizer of "pig wings" — petite braised shanks, with a slightly crisp exterior and a bit of maple flavor. If the correct formula for rib tenderness has the meat splitting down the middle, rather than cleaving cleanly away from the bone, Rub has accomplished that goal with its baby backs, which leave some shreds for gnawing. Prominent in each booth is a six-pack of squeeze-bottle sauces, labeled: Detroit, Carolina, Texas, Kansas City, apple and Buffalo.
Slows Bar-BQ 2138 Michigan Ave., Detroit; 313-962-9828: A few blocks west of Tiger Stadium, in a meticulously revamped 1880s building, Slows has excellent barbecue, a mac and cheese that's a satisfying combination of sharp and creamy, and potato salad that could have come straight out of an Alabama picnic basket. There's also a generous list of appetizers, salads, sandwiches and soups, including chili, and gumbo with andouille and shellfish. On busy weeknights after work, the joint fills up quickly, but the bar, fortunately, is a beer-lover's paradise, with more than 20 beers on tap, usually featuring at least a dozen brewed in Michigan (including Bell's, Arcadia, Founder's and Dragonmead), and a pages-long beer menu, featuring anywhere between 60 and 80 bottles depending on the season. All of which keeps the place packed, with a steady crowd waiting at the bar. Fans of Slows may find less of a wait at Slows Express & Catering, 4107 Cass Ave., Detroit; 877-569-7246.
Smoke & Spice Southern Barbeque 1515 Ottawa St., Windsor; 519-977-0112; smokenspice.com: French-cuisine-trained Ryan Odette moved from one concept of cool to another when he closed his tiny bistro and opened a crowd-pleasing barbecue joint. No more roasted apricots and fig jus: Now it's ribs, wings and pulled pork, playing to a full, and much bigger, house. These ribs appear rather dry-looking, but in the mouth they are multifaceted chunks of meat, a combination of smoke, tenderness and earthy animal goodness. As for sauces, there's the slightly sweet, mostly tangy tomato-based barbecue sauce, the chipotle, and the runny mustard that's the most unusual and complex of the three. What's more, the wings are not an afterthought, luscious and meaty, smokier than most wings. Pulled pork and beef brisket round it out, though there's also a mild and tender catfish with remoulade and spicy breading, and an apple wood-smoked half chicken worth checking out.
Smoke House Blues 4855 Washtenaw Ave., Ann Arbor; 734-434-5554; smokehouseblues.com: For 10 years Smoke House Blues has had customers tear themselves apart when it comes time to order — choosing between ribs, pulled pork, beef brisket or gumbo — and their revamped menu still has all the old favorites. And Smoke House Blues also offers full catering and throws a helluva tailgate party. They have daily specials and a happy hour from 3 to 6 p.m. nightly. Cool your smoky palate with sweet potato pie and some of Aunt Gina's homemade rice pudding.
Sweetwater Tavern 400 E. Congress St., Detroit, 313-962-2210; $$: Downtown in the shadow of the towering Millinder Center, this venerable Detroit business, in a 117-year-old historic building that's been recently renovated, is famous for its Sweetwater Wings. And that's no surprise when the wings come in fresh from Eastern Market and are marinated in their special spices for 24 hours. Sweetwater doesn't offer a huge variety of different barbecue sauces, but their single sauce definitely doesn't disappoint. Their pulled-pork sandwich, dubbed "The Big Pig," uses only tender pork that's been slow-cooked in spices before being pulled off the bone, piled on a roll and served with a slice of onion and coleslaw.
Tunnel Bar-B-Q 58 Park St., Windsor; 519-258-3663; $: Visible pretty much the second you leave the tunnel, the TBQ has a full line of sauces and spices to light the fire in your food-life. If all those original recipes aren't enough, get a load of the bakery's strawberry Romanoff, deep dish pecan pie, any number of home-made desserts. Ten varieties of bottled beer will wet your whistle, enjoyed at the restaurant's new bar (a former smoking room). Just remember your passport.
Union Woodshop 18 S. Main St., Clarkston; 248-625-5660; unionwoodshop.com: Our critics singled out Union Woodshop for its terrific barbecue last year, and with good reason. Located on Main Street in downtown Clarkston, the upscale Union Woodshop has a look that is the antithesis of barbecue joints found on the dirt roads hidden from rural highways in the Carolinas and in Texas. The joint's food, however, shares the flavors that can usually only be derived from low-and-slow wood-smoking. From tender brisket and pulled pork to ribs and chicken, there are no disappointments here. The pizzas, cooked in a wood-burning oven, are as good as the barbecued meats.
Uptown Bar B.Q. 15700 Livernois Ave., Detroit; 313-862-7427; uptownbbq.com: This rib joint between the Lodge Expressway and the University of Detroit Mercy has been in business since August 1989. Proprietor Nathaniel Fanning, whose childhood home is nearby, has had a longstanding interest in barbecue. He created his own secret sauce at a young age, and doesn't compare his creations to any other kind of 'cue, preferring to call it "home-cooked, authentic barbecue." A slab of ribs is a deal, as Uptown charges $15.67 for a trimmed slab drizzled with sauce. The ribs are excellent, full of pit-cooked smoky flavor, with the short ends a bit crispy but not overdone, just like the perfect backyard barbecue. Fanning's sauce works well with the meat, sweet and mild, not hot — and so good you'll likely end up sucking the bones clean. Uptown is open 11 a.m.-midnight Sunday-Thursday, 11 a.m.-2:30 a.m. Friday-Saturday.
Vicki's Bar-B-Q 3845 W. Warren Ave., Detroit; 313-894-9906: Vicki's small storefront and the menu is short: shrimp, ribs and a few sides. But those ribs are amazing! They come hot or mild, but we prefer a full hot slab, which get a shake of hot powder and a double dab of hot sauce. The sauce and ribs create a nearly perfect package: The meat is perfectly cooked, not too fatty, not too crispy; the sauce imparts a sweetness but doesn't overwhelm the meat's smoky flavors. They're a bit expensive, costing $19.62 a slab, but with quality like this, who'd argue over pennies? Vicki's is open 4 p.m.-midnight Wednesdays, Thursdays and Sundays, 2 p.m.-2 a.m. Fridays and Saturdays; closed Mondays and Tuesdays.
Zingerman's Roadhouse 2501 Jackson Ave., Ann Arbor; 734-663-3663: The Roadhouse is a sprawling place with a semi-open kitchen, full bar, two dining rooms and — yes, indeed — very good food, which includes pit-smoked beef brisket, chicken-friend steak, pit-smoked spare ribs, and a barbecued pork entrée that's blended with your choice of barbecue sauce, including "Eastern North Carolina vinegar BBQ sauce," "Memphis tomato BBQ sauce" and "South Carolina mustard BBQ sauce."
See any inaccuracies in our listings? Let us know! Call 313-202-8043 or e-mail mjackman@metrotimes.com.