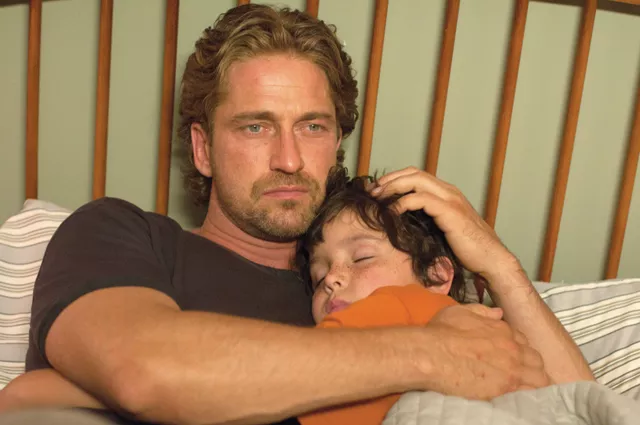 Gerard Butler as ex-soccer star Dad, and team coach.
Playing for Keeps | C
Gerard Butler barely breaks a sweat as the roguishly handsome and perennially unreliable George Dreyer, a former top-flight soccer star who has retired to the D.C burbs to be close to his young son, and, secretly, to be a lot closer to his ex-wife, Stacie, played crisply by Jessica Biel. This coy reconciliation attempt is complicated, as George is fairly unaccountable, unemployed but also apparently the stud of the Western world. Men want to be him; women want to be with him, to the extent that all the local housewives transform into ravenous, rutting wild animals at the very sight of him. 
Butler seems mildly chagrinned with his cock-of-the-walk status, but it's the sort of part that once upon a time Burt Reynolds would have smirked his way through. 
With nothing but time to kill, George agrees to coach his 9-year-old's team, which immediately sends all the soccer moms in the tri-county area into hormonal overdrive, as a variety of veteran actresses (who should know better) line up to get a crack at the fresh meat. Then there's also good old Dennis Quaid as an obnoxious, desperately smarmy businessman who loans George wads of cash and the use of his Ferrari in exchange for showing up at parties and glad-handing his clients.  
There are questions to occupy the mind when the story drifts into periodic lulls: What on earth is Uma Thurman doing in this fluff? 
Why is the cute, funny and charming Judy Greer never the lead? And what in the hell sort of chemical have they injected into Catherine Zeta-Jones' face? 
In between the faintly embarrassing bedroom antics, there are attempts at father-son tenderness, which don't really gel. Better is the sight of Jessica Biel slowly withering under George's charm offensive, as he goes after her like she were the opposing goalie in a World Cup match. He and the movie do better when they slow down, and both Butler and Biel display a subtler skill set that is hard to detect when the movie is in slapstick mode.  
Everything about Playing for Keeps, from the generic title, to the paint-by-numbers plot, to the manipulative score, is utterly routine, yet the flick is curiously watchable. Credit is due to the likability of the performers, who put more effort into it than the disposable script is worth.