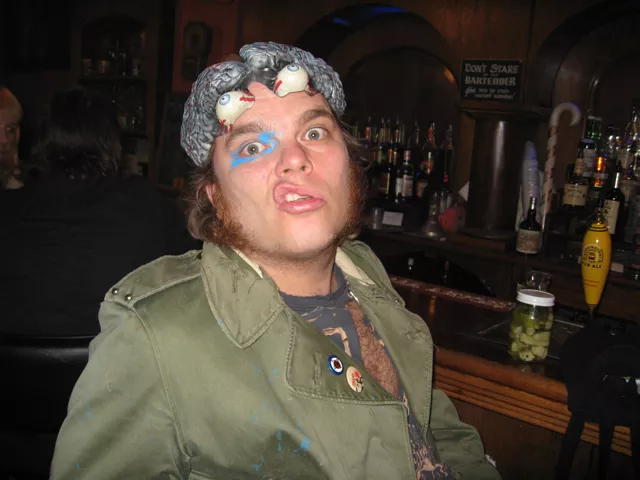 Timothy Vulgar: Enticing bands to play here since 2004.
Check out Timmy Vulgar in a cooking segment he did for MT here
Timmy Vulgar (aka Timmy Lampinen) is a local fixture, heading up such bands as the Epileptics, the Clone Defects, Human Eye and Timmy's Organism. An accomplished artist and Kresge Fellow, for eight years he has headed up a festival of punk that takes over Hamtramck's Painted Lady Bar. We caught up with him this week.
Metro Times: How did all this start?
Timmy Vulgar: Originally, it was a way to introduce cool bands to Detroit. A lot of the bands that play the Panic in Hamtramck wouldn't normally play Detroit. They were like, "Oh, Detroit sucks. We came to Detroit and played there and it was, like, 10 people." But now a lot of the punk kids are older and can go to the bars, so now they can play the Lager House or other bars and get a crowd. I like to think Panic in Hamtramck played a part in getting these bands to realize Detroit's a great city to play.
MT: And it all started eight years ago?
Vulgar: Yeah, this is No. 9. The first one was the Painted Lady's grand opening and there was probably 200 people packed into that sardine can. The Go played, the Valentinos, Human Eye — one of our early shows — Little Claw, Terrible Twos — one of their earlier shows. Through the years we've had bands from all over the place: Greg Ashley, John Wesley Coleman III, the Golden Boys, Wizard Sleeve, and local bands like Aran Ruth, Gardens, the Wolfman Band, the Frustrations, Druid Perfume.
MT: So who can we expect this Labor Day weekend?
Vulgar: Well, G.G. King's from Atlanta, Ga., he used to be in a band called the Carbonas who played Detroit a few times. They kinda had a late '70s kind of punk sound, but the G.G. King stuff is kinda crazier, weirder. He's probably one of the most anticipated acts for the weekend. We'll also have a band from New Haven, Ct., called Medication, younger guys in their early 20s on Hozak Records. This guy, Mikey [Hyde], he did a solo album on four-track by himself and then he's got a band backing him up. His stuff is kinda like psychedelic pop, rock 'n' roll, kinda '60s garage-style. He's playing on Sunday with Outrageous Cherry, so Sunday's a little mellower night. That night we also have Eric Villa & the Vista Marias. He's been a veteran in the music scene in Detroit, pretty underrated. He used to be in a band called the Murder City Wrecks, and my old bands Epileptics and Clone Defects used to play with him all the time, and we've been best friends since we were 18. He's done a lot of stuff with Beehive [Recording Company] lately.
MT: He usually has a couple of drinks before he goes on, doesn't he?
Vulgar: Yeah, I told him he's not allowed to drink before he plays. [laughs] And then we've got Mac Blackout from Chicago, who was in a band called Mickey that was kinda glam rock, but Mac is more like weirdo experimental. He's played Painted Lady before with his other bands, Mickey, Functional Blackout and Daily Void, so he's no rookie to the Panic in Hamtramck festival. He's the guy who graffittied my kitchen on mushrooms.
MT: That was him?
Vulgar: Yeah, Mac Blackout's the dude that took a green marker and marked up my whole kitchen with it. In the Cookin' with Timmy video you can see his art splattered all around my kitchen. But he's a great artist too. He did a big mural in Chicago, and he's a pretty amazing artist. We'll also have Pink Reason, another guy who does home recordings and I think he's been doing stuff since the early '00s. It's all over the place: It's noisy, it's weird, it's folky, it's slow, it's quiet, it's big, it's mean — it's everywhere, all over the place. He's pretty well-known.
MT: Is that a theme? Do-it-yourself solo artists?
Vulgar: Well, yeah, a lot of people that do solo things at home. You record stuff at home and then get a band to play the music with you so you don't have to rely on anyone else. Especially when you get older and you get in your 30s and people are too busy to play music with you. So it's like an aging punk rock fest.
MT: What else you got?
Vulgar: Tyvek, they have a new album coming out on In the Red Records. Johnny Lzr, who plays synthesizer for Human Eye, is doing his debut solo show as LZR, and he just put out a CD of his own stuff. It's real krautrock craziness, synthesizer space stuff.
MT: And who are the Whores of Babylon?
Vulgar: They're from Battle Creek with the legendary Psycho Johnny on guitar. He used to play with Boom and the Legion of Doom, and the singer is a punk rock cartoonist guy who does a lot of art for Pork magazine out in Portland.
MT: I love Pork!
Vulgar: Yeah, Pork's great. Ben Lyon is the singer, and he's this great artist-cartoonist singing. They played the first Panic in Hamtramck back in 2004, when it was called Panic in Detroit — which we changed because Panic in Hamtramck has a better ring to it.
MT: I heard your life gets pretty crazy during the festival.
Vulgar: Yeah, there was one year that was crazy. Bands usually show up at my house and stay at my house and I'll usually barbecue and we'll hang out and eat and start drinking beer and then head down to the bar and play and party some more and then we'll go back to my place and, this one time, we went so crazy, we stayed up all night. I ended up vacuuming my ceiling — it's on YouTube — and just making all those guys laugh and then we walked down to the Hamtramck festival at 8 a.m. and we all climbed up on the big potato sack slide for kids and went down it. There were all these people yelling at us. I had to stop Mac Blackout from peeing on a building in front of a whole crowd of people. That's when we all came back to my house and decided to take turns painting a big mural on my garage. And then we came back in the house and my whole kitchen was graffitied by Mac. And then we were so wiped out I couldn't make it to the fest. I woke up at like 9 p.m. Sunday and I couldn't move. I felt stuck to my bed, super hungover, and I couldn't make it, and some of the bands are texting me evil shit. [laughs] Needless to say, I didn't make the show.
Michael Jackman is senior editor of Metro Times. Send comments to [email protected]