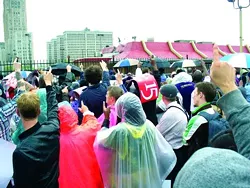 Rallying outside a Detroit McDonald's, protesters demand a living wage.
Thousands of fast-food workers in 60 cities from coast to coast walked off their jobs at the end of August in an escalating nationwide protest. Strikers are seeking raises to $15 an hour, paid sick leave and the right to unionize America's second-biggest employer, the restaurant industry, which is predicting its 2013 profits will "reach a record high of $660.5 billion."
"This is not a cause, this is a movement," said Latisha James, New York Council Member for Working Families, speaking at a rally in Manhattan's Union Square. "This is about economic justice. … They [owners] would like you to believe that fast-food workers are primarily teenagers. They are not. They are primarily women with children who are struggling to make ends met. So this is about economic justice. We are here to honor the legacy of Dr. King to stand with fast-food workers who are only demanding $15 and a union."
"We organized the strike," said a McDonald's employee named Shantelle Walker, who walked out in New York. "We want to let America know that we need a union and we need $15 an hour."
The corporate mainstays of the industry, from fast-food giants like McDonald's to full-service chains such as Olive Garden and Red Lobster, have a rebellion in their kitchens and dining rooms that's not going away. The month-end walkouts — which were joined by poorly paid workers at retail and drug chains — represent a new strategy of publicly shaming low-wage, low-benefit employers.
"Public shaming is necessary because we have greedy corporations who care nothing about the public, they care about the public's money," said Charles Helms, of the Hudson County Central Labor Council, AFL- CIO. "So the only thing we can do is get out on the streets to let the public realize that they're after our money. That's all they care about."
The growing movement, which timed the protests to the 50th anniversary of the March on Washington where Martin Luther King Jr. called for civil and economic rights, is turning to direct action because of frustration with the political process, where victories take too long and are often undercut by restaurant industry lobbying.
Instead, shaming corporations and putting minimum wage and sick leave ballot measures directly before voters — who polls find consistentlysupport them — is becoming the new normal.
"Minimum wage and paid sick days are universally popular among Republicans and Democrats alike," said Saru Jayaraman, co-director of the Restaurant Opportunities Centers United (ROC), which has been working for a dozen years to change the industry's exploitive business model and labor practices. "Legislators constantly tell us that we need to show them a groundswell of support to overcome the NRA [National Restaurant Association] lobbying. Who are they listening to? If they aren't listening to the people, then the people have to make it happen themselves."
Growing Movement, Growing Clout
The federal minimum wage, which is $7.25 an hour, was last raised in July 2009. A subcategory for tipped workers, which includes waiters, waitresses, bartenders and busboys, was last raised by Congress in 1991 and is $2.13 an hour. A majority of states and a few cities have raised these wage floors, but the industry average for 2.5 million food preparers and servers is $8.75 an hour, federal labor statistics report. If tips do not bring wages up to the legal minimum, employers are supposed to make up the difference.
At McDonald's, which has 860,000 U.S. workers, an employee making $8.75 an hour would have to work 1.6 million hours to match the CEO's pay. Glassdoor.com, a job search site, shows how McDonald's thrives by paying paltry wages. It lists more than 200 job titles at McDonald's, yet only a few — for top franchise managers or corporate executives — pay more than $10 an hour.
Progressive economists have embarrassed McDonald's by noting that raising the price of a Big Mac by a nickel would pay for half of a $10.10 minimum wage for its workers. Anotherstudy by ROC found that raising the federal minimum to $9.80 an hour in steps over three years would "provide a 33 percent wage increase for regular minimum wage workers and would more than double the wages of tipped workers."
Yet according to ROC, virtually every national chain, whether fast food or full-service — with the exception of In-N-Out — refuses to pay living wages and benefits, even though most stayed profitable during the Great Recession and ongoing recovery. Moreover, the industry's lobbying operation, led by theNational Restaurant Association, repeatedly tells legislators theycan't afford better wages and benefits, and then boasts to members it is repressing the workforce on their behalf.
This June, NRA newsletters cited blocking 27 out of 29 states from increasing minimum wages andstopping a dozen states requiring paid sick leave. In two states that raised minimum wages, New York and Connecticut, it blocked or delayed raising the tip wage in shadowy last-minute deals.
The NRA also took credit for new laws in six states that pre-empted local governments from requiring paid sick leave. The NRA claimed better wages and benefits would kill jobs, despite its own forecast that profits would reach a "record high" in 2013. Nonetheless, the NRA convinced Republicans, and enough Democrats, to vote against workers.
These frustrations have not stopped activists from turning to the political process, which has produced some notable victories. But it has underscored that bolder and newer strategies were needed, like direct action such as Thursday's nationwide walkouts, as well as taking steps to put minimum wage and sick leave laws directly before voters in states that allow ballot initiatives.
"It is not organic," said Jen Kern, national issues campaign director forWorking Families, speaking of the coast-to-coast organizing. Her organization was instrumental in raising the minimum wage and passing paid sick leave legislation in Connecticut and New York City. "It's like Rosa Parks being trained. This is a serious commitment to calling out the scourge of low wages."
Why Care?
Americans should pay closer attention to the protest walkouts by fast-food workers demanding $15 an hour and sick leave because what ishappening at the bottom of the economic ladder is increasingly defining the fate and future of America's middle class.
"These jobs not only affect our economy, but the existence of the middle class depends on making sure that there are good jobs," said Rebecca Smith,coordinator of theNational Employment Law Project's (NELP) Immigrant Worker Justice Project. "If jobs leave money in people's pockets, they'll spend it and businesses will grow, and businesses will hire. Everybody does better when everybody does better."
Steve Rosenfield and Jodie Gummow are contributing writers and are on staff at Alternet.com. Send comments to letters@metrotimes.com.